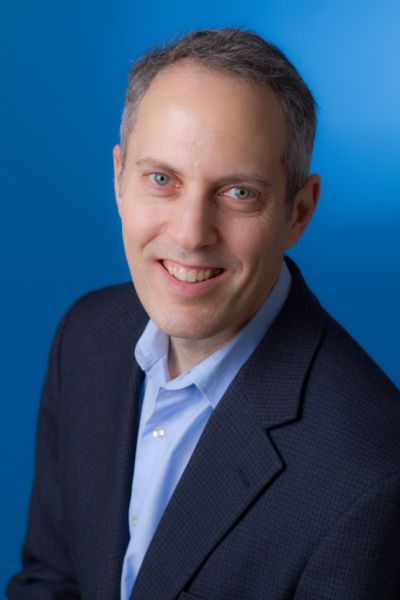 The COVID-19 pandemic has fundamentally changed the way customers interact with retailers. While online shopping was already common, the pandemic has increased the allure of online shopping and dramatically altered what items customers have prioritized. For retailers to survive in this rapidly changing landscape, they must adjust on the fly to shifting demand by leveraging agile technology solutions. 
Examples of quick-pivoting retailers include lululemon which, according to Business Insider, "stands to benefit as consumers become more health and wellness obsessed than before." Another example is Costco, which recently acquired Innovel Solutions, a third-party end-to-end logistics solution with nationwide capabilities, to drive "final mile" delivery. 
In order for retailers to survive this worldwide market disruption, they must be prepared to quickly adopt new marketing strategies or suffer the fate of the dinosaurs. Here are four marketing strategies that can help retailers generate revenue and build customer loyalty.
1. Adjust to sudden market shifts by tailoring products and promotions
Since late March, when governors began implementing stay-at home orders, e-Commerce revenue has risen. According to research by Mobify, there has been a double-digit increase in week-over-week and month-over-month sales: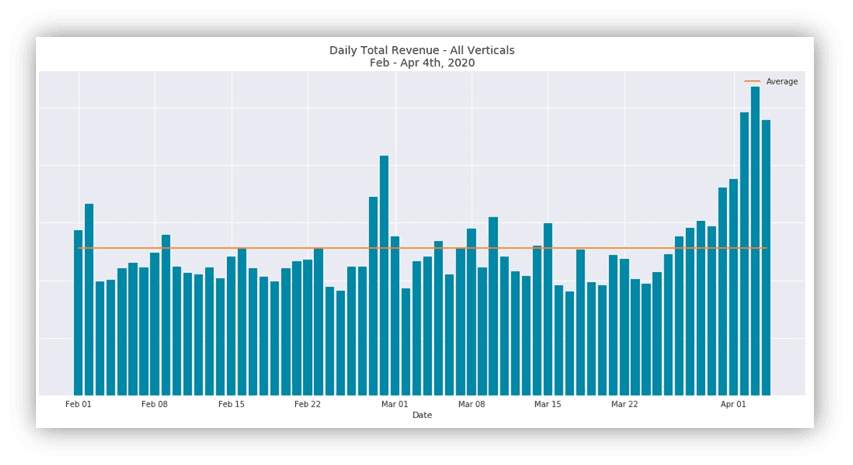 One strategy to use in this new market environment is shifting product availability and promotion to items that are in critical need such as food and beverages, household goods, personal protective equipment, nutritional items and baby products. According to Nielsen, "consumers are certainly leveraging e-Commerce to safely gain access to essentials. The channel has seen a 46% increase in buyers since the pandemic." Retailers must enhance personalization capabilities to fine-tune product promotions in order to highlight items that customers want the most.
2. Adapt delivery based on customer needs
With social distancing having become the norm, retailers have had to change how they physically deliver products to customers. While mail delivery and food delivery services have grown over the past few years, successful retailers have changed how they structure product delivery, such as greatly accelerating their buy online, pick up in-store (BOPIS) strategies. "By 2021, 90% of retailers will offer BOPIS." (Retail TouchPoints)
The most successful retailers have changed how their stores operate. Target has increased the size of parking lots to adjust to more pickup orders, and Home Depot has developed a comprehensive process for free in-store or curbside pickup, including email and text notifications.
3. Increase personalization to strengthen customer loyalty, both online and offline
Phrases like "we're all in this together" and social media hashtags such as "#AloneTogether" demonstrate the similar situation we're all facing. However, retailers that make a concerted effort to empathize with their customers will help strengthen existing bonds or build new ones with customers.
ShopRite's online ordering system, shoprite.com, acknowledges the changes in the current pandemic by giving online customers explicit instructions about how to make purchases online. Beyond the usual tactic of promoting certain products, ShopRite alerts customers regarding where they are in the shopping queue and how long they have to shop on the web site.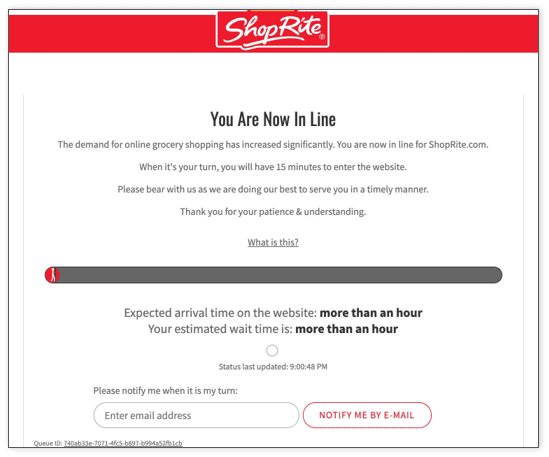 4. Connecting with customers
Retailers that implement customer-facing strategies that focus on agility and personalization have a much higher chance of succeeding in the long run than those that don't. Companies should consider tapping into the power of hybrid headless CMS technology and AI-driven personalization as a way to more easily and quickly adapt online content for different customer touch points (e.g. web sites, mobile applications, digital signs, conversational platforms.) The key to success is being agile and tailoring retail solutions to adapt on the fly, which can often mean the difference between survival and going out of business. Seamlessly connecting with customers via any touch point in a personalized manner will go a long way to turning customers into lifelong fans.
---
Michael Gerard is the Chief Marketing Officer of e-Spirit and he can be reached at Gerard@e-spirit.com