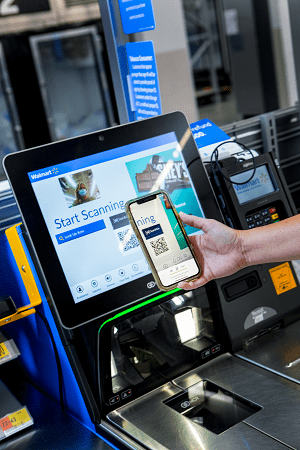 Walmart has unveiled a reimagined store design, with a new look and feel that focuses on a digitally enabled shopping experience. Developed through a customer-centric lens and using a sleek design aesthetic, the updated stores feature a layout that spotlights products and offers end-to-end digital navigation that guides customers throughout their journeys.
The new concept was tested in select stores and will be implemented in more stores this fall, evolving based on customer and associate feedback. The experience will be in nearly 200 Walmart supercenters by the end of January 2021, as well as in select Health Centers and Neighborhood Markets, and Walmart will expand the redesign to nearly 1,000 stores by Q1 2022.
Key design elements and digital experiences include:
Omni-Shopping Spark and Optimized Entrance: Updated exterior and interior signage to reflect the Walmart app icon and create an instant omni-shopping experience in the customer's mind. At the entrance, clean, colorful iconography and a store directory welcome customers and encourage them to download and use the Walmart app while they shop. Throughout the store, bold, dimensional typeface directs customers to the exact section they are looking for, while aisles are marked with letter and number combinations to guide customers from their phone to the products they're seeking.
Airport Inspiration and Product Spotlight: Inspired by airport wayfinding systems, Walmart developed simple yet thoughtful designs to replicate their navigation efficiencies while alsooptimizing product layout and bringing greater visibility to key items throughout the store, including dedicated in-store sections for electronics, toys, baby products and more.
Contactless Checkout and Payment: Stores will include self-checkout kiosks as well as contactless payment solutions, including Walmart Pay, to limit contact between associates and customers. Select locations will also have Scan & Go to help customers manage their checkout directly.