The holidays are around the corner and retail stores are gearing up for a shift back towards in-store shopping during this peak season. A recent survey from retail research firm NPD showed that the share of consumers' planned shopping for the holidays ticked up this year for in-store versus online, in contrast to a long-term decline, and major retailers like Walmart and Party City just announced plans to direct the majority of their holiday hires to work on store floors.
That's good news for the retail sector. But with every upside is a downside: as more people crowd store aisles, smaller retail staffs move a greater number of items, and retailer-owned or -leased trucks, vans and cars return to congested roads and highways, the potential for increased and costly accidents and injuries arises.
To combat this threat, midsize retailers would be wise to focus on the top three causes of loss, which account for more than 60% of all insured losses, according to QBE North America's claims data for the accident years 2019-2022 as of this February. The top three causes are:
Third-party slip, trip and fall injuries (STFs), which account for 32% of incurred losses
Motor vehicle accidents involving retail personnel, which account for 21% of incurred losses
Employee sprain and strain injuries, which account for 9% of incurred losses.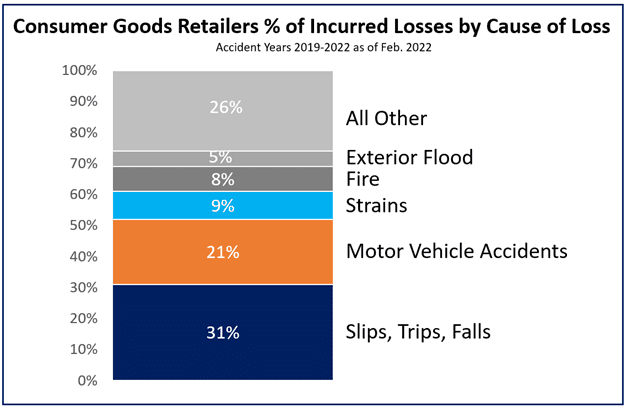 Fortunately, there are many ways to reduce the possibility of employee and third-party accidents and injuries. In taking these prescriptive actions, it is important to understand the factors driving these loss causes, beginning with the largest of the three.
Slips, Trips and Falls
The consumer goods retail sector is a veritable minefield of slips, trips and falls. Shoppers slip on floors that are wet, particularly if the surface lacks traction. They trip over uneven floor surfaces and clutter or store equipment like dollies and cables left in aisles. Outside, parking lot speed bumps and poorly marked curbs also present hazards. The subsequent fall can lead to head, neck, back and other injuries.
The risk of STFs is increasing due to a variety of factors. Shoppers are returning to physical stores in greater numbers. In the current labor market, retailers are often short-staffed and dealing with high turnover, which makes prompt cleanup of wet spots and other hazards harder. Wall-mounted screens and eye-catching displays advertising products distract shoppers from noticing floor hazards.
Best practices to reduce the potential for STFs include proactive measures that keep aisles and other store areas free of clutter, and mats and rugs on stairs and landings secured or removed. Spills should be cleaned up immediately with floor cleaning chemicals that reduce surface slipperiness. Insurance company loss control staff can help assess slipperiness with a special tool called a tribometer.
Stairs should comply with the local building code and have nosings [the protective edge of a stair tread] that even a visually impaired person can easily see. They should have consistent rise and run, with firmly mounted handrails that are easy to grasp.
Other tips include proper lighting and signage, especially in areas known to create tripping hazards or where a spill has just occurred. If employees use step stools and ladders to reach top shelves, signs should clearly direct shoppers to be careful as they walk by or avoid the aisle altogether.
Importantly, subcontractors and service providers coming on the premises should assume their share of liability through their contractual agreement with the retailer. The risk of these workers suffering an STF far exceeds that of a normal shopper.
Store staff should be trained in how to respond when an STF occurs. Empathy and information gathering is critical. Forms should walk the employee through obtaining the facts of the incident from the injured person as well as witnesses. This information should be quickly reported to the store manager, risk manager and insurer. There should be a clear process for following up with the injured person. Retailers don't want to be in a position where the injured person comes back six months later with legal representation, claiming serious injury, only to find they have no record of the incident.
Motor Vehicle Accidents
Accidents involving company-owned vehicles have long been a major cause of loss for midsize retailers. The potential for serious bodily injury to third parties can result in jury verdicts and settlements well above $1 million. Recent motor vehicle accident statistics involving employees at the wheel of company-owned or -leased vehicles indicate that motor vehicle crashes are the leading cause of work-related deaths in the U.S., according to the National Institute for Occupational Safety and Health (NIOSH).
Unfortunately, midsize retailers often lack the scale to have formal driver safety programs in place for trucks traveling between warehouses and stores, or for regional managers and buyers out on the road. Furthermore, the COVID-19 pandemic accelerated a trend toward store-to-customer deliveries using company-owned vehicles. The current shortage of truck drivers means their staff may be working more hours and thus be more fatigued. Additionally, employees may use their personal vehicle on company business and not have adequate insurance or a poor driving record.
To address these risks, retailers can work with their insurance broker and carrier to help them design and implement a comprehensive fleet safety program. The program typically addresses assessing fleet risk, establishing written safety policies and procedures, developing training modules and workshops, and monitoring.
New technologies can help greatly with monitoring, especially regarding distracted driving. Technologies exist that can block calls or texts when vehicles are in motion. Onboard telematics are another deterrent. The technology combines a GPS system with onboard vehicle diagnostics to record and transmit vehicle data like speed, braking and turning, incentivizing safer driving awareness. Cameras embedded with artificial intelligence that detect driver drowsiness and other unsafe driving situations are another safety enhancement.
Finally, retailers also can pass on the risk of motor vehicle accidents involving employees to third-party fleet operators, assuming a commensurate cost-benefit savings.
Employee Strain Injuries
As the third-highest cause of incurred losses for midsize retailers overall, strain injuries represent the top driver of workers' compensation insurance costs. These can occur in a variety of locations — store aisles, store back rooms, loading docks and warehouses. Compared to large retailers, midsize retailers may not be able to afford highly automated warehouses that reduce heavy lifting or formal training programs for store staff, where turnover is high and staff are already working long hours due to the labor shortage. As workers overall remain in the workforce longer, their age may put them at greater risk of strain injuries.
As with fleet safety programs, the claims and loss control experts at insurance carriers, along with new technology, can help to greatly reduce the risk of strain injuries, evaluating patterns in injuries by task, location and worker demographics such as age to identify and address hot spots. New evaluation programs using AI, such as Humantech from Velocity EHS, can analyze videos taken by smartphones and identify high-risk stress points. Those movements can then be re-engineered for improved safety.
In some cases, the revised movements not only reduce injuries but also improve productivity. Using the Humantech program, QBE Risk Solutions identified a task that was causing back injuries. The solution was to incorporate a lift table. The real payoff was that this solution was used on more than 30 other workstations, ultimately reducing the time it took for the employee to move materials.
By working with their insurance broker and carrier to address these top three causes of loss, midsize retailers can substantially reduce the risk of serious injury to their customers, employees and the general population, protect their reputation and maximize the value of their insurance program.
---
Bobby Steinsdoerfer is SVP, Middle Market P&C, QBE North America. Cori Henry is Assistant VP – Lead, Claims Relationship Management, QBE North America.