Today's retail environment is challenging — whether it is price pressure from discounters, market disruption from online players, increased price transparency for shoppers or changing macroeconomics. To top that off, differentiation approaches in retail that have been around for ages, such as unique inventory or strategic pricing and promotions, can now be easily imitated. That said, differentiated experiences are possible, and the way forward will be through personalized approaches. Retailers must create experiences that are unique to their brand and tailored to individual customers based on their behavior, needs and habits.
These highly personalized experiences, when offered to thousands of individual customers using proprietary data, are difficult for competitors to imitate and set the retailer apart. When executed well, these experiences enable businesses to differentiate themselves and gain a sustainable market advantage. Research by Epsilon and GBH Insights found that the vast majority of respondents (80%) are interested in making purchases when offered personalization from retailers. Personalization is now a hygiene and customers have come to expect it regardless.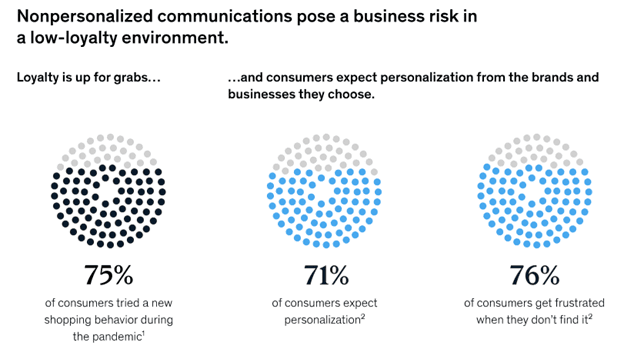 However, personalization is no longer limited to targeted offers in the current landscape; it now covers the entire customer journey. Consumers now look for personalization throughout their interactions with a retailer at multiple touch points. The best personalized experiences happen when retailers make the customers a part of the dialogue and leverage data to create one-to-one experiences that are more targeted to them based on their unique interests and behaviors, as opposed to customers like them.
A positive customer experience makes a valuable difference in a retailer's success. According to McKinsey, it yields 20% higher customer-satisfaction rates, boosts sales-conversion rates by 10% to 15%, and enables an increase of 20% to 30% in employee engagement. Industry leaders with expertise in customer experience have provided their stakeholders with 3X higher returns than the retailers that lack this expertise.
For instance, Amazon has used sophisticated analytics to shape its personalization efforts. Over time, the brand has expanded its personalization program to show customers products that are often purchased with the item they are viewing, display items that can be bundled with products in a customer's cart, and recommend additional products in the emails it sends to confirm transactions.
Retailers are still at a nascent stage of personalization efforts for their customers. McKinsey research also indicates that only 15% of retailers have fully implemented personalization strategies; 80% and higher are still plotting their personalization strategy or have only just begun pilot initiatives.
There are four main tactical challenges that retailers seem to be facing in getting personalization off the ground: Data management, data analytics, alignment of retail organizations across functions and tools and technology enablement. But the right ecommerce ecosystem can help address these and expedite their journey to offer personalization.
Customers' data trails can help retailers access preferences, past orders and history. Combining data-informed experiences with customer support can open avenues for retailers to offer unmatched personalization to their consumers. In fact, Wakefield research highlights that 41% of online shoppers are willing to share personal information to gain a more personalized experience.
With that in the backdrop, here are some personalized experiences that consumers are increasingly looking for post-pandemic:
Exclusive offers and discounts.
Consumers feel valued when greeted by their own name in emails and messages sent by retailers, but this is not enough anymore. Seeing offers and discounts tailor-made specifically for them in their inbox based on their purchase behavior, spending habits and more can make them feel appreciated and make your promotions more valuable, thereby increasing conversion rates.
Recommendations and suggestions that are tailored to their interests.
Reviewing, analyzing and processing the invaluable data collected through previous interactions can ensure that retailers keep offering recommendations and suggestions most useful to and aligned with customer needs. Simply put, if done right, this can help your product sell your other products, all while building customer loyalty and engagement. This data, when mastered, will do the heavy lifting for you as it accommodates the changing needs and habits of consumers.
Value added services have their own charm.
A seller-buyer relationship is purely transactional and oftentimes non-recurring. As a result, to build long-term customer relationships and keep them coming back for more, retailers will have to invest in providing additional value beyond just selling the product. Imagine look inspiration from a fashion expert, step-by-step recipe guides, video tutorials on products, etc. They can go a long way with an ability to shop what you see.
Loyalty program integration throughout the customer journey.
Another effective way to ensure that existing customers feel privileged is by adding in multiple touch points throughout the customer journey to give loyalty program members even greater value. This can include priority access and previews into new launches or latest arrivals, reward points and faster fulfillment. Making them feel exclusive and valued goes a long way in building and maintaining customer loyalty.
Advanced customer support.
Customer support is key to all personalization efforts made by retailers. Customers want an immediate response on their preferred channel, time and manner. Using social media to offer real-time support can become a way to engage with customers on a channel convenient for them. Coupled with access to a robust customer database, it can further empower assistants to provide tailored experiences.
As observed, personalization is key in today's retail environment, more than it ever was. It helps businesses gain customer trust and loyalty, encouraging retention. Consumers today might even take their business elsewhere if their expectations are not met. This makes it imperative for businesses to have personalization strategies that integrate customer relationship management with data analytics and related technologies to facilitate and improve customer experience.
An easy first step toward building out superior customer experiences is through the expansion of a loyalty program if one already exists. Adding multiple, separate benefits and bonuses throughout the consumer journey, especially those that are personalized to each person as 71% of consumers have come to expect, can quickly boost your consumer retention and repeat purchases. You can then build out parallel experiences offering various fulfillment options, product recommendations, etc., leveraging owned and gathered customer data. 
---
As Chief Product Officer at Orckestra (powered by mdf commerce), Frank Kouretas leads product strategy and product management, driving the next wave of commerce innovation and beautifully simple shopping experiences. Kouretas is passionate about building and marketing innovative technology products and brings over 15 years of leadership experience in product development, product management and marketing. Prior to joining Orckestra, Kouretas was VP of Products and Marketing at Radialpoint where he led the development of innovative customer experience products used by some of the world's leading service providers to support millions of customers.