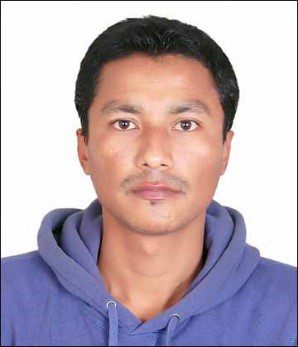 These are tough times for everyone. With the number of COVID-19 cases rising, most cities on lockdown and everyone practicing social distancing to control spread of the virus, we're all feeling the pinch. Virtually all non-food related businesses have closed their physical stores for the safety of customers and employees, including industry powerhouses like Nordstrom and Saks Fifth Avenue. Naturally, e-Commerce is expected to boom in this type of situation, so the focus for most companies is now certainly online sales. One harbinger of that focus is that Amazon has predicted such a spike in online deliveries that it plans to hire 100,000 workers.
Challenges For Online Fashion Stores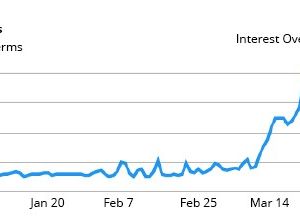 However, the current situation is not favorable for fashion retailers on the online front either — for two reasons. First, while the pandemic wreaks havoc on people's plans, fashion categories see an expectedly lower online demand against high competition. GrowByData also has recorded negative growth rate (-1%) in the Apparel & Accessories Industry over last three months, although this is likely a normal slowdown after the holidays.
Currently, consumer's online shopping preferences are the essentials like food, beverages, health care and medicine. These online industries are seeing huge sales growth rates. Google also has recorded the highest worldwide search interest related to groceries as searches related to fashion have slowed significantly. By contrast, consumers' interest in "Spring Sales" was at its peak at this time in 2019, whereas the current season is showing only moderate fashion search interest, which we can assume is due to the COVID-19 crisis.

Also, per Alexa,online grocery stores like Peapod.com (+56%), FreshDirect.com (+72%) and Kroger.com (+14%) have seen surging website ranks in the last 90 days while online traffic for leading fashion retailers has dropped significantly worldwide. The chart below shows the website rank drop percentage of the top online fashion stores that we have analyzed: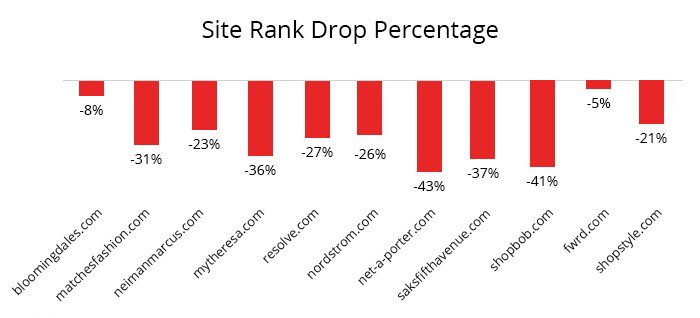 Disrupted Supply Chain
The second reason this pandemic situation is unfavorable for the fashion industry is that the whole world is affected by it. Countries that include China, the U.S., Italy, Spain and France have seen major disruptions in the supply chain as manufacturers, suppliers and consumers of this industry are impacted by the crisis.
However, as the pandemic begins to stabilize, this industry should slowly be able to pick its lane.
How Are Leading Online Retailers Responding?
More Products Online
The first response we've noticed is an increase in online product availability. We at GrowByData have been monitoring 974 fashion brands in 91 different categories with a total SKU count of 30,260 from the past year on a daily basis. We have matched those SKUs to variant levels in the retailer's online store. We have been tracking the products and their prices directly from these online stores originating in 10 different countries — the U.S., the UK, Canada, Australia, France, Hong Kong, Japan, Singapore, South Korea and Taiwan — to glean a global perspective.
In the last five weeks, we have noticed that these retailers have been increasing the number of products available online, as shown in the graph below: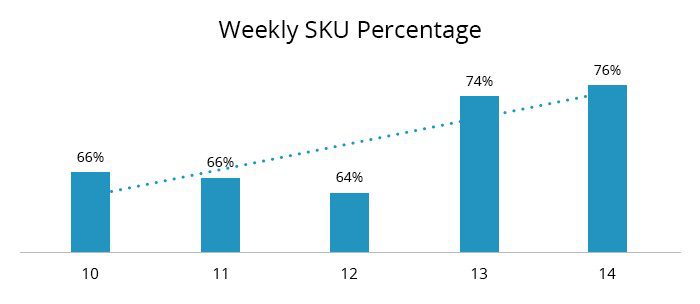 Discounts And Offers
Another response has been incentivizing online shopping. In tense times, a common retail strategy is to attract customers with good offers. With physical stores closed, the only logical move is to push online sales to clear any inventory pile-up with good discounts.
Here's a sample of current sales and deals online fashion retailers are floating: MatchesFashion.com, MyTheresa.com and SaksfifthAvenue.com are offering 15% to 25% discounts sitewide. Nordstrom.com and Neimanmarcus.com currently offer a 40% discount on sale items with free shipping and returns. Bloomingdales.com is offering 20% to 60% discounts on selected items, Revolve.com is offering free shipping and shopbop.com offers sales of up to 70% off, free express international delivery and easy returns.
Screenshot discount promotion by SAKS.

Screenshot discount promotion by Nordstrom.

Lower Prices
Beyond discounts and deals, retailers are lowering prices to keep inventory moving during the pandemic. The average weekly growth rate of SKUs that offer lower prices than before the crisis has been trending upward for these retailers for the first quarter of 2020. As shown in this graph, Singapore has the highest growth at 5%, and the U.S. has the lowest growth rate of 2%.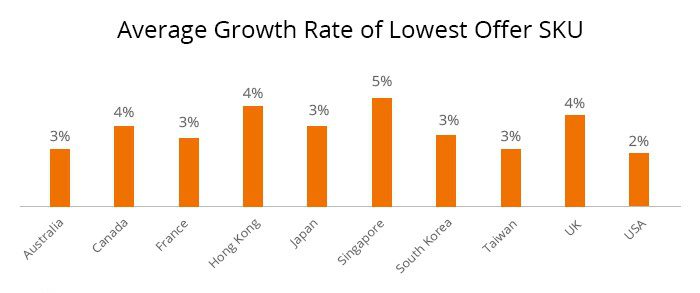 What's Next?
The COVID-19 pandemic has brought huge challenges to the entire world's economy. Governments around the world are announcing bail-out programs, but economists largely agree that won't be enough. Unemployment rates are surging around the globe, and the worst fallout is likely to land on SMEs. The only question for most is how to achieve V-shaped recovery from the adverse situation and save the economy from another Great Depression.
The online fashion retail industry should be capable of bouncing back to a quick recovery despite lagging in this unfavorable position. The lowered level of consumer disposable income and increased tendency to save during this pandemic will create a smaller market size for this industry overall. However, with retailers consistently enticing consumers with good promotions, discounts and offers, the demand for fashion products will certainly begin to recover as the situation starts to normalize.
Keep in mind, though, that online market will be even more competitive than before. With new players entering the online industry and existing players fighting for less market demand, online advertising and price competition promises to be intense. New technologies, strategies and processes will be necessary to optimize all aspects of every business striving for sustainability. Developing in-depth insight into the market competition and honing the ability to develop dynamic strategies are going to be crucial for consistent growth.
---
Sagun Shrestha has been associated with GrowByData for more than four years and works as a Requirement Manager and Content Writer.  He has helped build the firm's products, such as Product Information Manager, Product Feeds, Data Acquisition Engine and Competitive Price Intelligence. Shrestha writes about retail, dynamic pricing, advertising intelligence and e-Commerce trends to help GrowByData partners and customers.  
Prasanna Dhungel is Co-Founder and Managing Partner of GrowByData and drives the firm's content marketing initiatives. Dhungel has 20-plus years' experience in big data. Previously, he was Vice President at Valence Health (now Evolent Health) and at D2Hawkeye (now Cotiviti Health). He has an MBA from Kellogg School of Management, MEng from Princeton University and BS with Honors from Cornell University.