A successful referral marketing program will give marketers to ability to seamlessly reflect their brands' look and feel, while creating an optimum user experience.
This Look Book features 8 examples of successful referral marketing programs for retailers. Companies include: ProFlowers, American Giant, Shari's Berries, Ink Garden and more.
Read more...
As many as 84% of consumers trust recommendations from their friends; and 68% trust opinions posted online. This can be a goldmine of opportunity for smart marketers.
Beyond SEO and SEM, Referral Marketing can help deliver potential customers who are not already specifically searching for your brand. Referrals can be considered the "3rd Channel" for online customer acquisition.
Read more...

Instagram now has more than 150 million monthly active users worldwide and is growing at a rate of more than 100 million new users each year.
This is a channel that should not be ignored by retail brands. But what is the best way to manage Instagram? This E-book presents seven questions that should be asked and answered when planning an Instagram strategy.
Read more...
Today's 3G and 4G cellular networks offer unprecedented advantages to digital signage networks. Cellular technology makes digital signage more cost-effective, practical and flexible.
And today, having a digital signage network on a secure and separate network — a goal that is often unattainable on cabled or Wi-Fi networks without extensive investment — is critical.
Read more...
The future of digital engagement involves connecting with customers through a multitude of channels.
Now more than ever, it is imperative that businesses are present and accessible throughout the entire decision-making journey and across all channels. In doing so, companies can increase conversions, average order values and customer satisfaction ratings while decreasing support costs.
Read more...
Retailers are connecting with digitally savvy consumers through a variety of touch points, including the web (76%), email (73%), the store (50%) and mobile (43%), according to a recent survey conducted by UBM Tech and sponsored by Intel.
Read more...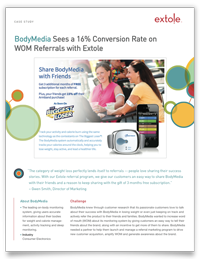 Today's connected shoppers rely on family, friends and peers for product recommendations. Recognizing that trend, BodyMedia implemented a referral marketing program that delivered more than 13,000 site visits in 3 months, and a 16% increase in conversions. BodyMedia sells a subscription service and armbands for body monitoring/tracking weight loss.
Read more...
To succeed in today's highly competitive e-Commerce marketplace, retailers should attend to 5 key strategies related to: merchandising, integration, promotions, microsites and tablet/mobile technology.
Merchants also can benefit from attention to 15 best practices around analytics, design, user interface and more.
Read more...
Email marketing has become more challenging for marketers that are not effectively analyzing their message campaigns. In fact, more than 33% of marketers continue to send email blasts with no knowledge of the deliverability inbox placement rate.
Based on a 2012 Relevancy Group survey of 333 marketing executives, this report delivers vital information that will help companies deliver more effective and successful email campaigns.
Read more...
Subscribe to this RSS feed
Read About...
Resources
About Us
Contact Info
Address:
777 Terrace Ave, Suite 202
Hasbrouck Heights, NJ 07604
Phone:
1.888.603.3626
Email:
info [at] retailtouchpoints.com