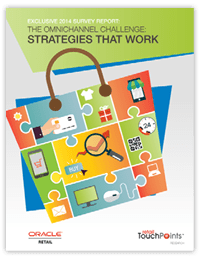 Whether they call it "omnichannel" or something else, most retail executives agree that delivering a consistent brand experience across all channels is a vital component of go-forward retail strategies. In fact, close to 95% of retailers define their retail strategy as "omnichannel," up from 88% last year.
For our third annual omnichannel survey, titled: The Omnichannel Challenge: Strategies That Work, we received responses from 124 retailers and wholesalers who shared insights on their progress as well as challenges they are working to overcome in the omnichannel era.
This 2014 Retail TouchPoints omnichannel survey report benchmarks the changes, struggles and successes retailers are experiencing.
Fill out the form below to download the complete report and learn how retailers are meeting and beating the odds when it comes to succeeding in today's challenging retail marketplace.
---