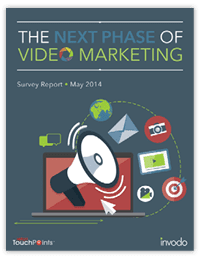 Video is becoming an increasingly vital part of retail marketers' strategies. Across the board for the next three years, more than three quarters of retailers and manufacturers are planning to increase their video budgets.
Are you getting the most out of your video strategy? Find out in this exclusive survey report, titled: The Next Phase Of Video Marketing. This inaugural report includes responses from 66 retail executives.
Some key topics addressed in the survey include:
Goals advanced with video marketing;
Video compared with other marketing tactics;
The use of interactive video elements;
Tapping social channels for video distribution; and
Measuring the success of video marketing strategies.
Study respondents included a variety of retail and manufacturer executives who are employing a diverse number of videos.
The focus on video is now spread far and wide across organizations. While the Product Marketing Managers play the most vital role in planning and executing the video strategy (48.4%), the CMO and/or VP of Marketing is typically involved (42.9%) as well. Other key executives that take part in video planning are the VP of Merchandising (39.3%), the CEO (28.6%) and the CIO (17.9%).
At Retail TouchPoints, we plan to continue to monitor and analyze the impact of video on retail marketing, as it continues to offer new ways for retailers to interact with consumers. We hope this report helps you and your organization improve your position and strategies within the retail marketplace.
Fill out the form below to download a copy of the report.
---