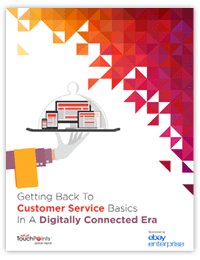 Consumers have a variety of information sources at their disposal, and technology is empowering them to connect with brands and retailers at any point during their browsing and buying journeys.
The increasing variety of service channels available undoubtedly provides shoppers with more ways to interact with brand representatives. But for the most part, quantity does not equal quality: Just 5% said companies exceed their expectations, according to the 2014 Global Customer Service Barometer from American Express.
E-Commerce players such as Amazon and Zappos are "leading the way in terms of how retailers should interact with customers," said Omer Minkara, Research Director of Contact Center & Customer Experience Management at Aberdeen Group. These retailers also have collected and aggregated a plethora of data about their customers, which empowers agents to have more enriching and valuable conversations across channels.
Complete the form below to download the entire Omnichannel Customer Service report, and learn how Aeropostale and BaubleBar are structuring their service operations to ensure retail success!
---