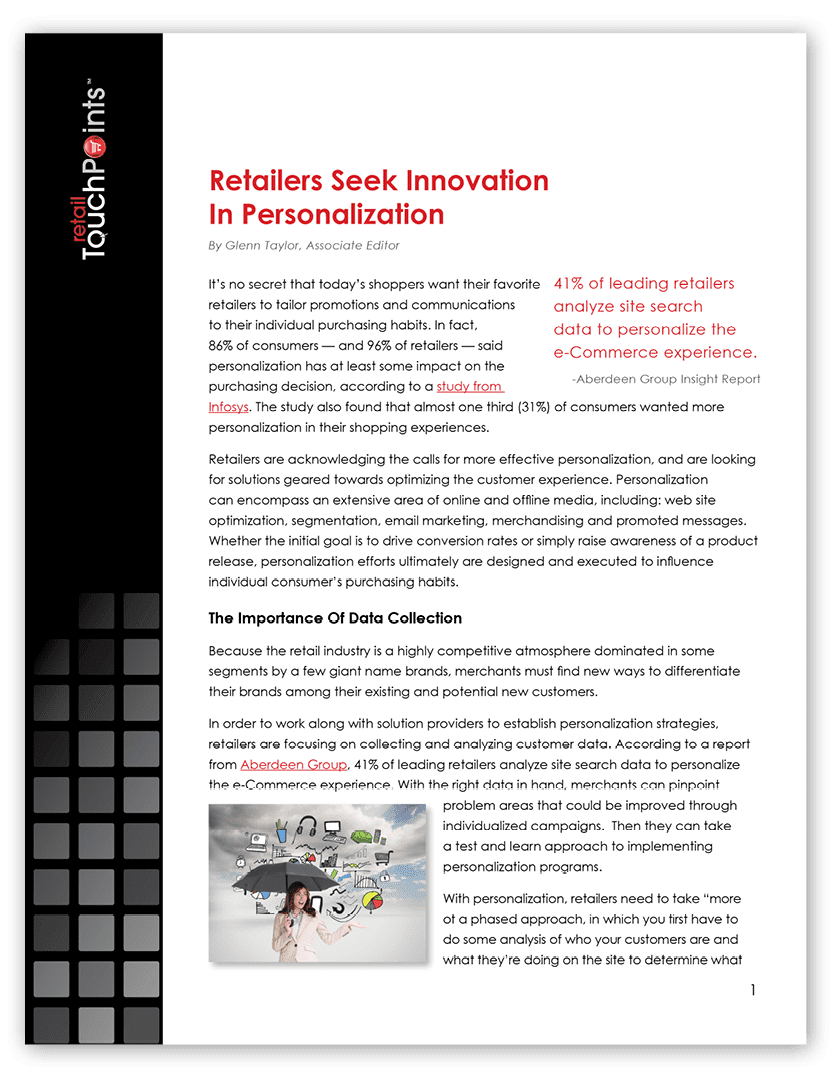 Retailers are acknowledging the calls for more effective personalization, and are looking for solutions geared towards optimizing the customer experience. Rue La La, Build.com and Wayfair are among the innovative retailerstapping different personalization technologies to maximize engagement and boost sales across channels.
A variety of technologies and solutions are available to retailers, covering a broad spectrum of tactics, including segmentation, targeting, customization, web site optimization, product recommendations and content marketing. With such a breadth of resources available, retailers arguably are in a better position than they've ever been to improve weaknesses in their customer relationships.
READ IN HTML5 OR PDF:
---
Rue La La Awakens Dormant Customers With BrightTag
Flash sale retailer Rue La La initiated a customer segmentation project designed to reactivate a portion of "dormant" consumers as a last-stitch effort to boost conversions. The goal was to target these shoppers with relevant display ads that would entice them to complete purchases on the web site. But the effort fell flat because Rue La La was unable to share relevant customer data with retargeting partners due to an inability to match customer profiles.
Using data integration platform BrightTag Fuse, today Rue La La can match customer data across all owned assets in real time and create more precise targeting strategies.
"Customer data is one of our most valuable assets, but leveraging it across disparate collection points is a big challenge," said Eric Sherman, Sr. Manager of Acquisition Marketing at Rue La La. "BrightTag solved that in short order by giving us a way to connect data and make it actionable. With BrightTag Fuse, Rue La La was able to wake up dormant customers and increase conversions in a key retargeting campaign by more than 10%."
Build.com Personalizes Web Content
After working with two previous vendors, Build.com, a home improvement eTailer with a network of seven web sites, searched for a personalization solution capable of enhancing the online experience based on customer data. During the search, the retailer discovered RichRelevance enRICH.
"We've done product recommendations for quite some time now, and with RichRelevance, the amount of control we have over setting merchandising rules or boosting a certain brand can really affect more than the customer experience and truly drive changes throughout the company," said Justin Bergson, Director of Engagement and Personalization at Build.com. "Their data-driven mindset is very much aligned with ours."
The RichRelevance personalization engine goes beyond product recommendations, providing the Build.com team with personalized promotions and content to deliver to customers, according to Bergson. The Build.com Network of Stores now contains more than 500 videos — ranging from DIY guides to design ideas and "before-and-after" remodeling examples — giving consumers plenty of content to tap for education and inspiration.
The solution implementation process took a total of eight days, a vast improvement over the standard six- to eight-week implementation time, Bergson noted. "We're proud to be the fastest implementation [RichRelevance] has ever had. The speed at which things can get done with RichRelevance is incredible."
Frederick's Of Hollywood, Shoes.com Tap Certona
Retailers such as Frederick's of Hollywood and Shoes.com have seen tremendous improvements in their brand performance after working with Certona to implement personalization strategies. Frederick's initially had interest in automating its product recommendation process rather than continuing to generate and upload recommendations manually, which took up to three days at a time. Certona was able to provide these product recommendations in a more automated fashion, and deliver real-time shopper behavior profiling.
To test the real-world effectiveness of the solution for Frederick's, Certona conducted an A/B test comparing the capabilities of the retailer's in-house manual recommendation process to the Certona automated system. While the in-house recommendation test group garnered 8% of its revenue from recommendation demand, the Certona solution delivered a 12.5% boost, representing a 56% increase in revenue.
Shoes.com faced a different challenge. With an extensive catalog of footwear to choose from, consumers were struggling to select an ideal purchase quickly and seamlessly. To help streamline the online shopping process, the retailer turned to Certona to incorporate personalized product recommendations.
Recommendations generated by Certona are based on data extracted from individual visitors' behavioral profile and previous purchases, and are used to cross promote items of the same brand that the buyer may be interested in. The "No Results" search page received an overhaul so that recommended products would appear on screen, replacing the former dead-end page that halted the shopping journey.
Up to 20% of all Shoes.com visitors click on a recommended page, and 22% of all site revenue derives from product recommendations. The retailer reported that consumers who receive personalized emails purchase more items per order than those who do not (1.8 to 1.3), or an average order size increase of 30%.
Regarding the relationship between the company and its more than 500 retail partners in 2013, Certona shared that retailers experienced a 244% increase in click-through rates on email marketing content and a 412% increase in revenue per email opened. Online retailers achieved 300% higher conversions from web responders by using personalized digital content driving click-through rates, products viewed and session time, according to a company press release. Average order value increased by 50% for brands implementing personalization solutions. Perhaps most importantly, on average, 13% of the revenue these retailers received directly came from personalized content and merchandising.
In a statement, Certona CEO Meyar Sheik explained: "Simple in-the-moment testing and targeting, or product recommendations, are no longer enough. Advanced personalization that harnesses the power of predictive analytics enables a better experience tailored to each consumer. This in turn enables brands and retailers to drive stronger engagement and more revenue as profile knowledge is shared across channels."
Wayfair Tests With SiteSpect
Wayfair has made a name for itself in recent years for selling "a zillion things," but its extensive assortment of home décor products can make the online customer experience difficult for shoppers to manage and optimize. In order to organize the site in a manner that could provide the best online experience for customers, Wayfair turned to testing and optimization solution provider SiteSpect.
"We've used SiteSpect since 2008 and have run hundreds of experiments since then," said Jeff Hannan, Manager of Site Testing and Analytics at Wayfair. "We use the platform to help us make really smart, data-driven User Experience decisions, which creates the best possible online experience for our customers. SiteSpect gives us the ability to run complex tests thought up by our internal product and engineering teams, and allows us to gather and segment interaction data for each experiment."
In one case, SiteSpect conducted web site usage tests to understand why certain viewers were not converting at an expected rate. According to Wayfair executives, the testing helped the company discover that larger image sizes, in combination with less copy, elicited higher response rates. SiteSpect also helped the retailer understand exactly where potential customers were dropping out of the purchase funnel, in order for the site's search capability to be fixed accordingly. Wayfair officially credited SiteSpect for 7% of its sales growth in the year after implementation.
There's Always Room For Improvement
While the case studies cited in this report are just a few examples of personalization presently taking place, they shed light on the potential that can be achieved once retailers begin to understand the desires of their individual customers.
Retailers of all sizes have room to grow and improve their cross-channel marketing strategies and overall brand experiences, helping them achieve long-term revenue goals.
Whether they are using personalization to predict customers' next move, or test specific functionalities of the company web site, there are a variety of ways retailers can embrace personalization to create more meaningful and timely brand interactions.
Click here to download a complimentary pdf of the two-part Personalization Report.