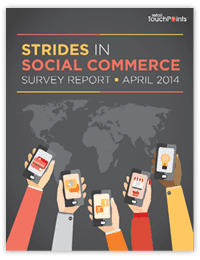 As the social channel grows and morphs, retail organizations must change along with the trends. While Facebook is still a force in social commerce, Twitter is gaining ground. Other platforms — including Pinterest, Instagram and Google Plus — also are standouts.
So how do retailers keep up? It's a constant evaluation and re-evaluation of the marketplace. While Groupon may be today's most profitable channel for some merchants, LivingSocial works better for others.
In its third year, the Retail TouchPoints social commerce survey polled retailers' about their progress against peers and industry colleagues, and how they've implemented successful new social commerce strategies. This year's report, titled: Strides In Social Commerce, includes responses from 97 retail executives.
There's no question among retailers surveyed that social commerce is here to stay, in some form or another. The majority (66%) of retailers now have a social commerce strategy in place, up from 60% in 2013 and 48.5% in 2012. Additionally, the percentage of retailers with no plans to invest in a social commerce strategy has been slashed in half at just 11% in 2014, down from 22% last year.
Some key topics addressed in the survey report include:
Percentage of sales attributed to social commerce today and by 2016;
The effectiveness of different social media platforms;
An analysis of third-party social channels;
Incentives for social commerce interaction; and
Most significant social commerce challenges.
Study respondents included a variety of retail verticals and revenues. Specialty Hardgoods and Softgoods delivered the majority of responses, with Grocery and Electronics not far behind. Respondent revenue ranged from less than $1 million to more than $500 million, in relatively equal segments.
Click here to download the complete report.