Concept: Using innovative tools to address the challenges of the ever-changing online shopping environment, the GoECart solution is designed to empower merchants and retailers of all sizes with on-demand ecommerce solutions. The latest version, GoECart 8, combines over 250 ecommerce software features with a customizable Web storefront and site hosting. One unique feature of GoECart is its "One-Page Checkout" capability, designed to address the ongoing issue of shopping cart abandonment.
The Team: In business since 2000, GoECart was founded by Manish Chowdhary, GoECart's CEO. Chowdhary, an outspoken advocate for ecommerce best practices, often speaks on topics like shopping cart abandonment, social computing, Web 2.0, and personalization. Headquartered in Bridgeport, CT, GoECart's Thriving Partner Ecosystem of ecommerce solution providers, along with the GoECart team, aim to deliver the rich, immersive experience expected by today's savvy Web shoppers.
Market Relevance: One third of online shoppers have now been buying online for seven years or more. Web site traffic is up, but engagement rates are down, and shopping cart abandonment rates continue to soar. A staggering 59.8% of online shoppers abandon their shopping cart instead of following through with a purchase, according to recent study by research firm Marketing Sherpa. With the maturing e-commerce environment in mind, GoECart's unique One-Page Checkout feature provides shoppers with a streamlined checkout experience designed to present "the right information at the right time."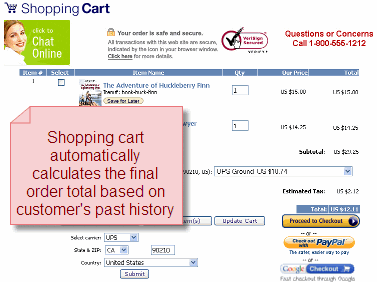 Delivery: "While enterprise-class solutions carry a six figure tag and are outside the reach of most merchants, GoECart provides a very compelling solution for merchants who wish to capitalize the on next wave of ecommerce which will focus on customer retention, loyalty, and personalization," says Chowdhary. The site administrator can choose from a number of features designed to address shopping cart abandonment from the software's administration panel. This includes functionality to:
Enable customers to add products to wish lists, registries and "social shopping" lists
Add an assisted checkout option using LivePerson™ live chat
Increase average order size using relevant cross-sell and up-sell promotions right at checkout
Support multiple alternate payment methods like PayPal, Google Checkout and cross-channel sales via gift cards, gift certificates, loyalty programs and in-store pickup
GoECart offers merchants the ability to track a variety of statistics, including the details about abandoned shopping carts, using GoECart's reporting and dashboard capability. The merchant can then leverage GoECart's transactional email capability to revisit incomplete orders with the customer and entice them to buy. A recent study by MarketingExperiments.com suggests that sending this type of email can improve the retailer's chances of conversion by as much as 263%.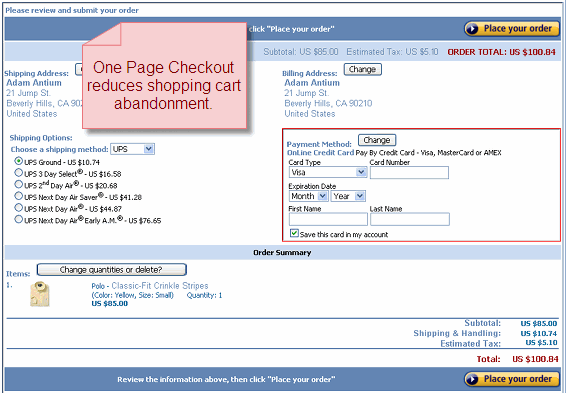 Proof Points: GoECart's clients span across many verticals: apparel, communications, gifts and collectibles, consumer electronics, home furnishings, food and wine and others. Reference customers using One-Page Checkout include alternative furniture store, LoveSac, home and garden accessories merchant, Good Directions, international food seller, casaOliver and fine men's apparel proprietor, SuitYourself. For the past four years, GoECart was named a finalist by the Software & Information Industry (SIIA) for a prestigious CODiE Award for "Best Ecommerce Solution." The company was also recently awarded a Connecticut Quality Improvement Award (CQIA) for the innovative features in GoECart 8. The 22-year old CQIA program is America's first, state-level quality award using the Malcolm Baldrige National Quality Award for Performance Excellence criteria.

Additional tips and advice for retailers about shopping cart abandonment can be found on GoECart's Ecommerce Blog:
---
Read about other solutions in our Solution Spotlight index: click here
Have a solution that you would like to Spotlight? click here