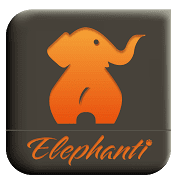 To successfully reach and engage target consumers on a consistent basis, retailers are encouraged to develop a strong mobile presence. However, some retailers don't have the funds or the right people in place to create their own branded mobile apps or optimized sites.
Elephanti is a mobile app designed to help retailers develop their online and mobile presence. The app can create a "virtual storefront" comprised of a store's entire inventory to help build brand awareness and attract shoppers online and via mobile.
Elephanti operates using a "Pay Per Check-In" advertising model, so retailers only need to pay when shoppers see an ad, walk into a store and physically check in. This can help ease the anxiety of retailers hesitant to allocate funds for advertising programs.
App users can gain real-time access to rewards and promotional offers by simply checking into a store. Promotional offers are personalized based on customer interests and locations.
Using a shopping list function, consumers can track which products they need to buy. The app then uses that information to determine which stores nearby sell specific items. A search function enables customers to compare items, prices and offers from different stores, so they can determine the best deals before they even leave their homes. After completing the purchase, they can write reviews on the retail experience, and read what other shoppers have to say about local merchants.
Current Elephanti partners include major retailers and hospitality brands such as California Pizza Kitchen, Hard Rock Hotel, Holiday Inn, Hyatt Regency, Kate Spade, Marriott, Nespresso, Sheraton and Westin.