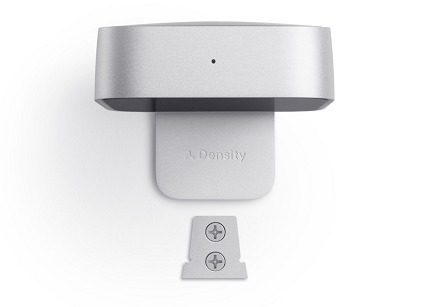 Density has released a people-counting sensor designed to track foot traffic and eliminate lines, so retailers, hospitals and office spaces can optimize the usage of their physical locations.
The sensors use computer vision, depth-sensing technology and an onboard processor to determine the speed, direction, and movement of a person through an entryway. They are designed to handle complex human behavior including group collisions, bi-directional movement, lines and lingering, and track each person anonymously.
Density can email users a regular foot traffic report that includes measurements such as activity change percentage and busiest hours.
A Density sensor is less than four inches wide and is manufactured to fit above most doorways. Using these sensors and the company's API, Density provides retailers the ability to:
Measure how many people enter and exit a physical space;

Utilize infrared light, depth sensing technology, machine learning and computer vision to count people without having to determine age, gender or ethnicity; and

Make available data that can be integrated into existing software, allowing retailers to build their own applications and benefit those who live in, work in or utilize their spaces.