Concept:
Initially introduced in 2007, ATG Recommendations is an on-demand service designed to provide online merchants the ability to offer automated, personalized recommendations and merchandise to online shoppers. Unlike other solutions which recommend items based on what shoppers purchased in the past or based on shoppers with similar interests, ATG Recommendations aims to predict what each shopper wants to buy in each visit to an e-commerce site to help retailers increase conversion rates, order values, and customer loyalty. In May the company announced its spring 2009 release of ATG Recommendations, which includes new features: Email recommendations, enhanced merchant control over recommendations and cross channel and rich media support. The technology is designed to enable each shopper to access dynamic, automated product recommendations that match his or her personal needs in each visit. The solution is designed to easily integrate into any e-commerce Web site to instantly make it more dynamic and personalized with minimal or no upfront investment or effort.
The Team:
Headquartered in Cambridge, MA, ATG Recommendations was conceived and developed by statistics expert Bruce D'Ambrosio, Vice President and Chief Architect, OnDemand Personalization, ATG. D'Ambrosio created a recommendation engine that can be added to any Web site, incorporating a customer's current and past behavior, the behavior of other consumers, catalog information, as well as external factors and the merchant's merchandising strategy. Erik Holm, ATG Recommendation's Product Manager and Matt Landau, ATG's VP Product Architecture for Recommendations help support D'Ambrosio on the ATG Recommendations team.
Market Relevance:
Now more than ever, brick and mortar stores and online merchants alike are competing for consumer's attention and spending power. Online retailers need to offer consumers an engaging online experience, complete with relevant merchandise and recommendations that match and pique their individual interests. ATG's customer data shows that shoppers who click on automated recommendations are proven to convert 100-200% more often and buy 10-30% more than those who don't.
Delivery:
Web merchants can add ATG Recommendations to their existing Web sites or e-commerce platforms in a four-step process. First a retailer uploads its online product catalog to ATG, then adds JavaScript tags to its Web site pages to help collect data about how shoppers interact with its online catalog and Web site. Next the retailer designates where it wishes to display automated product suggestions, from product detail pages, the shopping cart, top-seller pages, emails—essentially anywhere the retailer touches shoppers online. Finally, the retailer applies styles to tailor the presentation of products to match its site's look and feel. Once up and running, ATG's client services group assists with testing, reporting and best practices to help ensure maximum return on investment.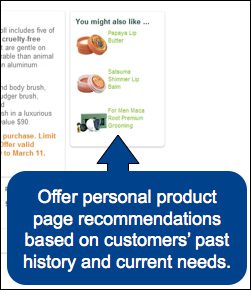 Proof Points:
In 2007, one high-end apparel brand sought out an approach to effectively optimize online results that wouldn't require in-house technical expertise. Additionally, the company wanted to implement recommendations to its Web store, without having to worry about manual effort or a heavy price tag. After reviewing all the relevant e-commerce solutions available, the brand integrated ATG Recommendations.
The brand found that shoppers who click on recommendations stay on the site longer and convert at three times the rate of those who don't. Initial results have shown that more than 30% of the retailer's online revenue is influenced by recommendations. The retailer also reports that his team is now more proactive in planning promotions and strategy. ATG Recommendations is currently in use by The Body Shop, Figleaves.com and Talbots.