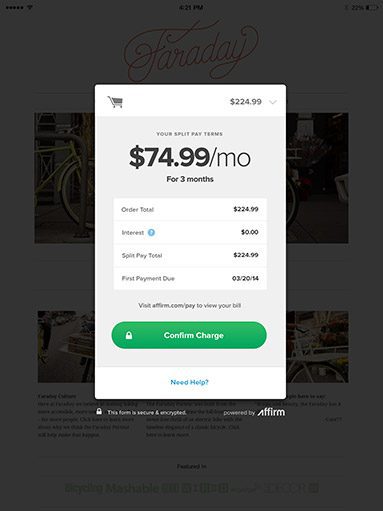 Shoppers may be hesitant to purchase an expensive item online due to fear of debt and hidden fees and taxes that may result from the transaction.
A new solution from Affirm, called Split Pay, allows consumers to split their online purchases into smaller monthly payments to mitigate the impact of a large transaction. Retailers can offer Split Pay as a payment option on their e-Commerce site.
Split Pay is designed to provide clear terms and fixed payment installments, preventing consumers from being hit with surprise fees that may be applied after they buy an item with their credit cards.
The solution also is designed to provide no risk for retailers, as Affirm pays its merchants in full at the time of settlement. Affirm charges merchants 2% to 3% of each transaction, with shopper fees starting at 6%, depending on payment history and amount of payment installments.
"Consumers want and need an easy-to-use alternative to credit cards when they're shopping online, especially underserved populations like Millennials, enthusiasts and the vast population of debit card users," said Max Levchin, Co-Founder and CEO of Affirm. "Consumer financing has been available to the largest online and many brick and mortar merchants for years. We're now bringing this powerful financing to all online merchants, large and small."
To register for the service, consumers provide basic information such as their name, mobile phone number and date of birth.