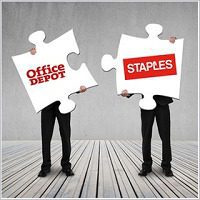 Both the current and potential strength of Amazon in the office supplies marketplace will be a critical factor in determining whether the $6.3 billion Staples-Office Depot merger is delayed, or even takes place at all.
At a hearing in U.S. District Court that began March 21, Prentis Wilson, Vice President of the Amazon Business office supplies unit, testified that this segment of the e-Commerce giant had no large corporate customers, did not stock shelves and often did not bid for customers' business. According to a report in Reuters, if the judge is swayed by Wilson's testimony about the weakness of Amazon as a competitor, it spells trouble for the merger.
The hearing, which is expected to take as long as two weeks, pits the U.S. Federal Trade Commission (FTC) against the retailers, which have been trying to consummate Staples' purchase of Office Depot since February 2015.
Disruptive Impact Of Digital's Growth
The two brick-and-mortar retailers have been arguing vigorously in the court of public opinion that the FTC's actions are based on "a flawed analysis of the marketplace and a deep misunderstanding of the competitive landscape." In a March 18 open letter signed by Staples CEO Ron Sargent and Office Depot CEO Roland Smith, the retailers wrote: "In making its case, the FTC refuses to even acknowledge the rise of new competitors, such as Amazon, and the disruptive effects of the digital economy."
As in so many other areas of retail, Amazon's ability to dominate a product category, or an entire vertical, will be a key issue. It's even significant that the Amazon executive testified in person rather than via video, according to Ryan Lynch, a senior reporter with PaRR Global, which specializes in coverage of mergers, competition laws and regulations.
While the original plan was for Amazon to testify remotely, district court Judge Emmet Sullivan "said a remote video is not good enough, which indicates that he wanted to ask questions himself," said Lynch in an interview with Retail TouchPoints. "Amazon has their own internal projections of how much business they plan to get. Maybe Amazon is a huge threat, and therefore it makes sense that Staples and Office Depot need to combine in order to compete."
Impact Of Business Vs. Consumer Marketplace
Another unique aspect of this battle is its focus on corporate contracts rather than the retailer's consumer business. "The FTC's focus is generally on the end consumer, as it was when it challenged a merger of Staples and Office Depot in the late 1990s," said Lynch. At that time, some of the FTC's evidence consisted of price comparisons when Staples and Office Depot stores were located close to each other.
Today, however, the retailers' commercial business, which generated nearly as much revenue as Staples' 1,200 stores this year ($8.4 billion versus $9.6 billion), is at issue. When Staples and Office Depot faced objections on these grounds from European Union regulators, Staples offered to bring some $600 million in contracts to office supply wholesaler Essendant (formerly United Stationers). This move sufficed for the EU, which has approved the merger, along with Australia, New Zealand and China.
Such a move may not be enough to satisfy the FTC, however. "One of the concerns here is that these contracts aren't durable assets, like a store or a warehouse full of inventory," said Lynch. "They're not five- or 10-year binding agreements. Even if a contract switches to Essendant, it's possible the newly combined retailer could come back to its former clients with an offer," he added. "Divesting these contracts is at best a short-term fix; there's no guarantee that it's a successful remedy" to a lack of competition.
Staples and Office Depot remain committed to the merger, according to the CEOs' letter, which concludes "This has been a long and frustrating road, but we look forward to a fair and impartial hearing."
For its part, the FTC shows little sign of backing down. "The FTC represents the American public, so they're conscious of how they spend their resources," said Lynch. "They're only going to court if they think they have a good case that's going to protect consumers." Stay tuned for the court's decision.