As digital natives continue to push the boundaries of convenience, traditional brick-and-mortar retailers have turned to omnichannel fulfillment as a mechanism to meet rising consumer expectations.
While the concept seemed promising at the outset, it has proven to be not only tough to deploy but also economically challenging to sustain, as most retail networks were not designed to manage the complexity and cost of these new physical flows.
On top of these challenges, merchandising, planning and supply chain teams now have to contend with the exponential complexity required to manage new channels, and the overwhelming pace of change and agility set by digital natives. Getting the right product to the right location is more important, and difficult, than ever before.
While there is clearly no silver bullet to solve the challenges posed by omnichannel fulfillment, retailers can look for inspiration in the CPG and pharma industries. Leaders in those verticals are leveraging a new approach, cognitive automation, to manage the complexities of their supply chains at scale and speed.
The Challenge With Omnichannel Fulfillment
Omnichannel fulfillment was supposed to be a salvation for troubled brick-and-mortar retailers. The premise was simple: Sales will improve if shoppers can seamlessly buy, pick up and return goods over any channel they choose — physical stores, web sites, mobile apps and online marketplaces.
What has proven to be not so simple is getting omnichannel fulfillment right, with a cost structure that already razor-thin retail margins can tolerate. Despite all its promise as a catalyst for sales growth (or, in many cases, stemming rapid sales declines), omnichannel fulfillment is proving not only difficult to achieve but also prohibitively expensive to sustain.
Meeting the promise of a seamless customer experience across any channel is forcing retailers to move products in ways that are far from optimal. In the name of seamlessness, many retailers are turning their physical stores into ad hoc fulfillment centers.
Target, for one, more than doubled its ship-from-store volume in a recent quarter. Chico's is now fulfilling more than 10% of e-Commerce orders from stores, and Kohl's has increased its ship-from-store operations more than 10X.
Yet ship-from-store is taking a big bite out of retail margins, often in ways that most retailers are not accounting for. Store employees have to pick products from shelves, package items without the assistance of automation technology and ensure carrier pickup — all in addition to their daily responsibilities.
This significantly drives up labor costs while diverting personnel from ever-critical customer service. Layer on the cost of shipping from the store — up significantly in 2019 at UPS, FedEx, USPS, and just about every carrier — and margins that are already in the single-digit range are quickly eroded into the red.
Keeping Pace With Digital Natives
While the current approach is clearly not sustainable, the real question is whether brick-and-mortar retailers have a choice when it comes to offering omnichannel fulfillment. While traditional retailers scramble to meet the consumer where she/he wants to shop, Amazon and other digital native retailers continue to push the boundaries on convenience with offers like free shipping and next-day delivery, powered by an ever-growing army of algorithms and robots.
As accessibility and convenience become less of a barrier for online retailers, it's not surprising to see that year-over-year U.S. e-Commerce sales leapt nearly 14% in Q2 2019, while a record-high 12,000 physical stores are projected to close in 2019 alone.
Brick-and-mortar retailers are well aware of the expectations that are being set with their consumers, yet continue to face significant challenges in rising to the occasion. The State of Retailing Online 2019, a study by the National Retail Federation, highlighted several barriers in the way of effective omnichannel fulfillment:
• 56% say inventory accuracy continues to be a barrier for omnichannel efforts;
• 65% say they're challenged to forecast cross-channel demand with current inventory planning systems; and
• 49% are challenged to adjust in-store inventory to handle ship-from-store fulfillment.
In response to the push from digital natives, retailers are continuing to up spending aimed at omnichannel fulfillment, with efforts covering every available acronym: buy online, ship from store (BOSFS); buy online, pick up in-store (BOPIS); and buy online, return in-store (BORIS), among others. This is driving a staggering 69% of retailers in 2019 to increase their budgets for inventory management and order management technology, a Total Retail study found.
While artificial intelligence (AI) is also high on retailers' radar screens, with 40% of retailers planning to increase their AI spend in the next 12 months, many of those investments are focused on the front-of-house activities such as personalized marketing and in-store experience.
The Promise Of AI And Cognitive Automation For Omnichannel Fulfillment
The convergence of AI with inventory management, demand forecasting and supply chain operations has the potential to materially move the needle on omnichannel fulfillment — and retailers' bottom-line profitability. Capgemini estimates that retailers can save as much as $340 billion a year with AI — with 80% of those savings resulting from more efficient supply chain and returns processes.
Consider this scenario in the complex and highly seasonal apparel retail sector: Merchandising, planning, allocation and supply chain teams work across 9+ months, contending with a myriad of factors, to get the right product to the right location. Work is done across an array of tools with incomplete data (all too often in Excel), proper analysis is time-consuming and therefore often limited to key products, and subtle shifts in demand signals are rarely captured in time.
As a result, when the product arrives to the stores, it is often not where the consumer demand is — leading to expensive inventory reallocation or inefficient shipping.
If this process was orchestrated through cognitive automation, it might look like this: At the start of the season, merchants select products and quantities to order based on recommendations from a cognitive automation engine that has crawled through the retailer's systems to understand historical sales behavior, emerging trends and category strategies.
From there, planners and allocators review suggestions the system has made on how to distribute the product across channels and locations to optimize sell-through and minimize markdowns.
While the product is sourced, often taking six to 12 months in specialty apparel, the system continuously recommends that planners adjust where the inventory is allocated, based on constantly updated forecasts — always aiming to get the product as close as possible to the customer.
Once the product is set to arrive in stores, the system suggests adjusting store-level staffing based on any shipping delays, and re-optimizes the logistics plan to further reduce the cost of delivering the inventory to stores.
Finally, as the product begins to sell — slower than originally expected — the system informs planners that a localized markdown is the best approach to maximize margins and reduce potential liabilities at the end of the season. Throughout the entire process, the platform is augmenting the work of the merchandising, planning, and supply chain teams, helping them stay on top of every little detail at all times.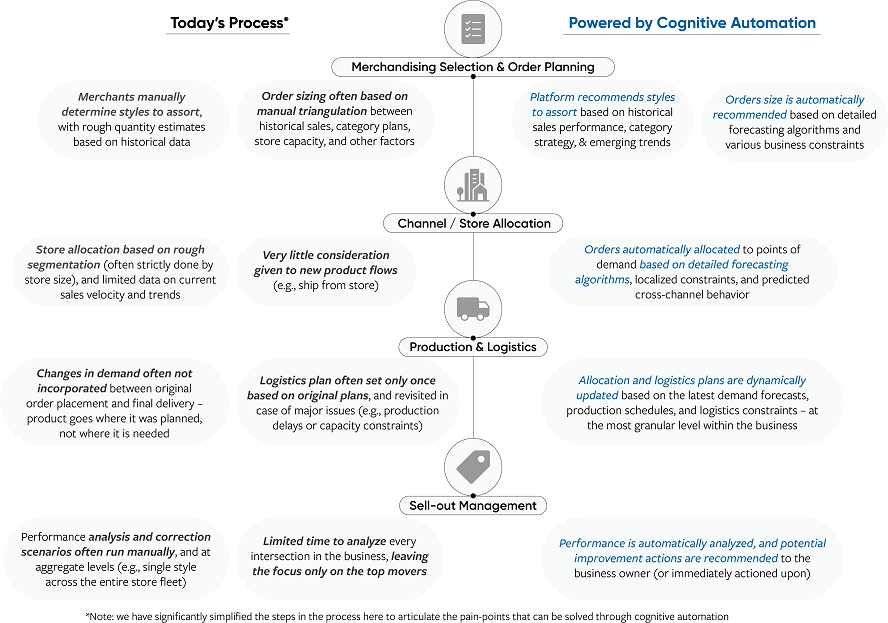 While we're seeing rapid adoption of this type of cognitive automation in supply chains across CPG, pharmaceuticals, manufacturing and other industries, retail supply chains continue to operate on traditional platforms. Human merchants, planners and allocators still drive the vast majority of decisions using Excel spreadsheets and decades-old planning systems.
While many have aspirations to modernize these core platforms, traditional approaches to doing so are often too expensive, require long implementation cycles and rarely deliver the ROI they promise at the onset.
The Cognitive Automation-Powered Monday Jumpstart
A common sight at most retailers around the globe: Monday morning rolls around, and teams are frantically piecing together last week's results. Evaluating sales results, measuring the effectiveness of promotions, identifying products that oversold or undersold, and uncovering inventory or other issues that might have cropped up.
It's a weekly ritual that involves teams from every corner of the business, often takes up the full day (or more), and frequently doesn't deliver the answers that are needed in time to take action.
Now, imagine that Mondays are driven by cognitive automation. By the time the team arrives in the office, the AI engine has done all that number-crunching, highlighted anomalies and served up recommendations to address sales weaknesses and grow margin. Instead of Monday morning debates over conflicting numbers, retailers have action-oriented recommendations to move forward immediately, and time to think about how to wow their consumer next.
While the above may sound like a dream that is a decade out in the world of retail, many CPG, pharmaceutical and manufacturing organizations are already using cognitive automation to drive material improvements to the business. Better yet, they're able to layer cognitive automation on top of existing platforms and leverage existing investments to deliver decision automation in a matter of months — without the need for year-long transformations or experiments that don't scale beyond pilot efforts.
Brick-and-mortar retailers that follow suit will be well equipped to reap similar rewards — solving the challenges of omnichannel fulfillment and better meeting the expectations of today's consumers.
---
Frederic Fontes Gerards is a Client Partner with Aera Technology, where he helps clients drive impact across the enterprise by digitizing and augmenting complex decision-making. Prior to Aera, he was an Associate Partner with McKinsey's Advanced Analytics practice, where he led clients through large scale analytics transformations across the CPG and Retail sectors.