One of the biggest catchphrases in nearly every retail trend conversation today is the "Amazon effect." And after looking at the latest sales data, it's clear why that is. For example, Slice Intelligence reported that the 2017 online holiday season was the strongest ever, with 12% more buyers and shoppers spending an average of 10.7% more than the previous year ($637.77 in 2017 vs. $575.74 in 2016). Amazon captured 38% of the online holiday shopping frenzy, and the next closest competitor was Best Buy, which garnered just 4% of the overall pie. There were five months last year in which Amazon commanded 40% or more of the e-Commerce market share.
Real-Time Analytics Is A Must-Have Prerequisite To A Great Customer Experience
One thing that should give retailers some hope in competing against Amazon is that winning isn't just about being cheaper; the customer experience also plays a vital role in the equation — product choices, reviews and fast, low-cost (i.e., free) shipping, to name a few. And technology-driven processes are going on behind the scenes that are important to note as well. One of the prime (no pun intended) factors is real-time analytics.
Before one can appreciate the power of analytics, it's imperative to understand the four categories of analytics (explained in more depth by Marketing Intelligence Professionals).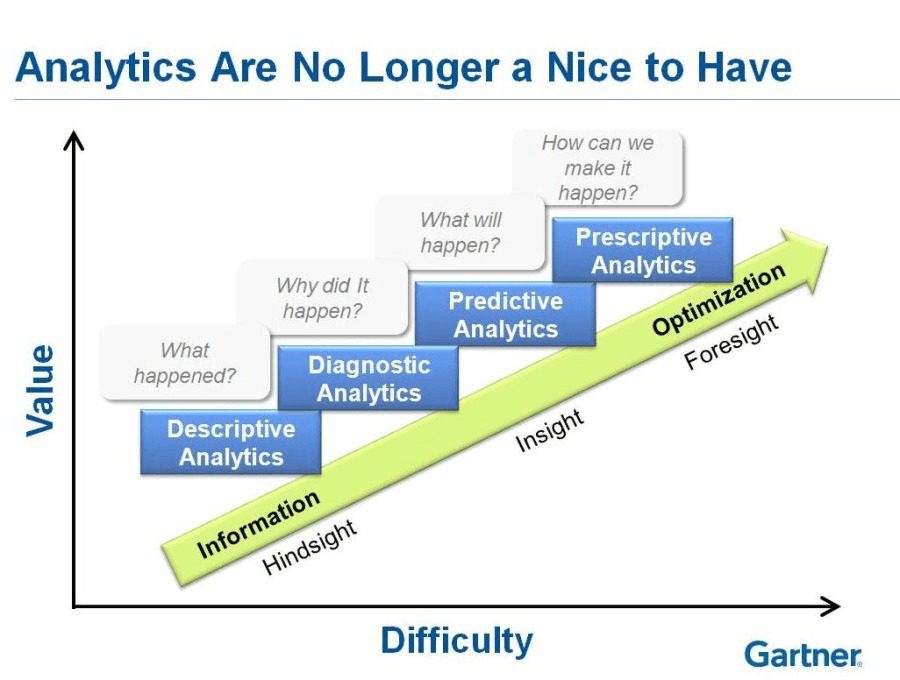 Here's a summary:
Descriptive analytics — Uses data aggregation and data mining to provide insight into the past and answers the question of what happened.
Diagnostic analytics — Compares historical data sets to identify dependencies and patterns and answers the question of why something happened.
Predictive analytics — Uses statistical models and forecast techniques to understand the future and answers the question of what is likely to happen.
Prescriptive analytics — Uses optimization and simulation algorithms to provide advice on possible outcomes and answers the question what should I do about it.
It's important to note that the different types of analytics aren't in competition with each other, they're complementary, and they build upon one another. In other words, you can't get to the ultimate state — prescriptive analytics — without being able to perform the other analytics.
How Toyota Incorporated "Manual" Analytics In The 1960s
The concept of prescriptive analytics may have gained popularity only in recent years, but it's been around for quite some time. Toyota incorporated these principles in its manufacturing and management processes in the 1960s, which are summed up in parts of "The Toyota Way." In the principles that make up The Toyota Way and lean manufacturing, the automotive manufacturer strives to avoid overproduction and excess inventory. It applied various types of analytics manually to its ordering processes too. For instance, if a line worker noticed the remaining inventory of auto lock switches was running low (i.e., descriptive analytics), he was trained to be proactive and avoid stopping production (i.e., predictive analytics) by ordering more parts (i.e., prescriptive analytics).
Today, computers and artificial intelligence (AI) replace the manual/human component with automated inventory replenishment. This same technology enables savvy online retailers to make recommendations to online shoppers. (e.g., "Customers who purchased this item also purchased these other items.")
For example, I recently purchased a hiking backpack online from REI. One month later I received a personalized message stating, "We noticed you're not fully packed for your trip," and they showed me their top-selling tents weighing three lbs. or less. Although I purchased a tent from them three years ago, it was a much larger tent that would require a vehicle to haul — not a backpack. I ended up buying the smaller tent from REI.
The prescriptive analytics experience didn't end there. After purchasing the tent, I received an email from the retailer containing a step-by-step instructional video showing me the correct way to set up the tent, the proper way to pack it and even the best way to pick up a fully loaded backpack. As you can imagine, those touch points — all fueled by prescriptive analytics — played a crucial role in my experience. At any time, I could have done comparative shopping with one of their competitors, but they made it too easy (and enjoyable) to keep buying from them.
Small Retailers Can Counter The Amazon Effect With Prescriptive Analytics Too
I can already hear a collective sigh from the smaller retailers reading this article, saying "These are great for billion-dollar giants like REI, but what about us?" Here's the good news: thanks to the latest advancements in cloud technologies and software as a service (SaaS), these technologies are also affordable for small and midsize retailers.
One software provider that comes to mind is Simple Order, which is an all-in-one restaurant inventory management system for single and multi-location businesses, designed to streamline back-of-house restaurant operations. The solution features one-click purchasing, real-time food and recipe costing, POS sales integration, central kitchen management and more. Their Pro plan, which includes automatic replenishment, POS integration, and QuickBooks integration is $99 per month with no contract.
Another small- to midsize-friendly analytics solution is Orca Inventory and Ordering, which learns how much you order each week and streamlines your ordering processes. For example, if you sell out of an item, the system learns to increase the order next time. And the weather and holidays are taken into account when calculating how much to order. This solution is $149 per month without a contract.
There's lots of analytics and other helpful technologies available today that can help retailers of all sizes operate more efficiently, provide a better customer experience and counter the Amazon effect. And as demonstrated earlier, it's not like you need to invest millions of dollars in new technology and hope for a return on your investment in five years. It's affordable, the return on investment is quick, and you don't have anything to lose.
---
Luis Artiz is Group Product Manager for Epson America's point-of-sale (POS) solutions division. For the last two years, he's led product marketing, business strategy, and product launches for the North America region. Prior to Epson, Artiz spent seven years at Belkin International as Director of Product Management leading the worldwide business products division, with responsibility for marketing, product development, roadmap, and P&L for all global regions. He started his career as an Engineering Group Manager at Xponent Photonics, a fiber optics technology start-up in Monrovia, CA. He earned both his MBA and Masters in Electrical Engineering from the University of Southern California.