Retailers are waking up to the limitations of monolithic commerce stacks. These legacy models hinder one's ability to be truly agile, which is particularly troublesome when considering the ever-emerging challenges of today's commerce landscape. Sick of drawn-out development cycles and high costs, retailers want to transition to a composable commerce strategy.
Embodied by the MACH philosophy (or Microservices, API First, Cloud-native and Headless), composable architecture brings multiple benefits, from tailored solutions for unique business challenges and shorter development cycles to innovation via technology diversity and robust future-proofing.
While retailers must embrace a composable commerce strategy to become more agile and effectively disrupt their respective markets through rapid innovation, undergoing such a massive transformation is no easy task. It requires significant technical maturity and possibly assistance from an experienced partner.
What Does it Actually Mean to Go Through a Transformation?
There is much work involved for a retailer to shift from a legacy monolithic platform to a composable commerce strategy, especially if that company has an already established digital presence with millions of lines of custom code. In fact, retailers need considerable expertise to work with that code and make changes. To that end, retailers must assemble a well-staffed team with ample technical experience; likewise, companies must familiarize themselves with the cloud. Additionally, because transitioning to modern MACH digital architecture is not merely a question of technical know-how, retailers will face many other essential questions nestled within the larger business-specific context. Questions like: How will business users' operations change? How much automation is beneficial? How to measure success? Could we reuse this customer-build feature?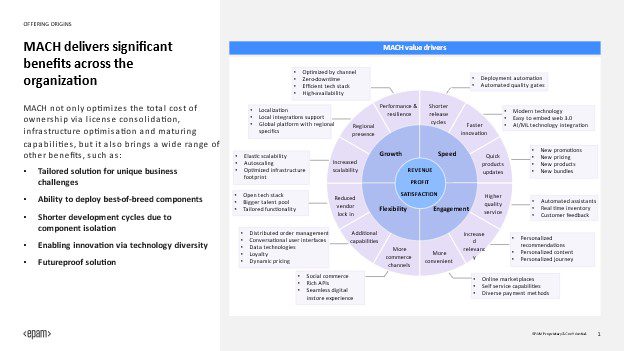 The Most Common Pitfall of Transformation: Not Thinking Holistically
The move to a composable commerce architecture will inevitably cause significant changes across the organization. From business and management transformation to cultural and personnel change, retailers must plan accordingly for the unavoidable re-training and restructuring. Yet these changes get overlooked because many retailers only consider the technical side of enabling composable commerce.
Understandably, most early MACH adopters are IT-minded individuals. Unfortunately, these technical experts can excitedly insert applications into their unprepared organization, sometimes resulting in unintended consequences. Like any transformation, specifically composable commerce, there is a significant non-technical component that companies must navigate effectively to ensure the success of the overall strategy. To realize the full potential of a transformation, retailers should think holistically, which may require them to find a qualified partner.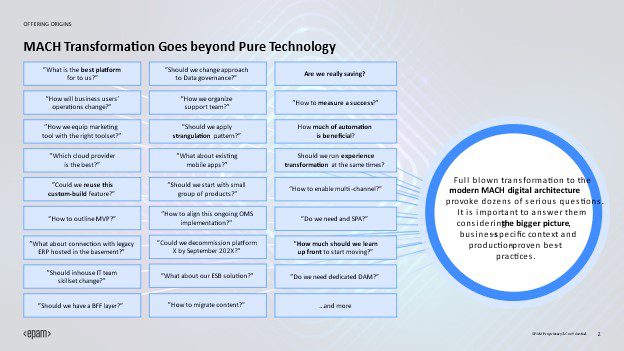 The Two Main Qualities of a Technology Partner
Ideally, a suitable partner that can help facilitate composable commerce transformation will possess two things. First, they must have experience working with such transformations. Secondly, the partner or consultant should holistically address potential challenges from multiple dimensions — meaning they understand technology implementation as well as business strategy, organizational change management, service design, business processes, etc.
In particular, this ideal partner can anticipate the problems that might arise during the transition, such as employees resisting change, and proactively deploy solutions or strategies to minimize said challenges, ensuring the retailer gets the highest return on their investments.
Preparing for The Next Wave of AI
Although AI native solutions haven't yet taken over modern digital commerce, they soon will, having massive multifaceted impacts on everything from customer touch points to back office operations. Recall that the main benefit of MACH is that it enables agility — specifically, the ability to iterate changes quickly, safely and at scale. If the next wave of AI arrives and retailers are not agile, they could find themselves in a rushed transformation, pursuing aggressive timelines with high risks of failure. To prepare for the next wave of industry disruptors, retailers must adopt a composable commerce strategy, build a technical team and find a holistic partner to help address more than just the technical side of a transformation.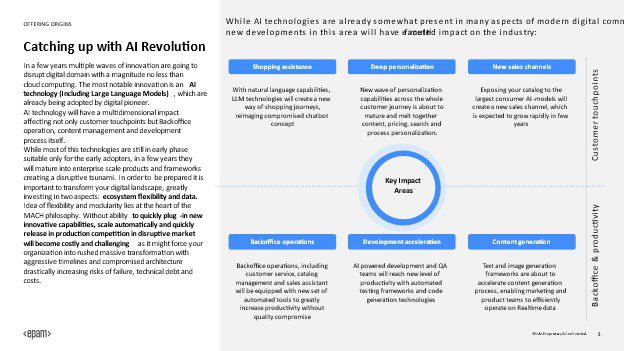 Learn more about implementing a composable commerce architecture in this Retail TouchPoints Think Tank webinar, Boost Business Agility with Composable Commerce: https://www.retailtouchpoints.com/resources/boost-business-agility-with-composable-commerce
---
Yury Bialykh is a Chief Technology Officer, Digital at EPAM Systems, where he is responsible for technology strategy and engineering capabilities across EPAM's entire global digital portfolio, including ecommerce, DXP, mobile, AR/VR and platform engineering. In Solution Architect and Principal Software Engineer roles, Bialykh helps EPAM clients to design and build complex, large-scape transformation digital products and solutions.