Even before the pandemic, B2C marketplaces were experiencing explosive success as consumers flocked online and marketplace growth was only intensified by the restrictions of the pandemic. Now B2B businesses are understandably interested in leveraging the multi-vendor marketplace model inside their own businesses.
In 2021, collective sales on B2B marketplaces grew a whopping 130% over the previous year to $56 billion. What's more, sales on B2B marketplaces grew 7.3X faster than total B2B ecommerce sales. Businesses have begun to realize that online marketplaces are not just here to stay, they're here to transform the B2B business model.
The Growth of B2B Marketplaces
The growth of B2B marketplaces is enhanced by two factors — first, the rise of a digitally native generation, and second, the increased accessibility of marketplace technology.
The internet has been a part of our lives for more than 25 years. Businesspeople who grew up in tandem with the internet are now taking on leadership roles and are more comfortable with ecommerce buying than their predecessors. They are digitally native and expect the same seamless buying experience in B2B as they have in B2C transactions. In fact, 73% of B2B buyers say they want a B2C-like buying experience.
As marketplaces continue to take over ecommerce, technology companies are building software specifically for the demands of B2B marketplaces. Single-seller ecommerce platforms that were built almost 20 years ago were not designed for multi-vendor transactions and can't easily support complex B2B transactions. However, today there are a number of multi-vendor marketplace platforms that are enabling B2B marketplaces to quickly launch and scale without a long and expensive custom build. These technologies are making the marketplace model more accessible.
How Marketplaces are Changing B2B Vendor Sourcing
In many B2B transactions, a business buyer will contact a broker who will then reach out to suppliers to get the products or services the buyer needs. The broker charges a fee on top of the price quoted by the supplier for their services.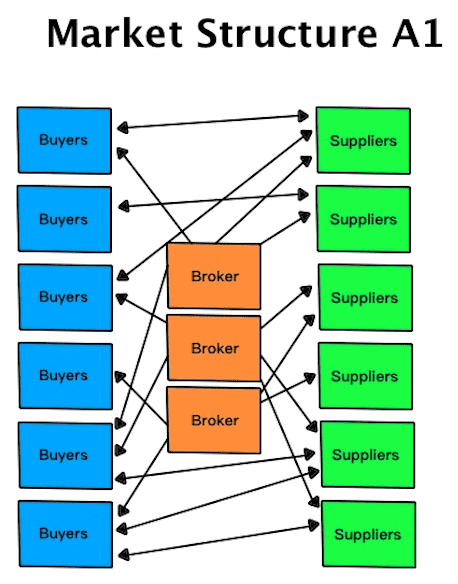 Other B2B vendor sourcing happens using in-house procurement and buying teams. Even though this model doesn't rely on a middle person to connect buyers and suppliers, the fragmented nature of the B2B ecosystem makes supplier discovery difficult. There is an entire world of suppliers that can be sourced, but finding those new vendors can be a challenge.
Whether conducted through procurement teams or using the broker model, creation of supplier networks on B2B teams is still primarily conducted via email, phone calls and even fax machines or pen and paper. But B2B marketplaces are disrupting this model through digital enablement. Instead of engaging in a multi-step process to amass a list of potential vendors, business buyers can do their own research on a marketplace to compare prices, delivery timelines and customer reviews. B2B marketplaces offer both convenience and transparency to business buyers.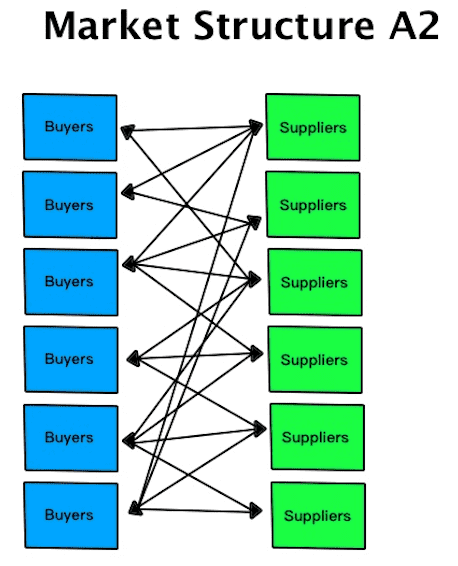 Some may argue that doing business completely online is impossible in B2B, and in some cases that may be true. High average order values (AOVs) and complex workflows in B2B mean there needs to be a high level of trust on the online marketplace platform. Companies that are operating online marketplaces have to carefully choose the vendors and buyers they allow on their platform. A single order failure can mean a lost customer for life. When there is emphasis put on vetting marketplace vendors, buyers can trust that any vendor allowed on the platform has the marketplace "stamp of approval."
Companies enabled with a marketplace can focus on strengthening relationships with their buyers and suppliers instead of sending emails and checking inventory, and that leads to more seamless transactions, reliable delivery and highly responsive customer service. Marketplace operators can also offer value-added services alongside marketplace transactions to increase transaction size and customer satisfaction.
The broker model in B2B is ripe for transformation, and B2B marketplaces offer a compelling alternative. A marketplace is ultimately a platform to connect supply and demand. By offering connection services online, brokers can service more customers and create connections between buyers and suppliers while focusing on building the trust of their buyers.
By simplifying vendor discovery, empowering business buyers and streamlining manual processes, B2B marketplaces are improving B2B ecommerce for both suppliers and buyers. As the world becomes more distributed, B2B businesses that have embraced the marketplace are seeing incredible growth. When you build out your B2B ecommerce strategy, ensure you are keeping the requirements of the multi-vendor future in mind and not building for the single-vendor past.
Ryan Lee is the Founder and CEO of multi-vendor marketplace enablement platform Nautical Commerce.