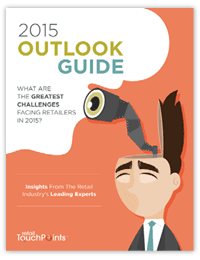 Is 2015 the year for mobile payment saturation? Are retailers really improving the customer experience? What can we expect from advanced personalization initiatives?
These and other questions are asked and answered in the Retail TouchPoints 2015 Outlook Guide. A total of 15 retail industry experts — including leading industry analysts, consultants and researchers — have shared their expertise and predictions for 2015 and beyond.
This year, we asked some of last year's contributors to reflect on their 2014 predictions before commenting on 2015. You'll be pleasantly surprised at their candor and comments related to past, present and future insights.
Some key topics for 2015 include: Mobile Payment, Personalization, Omnichannel, Pop-Up Stores and improving the Customer Experience. Our experts have contributed tips for executives in all types of retail segments, from specialty and big box to grocery and home improvement.
2015 Contributors:
Omer Minkara, Aberdeen
Ryan Matthews and Jim Singer, A.T. Kearney
Robert Passikoff, Brand Keys
Bryan Amaral, Clientricity
Jim Dion, Dionco
Eric Feinberg, ForeSee Results
Jerry Sheldon, IHL
Gary Schwartz, Impact Mobile
Mark Larson, KPMG
Melissa Gonzalez, Lionesque Group
Laura Davis-Taylor, MaxMedia
Pam Goodfellow, Prosper Insights & Analytics
Paula Rosenblum, Retail Systems Research
Lora Cecere, Supply Chain Insights
Lauren Freedman, the e-tailing group
Complete the form below to download your copy today!
---