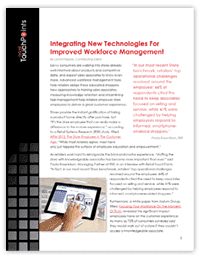 This is Part 2 of a feature highlighting the strategies retailers are using to improve workforce management. This installment spotlights task management. Part 1, which ran in the March 18 newsletter, focused on e-learning.
Trained, knowledgeable sales associates can deliver great in-store customer experiences, but their tasks must parallel shifting labor requirements, available capacity, budgets and customer demands. Sophisticated, real-time task management tools allow retailers to create, assign, allocate and control tasks for optimized staff performance and increased customer satisfaction.
"Task management is critical to the future of retail," said Ken Morris, Principal at Boston Retail Partners. "We see 'real-time retail' as the future of bricks and mortar, mobile and web interaction with customers or unified commerce. The key capability in this new real-time retail paradigm is to be able to sense and respond via workforce task management to the challenges posed by changing market conditions ― weather, product movement, regulations, recalls, etc."
Pier 1, Sunglass Hut and Modell's Sporting Goods are among the retailers integrating advanced and real-time task management tools for streamlined task planning, communications and execution. The tools help all three retailers align staff with changing store and customer needs, reduce costs and place a greater focus on customers.
Pier 1 Moves From Paper And Pen To SaaS
Until 2010, after 49 years in business, Pier 1 Imports used pen, paper, Excel and Access to manage tasks, schedules and other WFM requirements. Then with 20,000 employees (now 27,000), the company advanced to a SaaS-based WFM suite to optimize and streamline corporate workflow and store workloads, and drive execution compliance.
The hosted Ceridian Dayforce WFM solution "has helped us drive sales because tasks are addressed by the right people with the correct skills in the appropriate places at the right times," said Sharon Leite, EVP of Sales and Customer Experience for Pier 1, in an interview with Retail TouchPoints. "We see labor costs as a percentage of sales continue to decrease. In addition, our customer experience metrics continue to rise, based on a survey tool we use to measure how well tasks and staffing are aligned to customers' needs."
Today, rather than employing up to four full-time managers and assistant managers per store, Pier 1 manages tasks and other operational requirements with one full-time store manager, one full-time assistant and several part-time associates.
In addition, Ceridian Dayforce WFM allows Pier 1 to ensure compliance, preventing costly violations of hour and wage laws, company policies and other regulations, and accurate activity-based costing.
Crate and Barrel also leverages a Ceridian Dayforce tool to help store managers and associates do their jobs more effectively, as previously reported by Retail TouchPoints. The solution "helps us look at our associates' responsibilities and tasks, and remove everything that would interfere with their customer interactions," stated Katherine Haliski, VP of Retail for Crate and Barrel. Solution data determines the best associate-to-customer ratio at specific times, and helps the retailer distribute tasks so employees can get the most value and enjoyment out of their positions.
"Approximately 75% of today's retail IT spend is focused on store operations, which tells us that retailers are still very focused on the importance of the store," said John Orr, Senior VP, Retail Strategy and Execution at Ceridian Dayforce. "Stores, store associates and leveraging the store experience are all critical to operational performance in retail. Having visibility into service and non-service work and costs help retailers avoid conflicts in task work and conversion — giving task management complimentary value in overall work planning and execution."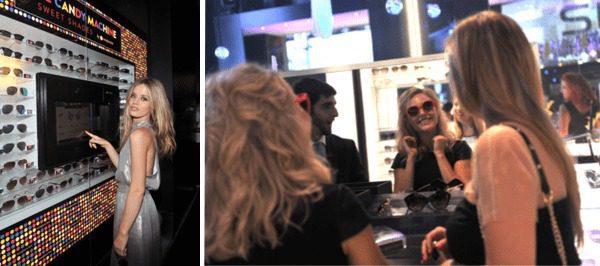 Sunglass Hut Employs Single-Source Task Management
Like Pier 1 Imports, Sunglass Hut also moved from outdated task execution ― using a mixture of email, spreadsheets, paper packs and mail bags ― to a sophisticated task management solution. Reflexis Task Manager is an integrated, closed-loop management tool that leverages a single channel of communication to streamline store execution. This single source helps corporate, store and field managers better plan and communicate objectives for optimized productivity. The solution also provides real-time feedback and visibility of task compliance: Changes are flagged and updated inline within each project, so stores easily can manage by exception, take corrective action and assure task consistency.
"We're very focused on providing a single, prioritized place for managers and associates to view their tasks and best create a fabulous experience in our stores," said Cindy Wise, Senior Director of Communications and Store Execution, Luxottica Retail-Sunglass Hut. "When you go into a Sunglass Hut, you should have a consistent experience with each phase of our customer engagement strategy, from Invite, Engage and Interact, to Appreciate."
The Task Manager application created for Sunglass Hut sends communications geared toward each type of retail store format in the chain. Action items include project type, start and due date, status and more. Associates can filter and search for action items, which are color coded so that managers can quickly see each task and status. Two-way feedback allows Sunglass Hut stores to provide comments regarding successes as well as improvements for specific tasks or projects. Comments are collated and summarized so that Sunglass Hut can identify task issues and trends rapidly and respond accordingly. "We love the feedback comments," said Wise, "because what would have taken weeks to bubble up before now gets immediate feedback."
Without a single-source task management system, task compliance is almost impossible to track, even with email, because "no one at headquarters has time to read emails from thousands of stores regarding dozens of projects, then re-enter that data into a spreadsheet," said David Andrews, Director of Marketing Communications at Reflexis. "Yet many retailers still force store managers and associates to use this antiquated, error-prone method for executing the tasks that support the chains' customer engagement strategies. Task management solutions enable retailers to coordinate planning, measure results and ensure consistent store-level execution. In addition, real-time execution frees store managers and associates from tedious, manual processes, while guiding them to make better split-second decisions and provide enhanced shopping experiences for today's 'I want it now' shoppers."
Modell's Provides Better Customer And Selling Experiences
At Modell's Sporting Goods, the EmpowerTask tool from Empower Software Solutions provides seamless, closed-loop task management for better customer and selling experiences. Used in concert with an existing EmpowerWFM implementation, the EmpowerTask task management tool provides Modell's with timely insight into store performance and the ability to optimize and prioritize store tasks. The solution integrates store tasks into the daily workforce plan, enabling activities to be confirmed as completed. EmpowerTask helps to "enhance the store experience for both our associates and customers," said David Strobelt, SVP and CIO of Modell's. The overall WFM effort is part of Modell's "key initiative for 2014," which is to "improve our real-time execution in our stores."
Today's retailers face a very challenging landscape, are competing with online retailers, and working harder than ever to turn shoppers into buyers, noted Joe Olson, GM of Workforce Solutions at Empower Software Solutions. "The need to react quickly to a very dynamic environment has resulted in more tasks for the store. Using email and other methods for managing store communication falls apart as volume continues to increase. The search for a better method has created a lot of conversation and value in the market."
The dynamic of full- and part-time status also is top of mind, with many new compliance requirements falling to store managers to track and resolve. Ultimately, more part-time employees result in more task management. "Retailers need WFM tools that simplify their day," Olson said, "and eliminate any activities that are not a value-add to the store."
As retailers continue to embrace technologies that turn corporate strategies into store-level action ― then educate associates on these and other WFM tools ― they will more than just tap the surface of empowering store employees to deliver a great customer experience.
---
Part 1 of this WFM feature, which focused on e-learning, ran in the March 18 newsletter. Click here to access a complimentary PDF of the complete two-part report.