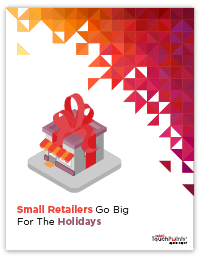 When the holiday season rolls around, SMB retailers are even more aware of the challenge of standing out from the crowd of larger retailers with bigger marketing budgets.
Even though their larger competitors are pouring funds into holiday promotions and doorbuster deals, SMB retailers have high hopes when it comes to the 2015 holiday season: The ShopKeep Q3 2015 Small Business Index revealed that 76% of small business owners are optimistic about the 2015 holiday season, up from 68% in Q3 2014.
To differentiate themselves and their offerings, SMBs are implementing new strategies and platforms throughout their brick-and-mortar stores and e-Commerce sites.
Complete the form below to download the SMB Report, and learn about the go-to-market strategies retailers such as Cheeky Puppy, Cloud99 Vapes, Montauk Juice Factory, Shabby Apple and Uberpong have taken to bolster their businesses heading into 2016.
---