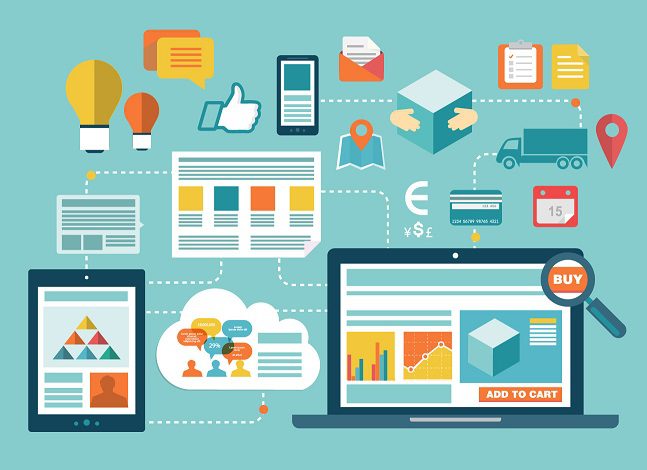 Following is Part 1 of the feature, titled: Mobile Technology: From The Kitchen Table To The POS, which will outline the role mobile plays in the customer experience, from initial browsing and product comparison, to shopper engagement and eventually, conversion.
It is apparent that mobile is playing a more central role in the browsing and buying journey, and consumers see their smartphones and tablets as their personal shopping companions, whether they're at home or in a physical store.
Best-in-class retailers across all categories, such as American Eagle, lululemon and Total Gym Fitness, are establishing mobile strategies that touch multiple stages of the browsing and buying journey.
Mobile commerce (m-Commerce) has experienced a significant surge and, in turn, is accounting for a larger share of overall e-Commerce sales. In 2013, retail m-Commerce sales in the U.S. increased 70%, reaching $42.13 billion, according to e-Marketer. By the end of this year, that figure will increase to $57.79 billion, or approximately 20% of total e-Commerce sales nationwide.
Consumers' ongoing acceptance and willingness to purchase products via smartphones and tablets is becoming more prevalent overseas as well. More than half (52%) of site visits in the UK were made via mobile devices, while 36% of online sales were completed on smartphones and tablets, according to the IMRG Capgemini Quarterly Benchmarking Report. 
But with the majority of U.S. retail sales still occurring within the four walls of the store — 94%, according to the U.S. Census Bureau Quarterly Retail E-Commerce Sales report — retailers are encouraged to engage mobile-savvy consumers while they're browsing in store aisles and consulting their personal devices.
"We have reached a real tipping point in terms of the role digital — and specifically mobile — is playing for in-store consumers," explained Kasey Lobaugh, Chief Retail Innovation Officer, Principal and Owner at Deloitte. The company's latest Digital Divide report, in fact, concluded that more than 50% of in-store sales will be influenced by digital channels by the end of this year.
Yet currently, most retailers are still stuck in the mindset that mobile is an extension of the e-Commerce department, according to Lobaugh. "That's only 7% of total retail sales. If that's the lens we as an industry think about digital investments then we're dramatically underplaying its importance."
Adding Value To The Customer Experience
Confirming the increasing role of mobile in the customer shopping journey, 84% of consumers reported that they used digital channels for shopping-related activities before or during their most recent trip to a store, according to the Deloitte Digital Divide survey.
Some consumers also prefer to consult their mobile devices while in a store rather than relying on associates. For example, Deloitte indicated that while 59% of respondents said they use their own device to look up item prices, only 17% consult an associate. Mobile devices also play a pivotal role as shoppers seek out product information (52%), check item availability (51%) and even make payments (48%) in brick-and-mortar locations.
As smartphones and tablets become more entrenched in consumers' lives, how can retailers successfully harness the devices to connect the digital and physical worlds? What investments should they be making?
First and foremost, retailers can no longer see mobile as a drop in the digital bucket. Instead, it needs to be seen as a connecting point between e-Commerce and brick-and-mortar, and as a key influencer in the decision-making process.
While most shoppers today are showrooming (76%), even more (88%) are webrooming, or browsing online and then buying in-store, according to Interactions research. Some consumers are participating in both activities, making it even more vital that retailers embrace mobility to connect with shoppers throughout the omnichannel journey.
"There's still a lot of urgency on the part of retailers to make that connection between digital and physical experiences more seamless," said Dave Wentker, CEO of Tapcentive. "There are clear ideas and use cases but using mobile as a common link between those two worlds is not the easiest thing in the world."
Retailers, overall, are at different stages of this very complicated mobile journey.
About 18 months ago, "retailers were sitting on the sidelines and waiting for mobile to break out," noted George Skaff, CMO of TouchCommerce. "Now they're starting to drive the revolution and are asking how they can use mobility to succeed."
Many retailers are enabling and encouraging customers to use their personal devices by offering free in-store Wi-Fi. "They realize consumers are walking into stores and using their smartphones," Skaff said. "By offering free Wi-Fi, they can connect consumers to their network, and give them access to branded content and information."
Other retailers, however, are ensuring that a variety of core tools, features and functionality are available across all channels — from the e-Commerce site, to the mobile site/app and even in-store — to ensure customers have a cohesive brand experience.
"Consumers are promotion-ed out," Lobaugh noted. "Promotions are the new status quo, and consumers are addicted to and expect them. But if you're in a field with massive amounts of new competitors and it's everyone's game, then you have to determine how you differentiate."
Offering seamless access to product information, content, prices, among other elements, provides additional value to the shopping experience, which can have a profound impact on customer engagement and satisfaction. In fact, these educational and resourceful elements can be more beneficial to consumers than promotions.
"Retailers need to think about what experience they can create to capture value," said Josh Marti, CEO and Co-Founder of Point Inside. "The right mobile strategy will allow them to do that, and it should combine three key phases: the at-home experience, the in-store experience and the associate-facing experience. That's really how retailers should define their mobile strategies, and if they nail those elements they're ahead of the game."
Below, a variety of real-world use cases will uncover ways retailers can embrace mobile chat and customer service, mobile commerce, and in-store mobile marketing to boost engagement, loyalty and sales.
Total Gym Fitness Nurtures Relationships, Drives Sales With Mobile Chat
As e-Commerce becomes more prevalent, consumers are relying less on call centers to place orders with brands, and more on digital solutions. Total Gym Fitness, a direct seller of workout equipment, has acknowledged this shift, and in turn, is investing more significantly in online and mobile chat solutions.
A heavy user of TV advertising, reaching out to more than four million homes using the medium, Total Gym Fitness executives began noticing that more consumers are participating in "second-screen experiences," where they're watching TV and shopping on their mobile devices at the same time.
"We're learning more and more about the role that mobile is playing in our business," said Joe Crowley, VP of Marketing at Total Gym Fitness. "We run a lot of infomercials and TV media, but we're noticing that consumers are picking up their phones and tablets and doing some research while they're watching."
While understanding these cross-channel shoppers is still a work in progress, Total Gym Fitness has seen a boost in e-Commerce sales since implementing the TouchCommerce mobile chat solution, which helps create an assisted selling environment for mobile shoppers.
Because of the high price point of its products, Total Gym Fitness requires knowledgeable sales associates to guide the browsing and buying experience. The chat tool provides that initial touch point of service. "Across the board, we're seeing the number of calls decrease and the number of online and mobile sales increase," Crowley explained in an interview with Retail TouchPoints. "We took the phone interactions we used to have and carried them over to chat," Crowley said. "We view chat as a revenue driver. Although some service activities can be addressed, that's not our focus."
The Total Gym Fitness team analyzes feedback from chat logs to identify common issues and questions that may deter customers from making a purchase. The chat function is invaluable, according to Crowley, because "it allows us to really keep our finger on a pulse of what our customers are thinking and asking."
Chat representatives are trained continuously based on customer feedback and new selling tactics.
"We have regular sessions because we find you need to constantly be refreshed," Crowley said. "There are some bad habits that may hinder their ability to convert orders."
Total Gym Fitness initially partnered with TouchCommerce approximately five years ago to implement online chat, and deployed mobile chat in 2013. Moving forward, the company plans to roll out a guided site experience, so customers can answer a few questions and receive information and recommendations, rather than having to engage with a sales representative.
Lululemon Launches New App To Power Mobile Shopping Experiences
Over the past decade, lululemon has established a loyal following of brand fanatics who rely on the retailer for all things fitness. The purveyor of high-end yoga pants and other fitness gear recently unveiled a new shopping app designed to allow consumers to shop conveniently — even while in stores or on the go.
"Mobile has been the fastest-growing segment in our e-Commerce business for the past few years and approximately 21% of our e-Commerce sales and 37% of our traffic currently comes from smartphones," said Paul Zaengle, SVP of U.S. Retail at lululemon. "The majority of that traffic and sales is from iOS devices. We believe the new shopping app will increase guests' ability to access our product quickly and efficiently, which we anticipate will have a positive impact on our product sales."
Launched in October 2014, the new iOS app is the first shopping app lululemon has developed, and it has generated more than 160,000 downloads since the launch, according to Zaengle. The app is designed to be "the fastest, most convenient way for guests to find and purchase our gear while shopping from a mobile device."
In addition to mobile-optimized navigation, the app provides guests with customized shopping profiles based on their preferred workouts. App users receive customized product recommendations based on their fitness routines. All purchase information, including credit card preferences and delivery addresses, can be stored in the app to ensure a secure yet convenient checkout process.
Accounts also are synchronized across all channels, which "allows guests to switch between desktop and mobile while ordering and checking out on the same order," Zaengle said. "If a guest has to run out the door before finalizing an order, she can finish it up on her iPhone."
The account synchronization feature speaks to lululemon's focus on tailoring its strategies to the lives of its target shoppers.
"We know our guests lead busy, active lives and as part of our focus on creating the best guest experience, this app was designed with features to help guests easily access and shop our gear, regardless of where they are in their day," Zaengle noted. "As a brand we're focused on creating a convenient, personalized guest experience."
Lululemon also was one of the first retailers to launch an app for iOS 8, which includes Touch ID integration. Shoppers who have downloaded the new operating system can authenticate their identity using Touch ID and finalize a purchase by providing a fingerprint.
"For the initial release of our lululemon app, we knew that the majority of those who shop on their mobile devices do so with iOS operating systems," Zaengle said. "Therefore, we wanted to focus on the guests who we know are using their mobile devices to shop online so in turn, we can seek feedback and build out functionality if needed for potential future releases."
To ensure the mobile app constantly delivers on shoppers' wants and needs, Zaengle said lululemon encourages customers to share feedback via an online ideation forum, called Hey lululemon. "Guests can share their ideas directly with our design and production team to innovate, inspire and even co-create our future products."
American Eagle Sees Success With Shopkick Beacons
Teen apparel retailer American Eagle Outfitters (AEO) was one of the first big-name organizations to embrace beacon technology, which has become a hot topic among industry players. Beacons are hardware sensors equipped with Bluetooth Low Energy (BLE) technology that are designed to wirelessly communicate and transmit data with mobile devices — and other beacons — within a certain proximity.
Initially launching beacons in 100 American Eagle and Aerie stores in February 2014, AEO has reported positive results. Since partnering with shopkick to implement shopBeacon, the retailer has seen a boost in the number of customers visiting fitting rooms and an overall increase in sales.
"We've found that focusing on the customer and creating engaging experiences is core to customer satisfaction, and that translates into better sales," said Joe Megibow, Chief Digital Officer at American Eagle Outfitters. "So we were very excited about these results from shopkick's shopBeacon experiment."
With help from shopkick, AEO has tested and rolled out "new, innovative ways to interact with our shoppers, and we were excited to be the first to help prove the power of shopBeacon," Megibow added. "We found that being able to offer small, timely rewards for trying on clothes dramatically impacted behavior, and we love creating opportunities for our customers to experience our clothes and our brand."
During the initial test, some American Eagle customers received a shopBeacon message on their mobile device upon entering a store, and received a small incentive for visiting fitting rooms during their visit. Results from the trial showed that the percentage of shopkick users who visited fitting rooms were more than double for those who received the message versus those who did not.
Although industry experts are still considering the overall benefits of beacon solutions, retailers that are focused on providing value to customers will see clear benefits, according to Alexis Rask, Chief Revenue Officer at shopkick.
"It's about how to make it a positive experience for customers through beacons," Rask said in an interview with Retail TouchPoints. "Retailers should not annoy or bother their consumers. Context is key to the customer."
Because shopkick already has developed a base of loyal users for its mobile app, the company has an active and engaged user base that retailers can tap into when they implement beacon hardware in stores. But it's important that retailers remember to provide value to the consumer above all else.
"It may be a reminder to purchase something they had on their shopping list, a sale on a specific item they were interested in, or a notification about a great deal," Rask explained. "But you can't just spam the consumer about a million different things and assume they care about it all."
Retailers that embrace beacons also can see value by gathering new information about target customers — including products they buy, abandon and consider — insights that have been missing from in-store experience data.
"There are a lot of retailers that want to collect data from consumers but shoppers don't always have a reason to give them that data," Rask explained. "But if they receive value out of the experience they have that incentive to make their data recognized."
Empowering Shoppers Throughout The Browsing And Buying Journey
With smartphones and tablets in hand, consumers are empowered to make quick and efficient decisions, without ever leaving their couches.
"For smartphone and tablet users, the decision-making process is more instantaneous," said Samuel Mueller, Co-Founder and CEO of Scandit. "Retailers are thinking very hard about how they want to engage their customers and how they're going to improve the experience so they can get their shopping done quickly but also discover new things."
A well-designed and highly engaging mobile experience delivers significant value to consumers, according to Mueller. However, Skaff of TouchCommerce added that convenience and simplicity also need to be top-of-mind.
"The one thing people don't part away from is their smartphone," Skaff noted. "To leverage that device in a way that makes consumers' lives easier means they will end up buying more."
By investing in customer-facing mobile experiences, retailers also have the ability to learn a lot about their customers, deliver messaging that's more relevant and increase loyalty.
In the currently, highly competitive business climate, retailers "need to make sure customers feel like individuals, not just one out of a million," Mueller added. "That's going to be the massive opportunity and big trend moving forward."
Part 2 of this feature will appear in the November 18 newsletter.