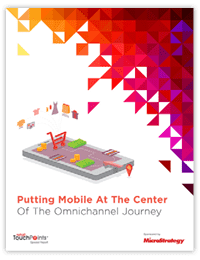 Consumers are becoming more connected to their mobile devices. They rely on their smartphones and tablets to accomplish day-to-day tasks and instantly engage with friends, family and even their favorite brands and retailers.
Most (79%) adult smartphone owners have their devices with them 22 hours a day, according to IDC Research. Additionally, 80% of adult consumers said they check their phones within 15 minutes of waking up every morning.
Given consumers' increased obsession with their smartphones and tablets, it's easy to understand why retailers, such as The Container Store, PacSun, Bespoke and even small businesses such as The Creative Wedge are rolling out mobile devices in stores to boost customer engagement and drive sales.
Complete the form below to download the complimentary report
---