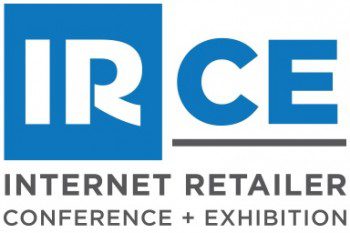 Last week in Chicago, more than 10,000 retail executives attended the 10th annual Internet Retailer Conference and Exhibition (IRCE) at the McCormick Place convention center. A number of companies announced new products and success stories during the event (listed below in alphabetical order by company name).
Tag management company BrightTag has rebranded as Signal to represent its focus on helping marketers strengthen the signals between brands and customers. The solution provider also unveiled the Open Data Platform, which is a suite of products designed to help brands drive increased engagement, loyalty and conversions. New capabilities in the Open Data Platform enable marketers to collect, connect and act on customer engagement data access channels and devices in real time.
CAKE, a provider of SaaS marketing technology solutions, has released the e-Commerce Tracking and Attribution solution, which is designed to provide online-only and multichannel retailers with a 360-degree view of purchasing behaviors.
CAKE combines e-Commerce tracking with other online traffic sources, including display, mobile, lead generation and affiliate marketing channels. Beyond advanced tracking and attribution the new solution includes a variety of features and capabilities such as fraud and promo code misuse monitoring.
Endicia, a provider of e-Commerce shipping technology, has unveiled Pay-on-Use Returns, which will be used exclusively by the United States Postal Service (USPS). The return service is designed to help eTailers save time and money, and improve the returns experience for online shoppers.
Pay-on-Use Returns shipping labels are not pre-paid, and postage is only deducted if and when a return label is scanned into the mail stream. Using the Pay-on-Use Returns service, online businesses don't have to spend time requesting refunds or absorb the cost of pre-paid USPS return labels.
EBay Enterprise has secured 451 clients and 862 partnership extensions/renewals in the first half of 2014. A variety of brands have initiated partnerships with eBay Enterprise, including Alex and Ani, BOXPARK, Destination XL, Karmaloop, MailPix and Stubhub.
The company has unveiled two new extensions available in the Magento Connect Marketplace: the eBay Enterprise Display Extension, which enables retailers to deliver personalized product-specific ads to retarget lost customers; and the eBay Enterprise Affiliate Extension, which offers best-in-class reporting tools designed to analyze, track and launch affiliate programs.
EBay Enterprise is now providing regional fulfillment services for Walgreens and cosmetics company Paula's Choice to offer customers more affordable and faster product delivery. Regional fulfillment centers are designed to allow clients to distribute products from various locations and deliver 99% of orders within two days.
Galleria, a provider of retail category planning, automation and optimization solutions, as established business relationships with two solution providers to extend its presence in the retail industry.
Through its partnership with ATTRAQT, provider of the Freestyle Merchandising platform, Galleria will help retailers control how their products are merchandised across all channels. By combining its technology with electronic shelf label technology from Displaydata, Galleria will help retailers reduce operational costs while offering a customer-centric in-store experience. With the combined solution, retailers will be able to automate and streamline processes such as space planning, merchandising, promotions and replenishment.
MarketLive has released the latest version of its e-Commerce platform, which includes new "Responsive Commerce" technology. Version 14.1 of the MarketLive platform includes responsive design templates to provide seamless design, implementation and management of e-Commerce sites across all devices, including desktops/laptops, tablets and smartphones. The Responsive Commerce technology also can expand to include portable POS technology and in-store kiosks.
NetSuite, a provider of omnichannel software, and cloud-based financial and ERP solutions, has announced the immediate availability of the SuiteCommerce Implementation Service. Designed specifically for the SuiteCommerce platform, the new service is designed to help wholesale distributors accelerate their e-Commerce implementations to boost engagement, increase brand awareness and expand to new markets.
Users can purchase a standard or premium package for the SuiteCommerce Implementation Service. The premium package includes functionality for product comparisons, newsletter publishing, merchandising zones, recently viewed items and product lead time displays, in addition. All users can offer features such as quick ordering, type ahead search, create and review quotes, and find a retailer.
The NetSuite Professional Services team helps ensure that distributors execute a quality e-Commerce experience for customers.
SDL has unveiled SDL Language, a cloud-based translation platform designed to help companies deliver highly relevant experiences, regardless of language or culture.
Businesses that use SDL Language will have access to language capabilities, including human, machine and specialist machine translation, directly within the Customer Experience cloud. Content spanning from web sites, to support content, user reviews and instant chat, can be translated so brands can engage with customers worldwide. In the near future, SDL Language Cloud will include subscription access to new collaboration tools, as well as solutions to improve translation efficiency.
Shopatron, a provider of cloud-based distributed order management solutions, has released a free inventory visibility API. Retailers using the solution will have access to enterprise-wide inventory visibility and actionable analytics to improve in-store operations, stocking, merchandising and product marketing.
The Inventory Lookup API is designed to integrate with nearly any e-Commerce platform within hours, helping retailers execute an omnichannel strategy. Reporting capabilities are designed to empower retailers with real-time, actionable insights on inventory levels across locations, allowing them to reduce carrying costs and accelerate inventory turn.
Furniture eTailer SmartFurniture.com has seen a substantial increase in conversion rates and overall revenue per visit since unveiling SmartProfile, a proprietary prescriptive personalization application.
With SmartProfile, customers have access to a customized online shopping experience, receiving product recommendations based on their budgets, space constraints and style preferences. The app has helped SmartFurniture.com increase conversion rates 20-fold in 2014 and improve overall revenue per visit by more than 22-fold. Shoppers with SmartProfiles spend approximately seven-times more than non-profile visitors, and click on five times as many pages.
Speed Commerce, a provider of single-source, end-to-end e-Commerce services, has launched the SARA X accelerator for Oracle Commerce. SARA X is equipped with functionality generally found in e-Commerce web sites with a fully customizable representation of the retailer's brand. The accelerator is targeted to midsize e-Commerce retailers and includes full-feature capabilities such as order management, ship to and from a store, in-store pickup and order fulfillment.
Tealium, a tag management solution provider, has launched new features that will allow companies to design their own marketing clouds as well as mix and match different digital marketing technologies.
A data layer wizard feature is designed to help organizations build their data layer based on the most commonly used data sources. Other new capabilities include: Site Scan, which performs a page-by-page web site scan designed to ensure proper deployment of the Tealium solution; approximately 693 digital marketing vendor tags integrated into the tag marketplace; and data connectors with major vendors, such as Oracle Responsys, Silverpop and Salesforce ExactTarget Marketing Cloud, to help marketers engage customers and prospects in real time.
UpStream Commerce, a retail pricing intelligence solutions provider, has released the MAP Monitor solution. MAP Monitor gives retailers the capability to identify, document and track corrections of Minimum Advertised Pricing (MAP) pricing violations.