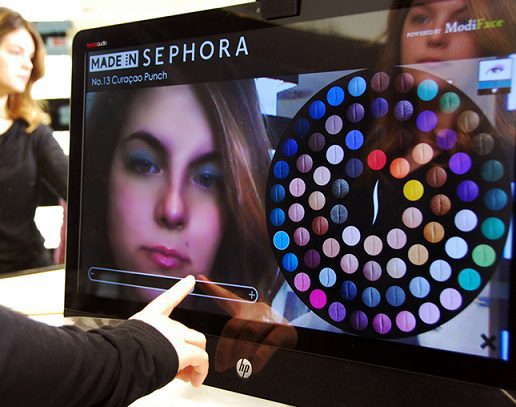 The retail industry is undergoing a revolution, with groundbreaking technologies guiding both the consumer and the merchant throughout the customer journey. Whether the shopper is at home using a PC, searching for a product on a mobile device, walking nearby a store, or browsing the aisles in the store, retailers have access to a number of new technologies to enhance the experience at every touch point.
In 2014, retailers are tapping a variety of new technologies covered in this report:
Personalization solutions;
Wearable technology;
Visual search; and
Augmented reality.
Some leading retailers implementing these technologies include: Macy's, Apple, Lacoste, American Apparel, Smartfurniture.com and Heels.com.
Personalize The Purchasing Process
Today's consumer desires a relevant shopping experience from the second they make a decision to shop. As many as 86% of consumers and 96% of retailers said personalization has at least some impact on the purchasing decision, according to a study from Infosys.
Retailers have plenty of bottom-line incentive to build personalized experiences, as 40% of consumers buy more from retailers who personalize across all channels, according to data from MyBuys and the e-tailing group. Retail personalization can be delivered via a number of different vehicles, including: Advertisements, emails, product recommendations, discounts and promotions.
Smart Furniture, for one, built a personalization module called SmartProfile.
"When somebody comes to your site, they'll land on any one of thousands of pages," said T.J. Gentle, CEO of Smart Furniture. "If they don't see an aesthetic, a style and a price point that hits home with them that is in an acceptable range, they bounce immediately. My biggest fear that was keeping me up at night was the idea that as we add all these products, we're going to scare off existing customers. What I needed was a way to show everyone who visited our site that the look, feel, style and pricing needed to be personalized to suit who that person was."
SmartProfile enables site viewers to build their own individual profile by taking a brief quiz that includes questions on style, feature, spacing and price preferences. The viewer's experience on the site is then geared toward the selections made during the quiz. The site will adapt to the browsing (and in some cases, purchasing) habits of the consumer to create an experience that encourages them to continue visiting the Smart Furniture brand.
"In just a few questions, you can really drill down into what someone's preferences are across many different variable sets," Gentle said.
Molding The Path To Purchase With Visual Search
Shoppers come across hundreds of objects throughout the path to purchase, so it's not much of a surprise when certain products are forgotten. Even if a customer remembers the product's appearance, there is a good possibility she may have a difficult time finding it in the future if she isn't aware of the brand name. Online retailer Heels.com looked to help shoppers keep tabs on their favorite products by launching Visual Search, a feature designed to match photos of shoes with the correct product online.
This visual search analyzes pixels in an image and then compares the color and pattern of those pixels to other images on the site. Customers can upload a photo of their own to the site or enter an image URL to receive similar images identifying the product title.
"[Visual search is] basically the same technology as facial recognition software," said Eric McCoy, CEO of Heels.com. "Facial recognition has always been around, it just hasn't been used in a retail application."
Describing the appearance of an item verbally can sometimes prove to be a difficult task, especially if there is no image to accompany the thought. As customer service reps became more inundated with questions from shoppers regarding specific products, the idea to move toward visual search technology was a no brainer. Iteration Studio, a solution provider that acts as an "innovation lab" for small- and medium-sized retailers, built the visual search technology and implemented it through a partnership with Heels.com.
The solution also is useful for shoppers who look to coordinate their appearance beyond footwear. Perhaps more importantly, it shows that the technology can be effective in a retail environment, particularly in clothing stores.
"People are uploading dresses and purses, and our visual search is actually matching shoes to that," said McCoy in an interview with Retail TouchPoints. "We don't sell dresses and purses, so it's not that type of match, but they are matching colors. If somebody uploads a purse that's red with metal details, our visual search is able to find a shoe that is close in red and also has metal details as well."
BLE: A Beacon Of Light For The In-Store Experience
By the time the shopper finally reaches the store, she has reached an environment that provides a drastically different retail environment than her grandparents or even parents would have experienced , particularly due to the introduction of mobile devices. Brick-and-mortar stores are now leveraging smartphones and tablets by implementing mobile sites and mobile apps, as well as newer technologies such as Bluetooth Low Energy (BLE) beacons and augmented reality.
Beacons are hardware sensors designed to wirelessly communicate and transmit data with mobile devices (and other beacons) within a specific proximity. The beacons can be placed strategically throughout a store to add value to products and personalize the in-store experience via targeted push notifications to individual shoppers.
"The online experience has trained consumers to expect to be recognized and have their history pulled up in front of them," noted Dave McMullen, Principal at marketing agency redpepper, the developer of beacon-compatible app Taonii. "They expect recommendations and offers about products that they might like, and to be checked out swiftly, simply and easily. All of those things that happen online make for an experience that's nice, and the brick-and mortar stores have to compete with that. Beacon technology allows that to happen."
Apple made major waves with beacon technology by introducing its own version of the technology — the iBeacon — in all of its stores in the U.S in December 2013. Other retailers have since equipped their stores with beacon technology, including Macy's, American Eagle Outfitters and Lord and Taylor. In each case, the BLE beacons are programmed to be compatible with the respective in-store apps.
The success of each retail beacon deployment weighs on two factors: The effectiveness of the analytics engine and the app's ability to identify and engage customers. "Anybody can go out and purchase a thousand beacons and place them all around their stores," said Dave Heinzinger, Director of Communications at mobile marketing platform and iBeacon distributor inMarket. "If you don't have an audience of app users to talk to, it's like buying the brushes without the paint or putting up a billboard with nothing on it."
For InMarket customers, beacons have motivated shoppers to use their branded apps more frequently. Over a 30-day period in April and May 2014, in-store app usage was 16.5 times higher for users who received a beacon message, according to data from InMarket. Users who received a location-based message during the same period had a rate of interaction with advertised products that was 19 times higher than those who didn't receive the message. To date, InMarket has rolled out iBeacons in grocery stores including Safeway, Giant Eagle and Unified Grocers.
"Reaching a person at the perfect time when they're in the shopping mindset is so much more valuable than delivering a banner through Angry Birds or a shopping-related app while they're at home on the couch," Heinzinger explained in an interview with Retail TouchPoints.
The beacon boom still appears to be in the early stages, but the cost-effectiveness of the technology has many believing it will continue to grow on an upward trajectory. Beacon distributor Appflare is counting on the craze to get bigger, citing in a company blog post that it has made its BLE hardware installation services free for qualifying retailers through September 2014. The market for BLE beacon shipments is expected to break 60 million units by 2019, according to data from ABI Research.
Clothing, Beauty Retailers Experiment With Augmented Reality
Augmented reality (AR) apps also are changing how the shopper (literally) visualizes the in-store experience. Many AR solutions implemented into retail stores are integrated with mobile apps and are designed to simulate a picture for the shopper.
A majority of these simulations feature clothing or cosmetics products, designed to show the shopper how they would look wearing the items without actually trying them on.
AR also is effective for other types of products. Lacoste recently released a mobile app that allows consumers to "try on" LCST trainers by placing their foot onto an in-store floor graphic. Once the foot is placed in the right spot, the shopper can then scan it with their smartphone to see what each shoe would look like before speaking to an associate. The app uses in-store POS systems to create a 3D model that showcases the entire LCST product range.
Beyond item try-on, retailers are using AR to provide product information and reviews. The American Apparel Shopping Assistant app enables shoppers with a smartphone to scan in-store items in order to see customer product reviews and view clothing options in a wide spectrum of colors.
Mobile and AR are expected to flourish as a pairing. As many as 60 million shoppers will tap their smartphones, tablets and smart glasses in 2014 to use AP apps, according to Mobile Augmented Reality – The 8th Mass Medium from Juniper Research. By 2018, the total number of unique users is expected to more than triple to 200 million.
While mobile may be the first choice for AR implementations, retailers can use AR in different channels, as well. For example, Sephora implemented a 3D AR mirror in its Milan, Italy location to give shoppers a real-time preview of what they would look like wearing different eye shadow colors. The mirror, programmed by virtual makeover technology provider ModiFace, is designed to eliminate the need for retailers to carry many test products and makeup utensils.
Looking Ahead In The Retail Technology Journey
With numerous touch points available to connect with consumers during their shopping journeys, retailers are clamoring to deliver a brand experience at every stop. Forward-thinking retailers are focusing on all points of the journey: Before, during and after a purchase is completed.
The next installment of this special report will explore more technology advancements, including social media updates, voice messaging and the latest in SMS tactics.
Part 2 of the Technologies Moving The Needle feature will appear in the August 12 newsletter.