Retailers rely on in-store employees to represent their brands, engage with consumers and, of course, sell merchandise. Potentially more than any industry in the global economy, retail hinges significantly on workforce management optimization to acquire, retain and engage employees.
But the reality is: all organizations are fighting a daunting engagement problem.
As of 2013, only 30% of the U.S. workforce is actively engaged in their jobs, according to the
State Of The American Workplace
report from Gallup. These unenthused employees can have a significant impact on bottom-line results.
In fact, the Gallup research indicated organizations with an average of 9.3 engaged employees for every actively disengaged employee experienced 147% higher earnings per share compared to competitors. Conversely, organizations with an average of 2.6 engaged employees per actively disengaged employee earned 2% lower per share than their competition.
While these numbers do not particularly put the modern workforce in the most positive light, retailers have the opportunity to improve management conditions and amplify employee engagement. The most impactful employee engagement drivers — according to a survey of more than 560 employees from the Harvard Business Review — include:
Recognition given for high performers (72%);

A clear understanding of how the job contributes to the company's strategy (70%);

Senior leadership continually updates and communicates their strategy (70%); and

Business goals communicated company-wide are understood (69%).
Retailers are recognizing these engagement drivers and, in turn, are responding by rethinking and improving their:
Overall company culture;

Training methods;

Internal communication strategies; and

Employee salaries and benefits packages.
Creating A Culture Of Inclusion
Looking specifically at employee satisfaction, U.S. retailers perform below industry averages, according to The Answers American Employee Study. Retail employees ranked their satisfaction level at 63, two points below the 65 average of all 12 industries surveyed. Only the restaurant industry (60) scored lower than retail.
"When we think about the workforce of retailers, the reality is that employees deserve better," said Eric Feinberg, Senior Director of Product Strategy at Answers. "Retail employees are looking to their employers to deliver a better experience."
Answers defines engagement as "the degree to which an employee feels an emotional connection with the retailer," according to Feinberg. "The reason why they don't feel as emotional of a connection to the retailer as other employees do in other industries, is because they're less connected to leadership. The American retail employee deeply craves company leadership that supports long term growth over short-term gain."
Many retail businesses are structured so each individual store supervisor delegates to employees and then reports back up to corporate headquarters. Larger merchants with dozens, or even hundreds, of brick-and-mortar locations employ store associates that only know the confines of their own store, and are generally only familiar with that store's management. Thus, associates might not fully understand the corporate management structure of the company, or have any concept of the goals the organization aims to accomplish.
"The speed of which we are moving in the business world is probably the biggest driver of disengagement," said Jonathan McClellan, Director of Employee Recognition at Hallmark Business Connections. "It's hard to pause and make sure that people are all on board and all pointed in the right direction. It's hard enough in an organization that has a lot of employees in the same building or at least on the same campus. But it's even more difficult when employees are spread out over an entire region or country."
The traditional retail business structure has led McClellan to believe that middle management holds the greatest opportunity to influence employee engagement. After all, middle managers oversee daily activity, attitudes and behaviors that store employees exhibit. They easily can converse one-on-one with associates, identify their strengths and weaknesses, develop goals and show recognition via rewards programs.
Feinberg holds a similar view on the significant impact management teams have in that they must foster an environment that enables employees to stay "plugged in" to the company's direction.
"I call this the culture of inclusion," Feinberg stated in an interview with Retail TouchPoints. "Do they feel included in the overall culture? It was surprising to see in our data that even people who work in retail locations hundreds of miles away from the headquarters want that kind of connection. Being plugged into the leadership and the vision helps contribute to an employee's understanding that they do have a part to play in the company's overall direction and success."
Filling The Workforce Skill Gap
Finding the leadership to build a thriving culture was the most crucial concern global businesses had in 2014, according to research from Deloitte. More than two-thirds (38%) of organizations rated leadership as "urgent" and 48% ranked it as "important," according to the 2014 Global Human Capital Trends report. Not far behind, 26% of businesses said retention and engagement were "urgent," while 53% rated them as "important."
Most (75%) global organizations across industries agree that workforce capability — or the internal building of technical and professional skills — is an "urgent" or "important" issue. However, only 15% believe they are ready to address this challenge. The overall skill and knowledge gap within these organizations illustrates the lack of dynamic training provided to employees not only when they start a new position, but also as they continue to grow and learn in their role.
"Many organizations are looking in the wrong place, believing they can fill their capability gaps by 'hiring the right person' in their current markets," the Deloitte report explained. "Yet this traditional approach is increasingly a zero-sum game with as many losers as winners. Even if companies can identify the right people, they must then attract them, compete with others to hire them, and train them further once they are on the job. The reported backlog of skills gaps appears to suggest the old way is no longer working."
Do Retailers Have To Pay To Increase Engagement?
Employee training, whether five weeks in or five years down the line, conveys the message that the employee is valued as a company asset for the long term. However, an undeniably important factor to employees is their ability to make a living wage, particularly in the retail industry, where many workers are in-store associates who work part-time.
Retailers such as Costco and Trader Joe's start their entry-level store employees with salaries much higher than the average, and provide a variety of opportunities for employees to advance within the business. In fact, Costco store employees are reported to make $21/hour on average, with the store experiencing just a 6% yearly turnover rate. The Container Store pays its employees an average of $50,000 annually, a total that is unheard of relative to industry standards. In fact, the Container Store salary nearly doubles the $23,690 average national salary of a retail sales employee, according to 2013 data from the Bureau of Labor Statistics.
"Store-based retailers must create incentives for store employees to engage with both their customers and complete their non-revenue generating tasks quickly and efficiently," wrote Paula Rosenblum, the Co-Founder and Managing Partner at RSR Research, in a contributed article to Forbes. "The baseline for that employee engagement is a living wage."
Walmart, a subject of criticism from employee rights groups, is trying to improve brand perception and worker morale by increasing entry-level wages to $9/hour in the first half of 2015. The hike impacts approximately 500,000 full-time and part-time associates, and will jump to $10/hour by Feb. 1, 2016.
In addition to addressing employee wages, Walmart also plans to invest $1 billion in 2015 on hiring, training and realigning the store operational structure. As part of this initiative, the retail giant also has committed to giving $100 million over the next five years to increase economic mobility for entry-level employees. Thus far, the retailer invested $16 million of that total in seven national nonprofit organizations designed to provide education and skills training to 12,000 retail workers.
TJX, the parent company of discount retailers TJ Maxx, Marshalls and Home Goods, followed Walmart's lead in increasing minimum wage of part- and full-time workers to $9/hour in June 2015. Similar to Walmart's policy, in 2016, all TJX employees working for more than six months will have their salary raised to $10/hour.
Rosenblum argued that the raises are not only beneficial to the employees from an economic standpoint, but also as a morale booster, as the higher wage total signifies higher value to the company. A more productive employee can potentially garner more customer interactions and sales. In fact, 77% of high prioritizers — companies that see engagement as an extremely important priority — and 69% of moderate prioritizers believe employee engagement has a considerable impact on customer satisfaction, according to a report from HBR.
Answers Corporation recently released findings discussing the relationship between the two variables, indicating that employee engagement has a positive effect on customer satisfaction. Of the 25 retailers included in the study, Advance Auto Parts, Ann Taylor, Apple and Barnes & Noble attained the highest customer satisfaction rates.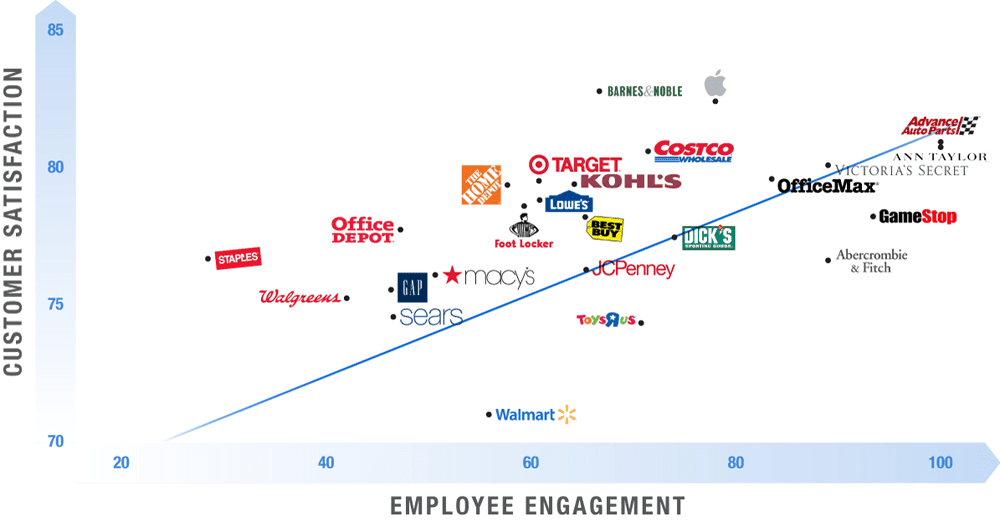 Answers scored satisfaction on a 100-point scale; with 80 generally considered the threshold for excellence at which an organization meets and exceeds employee or customer expectations.
"Retailers need to be as good to their employees as they are to their customers," Feinberg stated. "That's where some retailers are going to get hit over the next couple of years going forward."
Understanding Internal Flaws
Despite knowing the correlation between employee satisfaction, customer engagement and overall sales, some retailers may struggle to make the proper changes to their workforce strategies. But how can organizations get started?
"It starts by looking within and taking the time to clearly identify what is the source of the business opportunity or the business problem that you're trying to solve," McClellan, of Hallmark Business Connections, said in an interview with Retail TouchPoints. "For those companies that struggle in this space, it's very clear they haven't taken the time to clearly articulate and define what it is that they're trying to accomplish. They instead look to the external environment to tell them what other organizations are doing. The challenge there is that they don't know what they're getting into nor how to apply these examples in their organization, because they haven't tied it back to their needs."
Once these retailers understand their pain points and have a game plan on what they want to accomplish, they can then take the initiative to reach out to solution providers who can help them in areas such as schedule management, department-to-department communication and customer service management.
Part 2 of this report, which will appear in the March 17 newsletter, will discuss how retailers are simplifying the work environment for in-store and corporate employees to boost organizational morale.