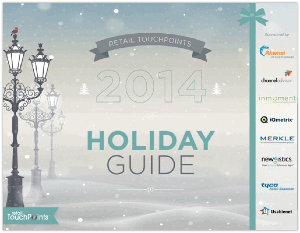 The retail industry is gearing up for another competitive holiday season in 2014, facing another compressed calendar and data breaches fresh on everyone's minds.
To help kick off holiday planning as the summer heats up, Retail TouchPoints has compiled a 12-part Holiday Guide designed to provide insights and direction for all retailers. The guide includes comprehensive topic-specific articles, real-world retail examples, and insights from leading industry experts. It's a must-read for merchants looking to construct successful holiday strategies.
Retailers can be optimistic moving into the 2014 season: Despite a shortened shopping season and cold weather that kept many shoppers away from stores in 2013, U.S. retailers saw a 2.7% increase in overall sales during the 2013 holiday season, according to ShopperTrak. This is a trend that has occurred for four consecutive years, in large part prompted by an increase in shopping via mobile technology, ShopperTrak founder Bill Martin reported.
Additionally, retailers in 2013 felt pressured to offer more discounts earlier, before Thanksgiving, then even deeper discounts in the final weeks before Christmas. "Last year it was demonstrated that the sanctity of Thanksgiving is probably gone as large numbers of shoppers headed out earlier than ever," said Jerry Sheldon, VP of Technology for IHL Services. "Black Friday will continue to lose its meaning as retailers will seek to lure away shopper's dollars earlier and earlier. I expect to see a full court press on online 'door buster' type deals probably early the week of Thanksgiving this year."
Consistent Customer Experience Is The Tune Of The Season
It's now the expectation among most consumers: Retailers must provide a consistent brand experience across all channels. If a shopper begins the purchase process at home on a PC, she expects the store associate to be aware of that activity when she walks into the store.
"Retailers understand that to move their business forward, their success during the most crucial time of the year depends heavily on their ability to build and execute fully-integrated omnichannel offerings," said Natalie Kotlyar, Partner in the Retail & Consumer Products Practice at BDO USA. "As companies gear up for the 2014 holiday season, optimized omnichannel strategy is critical. While retailers focus on making their multiple platforms secure, robust and seamless, they should also be building off last year's success stories, particularly around mobile and social media." She added: "Many retailers will be playing catch up if they are not already enhancing their capabilities and platforms."
Fill out the form below to download the complete Retail TouchPoints 2014 Holiday Guide report.
---