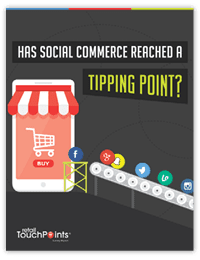 For nearly a decade, retailers have been trying to crack the social code. During the first few years, it all seemed so simple: more Facebook "likes" equaled more engaged customers.
However, merchants soon realized that Facebook "likes" didn't always lead to customer love and loyalty, and the number of Twitter followers didn't necessarily improve bottom-line results. Evidently back to square one, the retail industry has spent the last few years trying to determine how content can engage shoppers and drive them to e-Commerce sites as well as brick-and-mortar stores.

For the fourth year, Retail TouchPoints surveyed a group of retailers to gauge their thoughts and perspectives on Social Commerce strategies. This year, 97 merchants were represented, and they varied in their product categories and annual revenue.
So has Social Commerce officially reached a tipping point? Find out how retailers are prioritizing social engagement and advertising by downloading this exclusive survey report now!