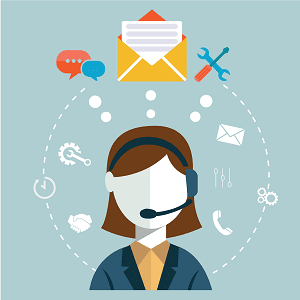 For as long as retail has existed, so has customer service. One would argue that the two go hand-in-hand, and that a retailer cannot continue to exist — let alone excel — without exemplary customer service.
But throughout the past decade, the world has become far more complex, with consumers referring to myriad devices and resources throughout their unique shopping experiences. In turn, these savvy shoppers, who retailers now profile as "omnichannel consumers," are expecting more out of service experiences — from initial engagement with a brand or retailer to post-purchase interactions.
"Customers are interested in engaging with businesses at their own level and speed," said Roy Atkinson, a Principal with
Clifton Butterfield, LLC
, a consulting the training firm. "Customers are, as a rule, better informed than they have ever been, and are tending not to settle for the 'warm body on the phone' methods used by many businesses that haven't put time, effort and investment into good customer service."
Finding the right level and speed of engagement is not easy, according to Atkinson, and there are no one-size-fits-all rules. Despite this, best-in-class retailers are aiming to create quick, seamless and highly personalized service. Now, many are creating tactics similar to the days of traditional retail when store associates and managers knew the names and product preferences of their customers.
After all, e-Commerce tools and solutions are providing consumers with multiple resources that make shopping experiences more convenient. In turn, consumers have come to prefer the online shopping and service experience versus brick-and-mortar, according to research from the American Customer Satisfaction Index (ACSI).
"Internet-based customer service mechanisms, such as email and online chat features, consistently trump call centers in retail and a host of other service industries for ease-of-use and overall satisfaction," said David VanAmburg, Managing Director of ACSI. Consumers give online retailers an average score of 82, while brick-and-mortar experiences among department and discount stores received an average score of 77, according to new data from the organization. Call centers received an average score of 76 across all retail industries.
As Internet penetration in the U.S. approaches 90% of households, VanAmburg argued that "it is all the more incumbent on retailers to steer traffic to online channels that are more efficient for customers to shop, and communicate and far less costly for retailers to build and maintain."
Before making any drastic shifts or investments in their customer service strategies, retailers need to take a thorough look at their target customers.
"Retailers need to have a good idea of customers' preferences for shopping, for making contact, and for getting services that accompany their products," Atkinson said in an interview with Retail TouchPoints. "Customers need to develop a sense of trust, and being able to reach out as needed, where needed helps that. Another helpful tactic is providing shoppers with easy access to information that fits their understanding and needs.
After all, "omnichannel" has evolved from a buzzword to characterize browsing and buying trends, to an innate way of life. Consumers no longer see channels, but rather experiences, and retailers need to provide the tools, channels and tactics that will serve shoppers most effectively.
"Omnichannel is just a term that means 'lots of channels,'" noted Shep Hyken, a customer service expert and Chief Amazement Officer at Shepard Presentations. "When someone asks: What's your omnichannel strategy? I say, let's just make it easy and ask where your customer is. It's really that simple."
Understanding The Value Of Self-Service Capabilities
Providing a quality mixture of service tools and resources can help nurture consumers throughout the browsing and buying journey, and make their lives significantly easier.
Frequently Asked Questions (FAQ) pages and educational YouTube videos, for example, add a level of self-service that empowers consumers answer to questions on their own.
"Customers have made it clear that they want effortless experiences," said Lark Will, Senior Director of Customer Service Operations at eBay Enterprise. "Make information easy to find on the site and allow purchases to be taken back to a store if he/she doesn't like what was purchased. Time is their currency."
Warby Parker is one retailer that uses YouTube to convey the perks of shopping with the brand. After a series of engagements on social media, Warby Parker executives learned that consumers did not fully understand the brand's at-home try-on program or how they could participate.
Rather than taking the conversation to email or phone, Warby Parker created a short video that walked consumers through the process. Now, if a consumer has the same question, representatives simply share the link.
Jewelry eTailer BaubleBar also encourages its 15 service agents to surprise consumers who are having issues with their orders by providing helpful YouTube videos. These videos include a digital "fashion show" of recommended items based on a specific consumer's past orders.
This approach to digital engagement is like "having someone stand right behind you and help you through the process," Hyken explained. "Retailers need to train their customers on how to use these service tools and features to get the most value out of their experience."
Creating A Personal Guided Experience With Chat Solutions
When consumers seek guidance from customer service representatives, those team members need to have a thorough understanding of shoppers' unique histories, questions and concerns to drive the conversation.
Live and video chat have gained popularity as efficient ways for service representatives to engage with consumers in a more personal, one-to-one fashion.
"Customers will use the web or another electronic means to address simpler issues or questions, but when things get difficult, they want to talk to a live person," Atkinson explained.
Supporting this point, 40% of consumers say that being able to connect with a brand representative via chat or video chat to have questions answered would help them have a better online shopping experience, according to research from Moxie.
In a separate survey of more than 2,100 U.S. consumers, Moxie found that shoppers even want to connect with live representatives as they are browsing on their mobile devices. Nearly two-thirds (62%) of consumers expect live chat to be available on mobile devices, and 82% said they would use it.
Once consumers make the initial engagement with a chat representative, they expect a quick response: In less than three minutes to be exact, according to Tyler Walton, Marketing Manager of Clutch.
"The live chat channel made the most traction in 2014," Walton said. "In this texting/emailing culture, many consumers prefer to solve problems through the written word rather than spoken word. Depending on the complexity of the problem, it's easier for a consumer to engage through chat and multitask online without having to be on hold on the phone."
Live chat also gives brands the opportunity to put their digital agents front-and-center, allowing them to build relationships rather than just solve problems.
Backcountry.com, for instance, has seen substantial growth since refining and optimizing its live chat strategies — especially during the holiday season. Over time, the outdoor apparel and gear eTailer has discovered that consumers who engage one-on-one with agents generate up to six times more revenue than those who have a standard online shopping experience.
Service agents, called Gearheads, leverage the LivePerson chat tool to engage with customers through their prefer channels, while also providing valuable advice and assistance.
Most recently, Backcountry.com implemented more customized agent branding tools, so consumers can see headshots of Gearheads as they are chatting with them. Shoppers also can access Gearhead profiles, which share detailed information about their areas of expertise and their personal interests.
"That way, you know you're talking to a real person and an actual expert," Chris Purkey, VP of Customer Support at Backcountry.com. Initially, Backcountry.com and LivePerson conducted an A/B test to determine the effectiveness of this more customized experience. "We wanted to find out if customers really cared," he noted. "You can do all of this work to create customization but ultimately, if it doesn't make a difference to the customer, there's no point in doing it."
After completing the test, Backcountry.com found that consumers who engage one-to-one with Gearheads and interact with specific agents on a regular basis generate more revenue for the business.
BaubleBar also has raised the typical chat experience to the next level by using video conferencing technology from Vee24. The video chat offering is part of BaubleBar's Service With Accessorizing Talent (SWAT) division, which is focused on testing new technologies and "finding innovative ways to connect with our customers," according to Nina Alexander-Hurst, VP of Customer Experience and SWAT.
By focusing on new service and engagement tactics, BaubleBar is positioned to help customers "build a strong relationship with the brand and boost their overall engagement," Alexander-Hurst said in an interview with Retail TouchPoints. "We aim to take the friction out of the online shopping experience and provide the level of service you'd expect from a brick-and-mortar retailer."
When consumers enter the BaubleBar site, they have the opportunity to engage with the Live Help pop-up, which immediately connects them with a SWAT stylist who is ready to chat. Features such as screen sharing, co-browsing and live zoom, all help bring highly tactile components of the in-store experience to the e-Commerce site.
After testing video chat for five months, BaubleBar saw average order value increase by 300% and shopping frequency improve by 250%.
Bringing Data Into The Service Mix
Digital tools and technologies can help consumers connect with brands and retailers faster than ever before. However, when consumers interact with a variety of different touch points throughout their unique journeys, they expect service representatives to have access to relevant information about their personal tastes, preferences and even past conversations with agents.
Consumers site that their top complaint with customer service interactions is that retailers make them repeat information as they hop from channel to channel. Zendesk and Dimensional Research sought to uncover the core elements of a poor experience through a survey of 1,046 consumers. The top complaint (72%) was that shoppers had to explain their problems to multiple people.
To address these ever-present shortcomings, retailers need to ensure team members have anytime, anywhere access to customer profiles. These detailed summaries should past purchases, browsing history, as well as past customer service inquiries and interactions — across the call center, the store, email and even live chat and social media.
Taking a more personalized and humanized approach to customer service has remained a daunting challenge for retailers, largely because the sheer number of communication channels has increased exponentially. As the number of mediums increases, so does the amount of data, and for the most part, retailers are still struggling to collect, analyze and leverage data effectively across all key systems.
"Getting the information into systems is still a weak spot, because many CRM or service management systems simply haven't kept pace with the increasing number of ways in which customers contact brands," Atkinson said. "Or, perhaps more accurately, businesses haven't updated to the most current tools or gone to the market to find out which tools can work best for their needs."
Then there are retailers like TOMS that use data from multiple sources to build meaningful relationships, and have meaningful interactions with their consumers.
To activate and nurture meaningful relationships with current and potential customers, TOMS uses the Salesforce Service Cloud, which helps provide a 360-degree view of customers, their past purchases and interactions, and overall sentiment.
"We wanted the best tool possible to help us deepen that relationship with our customers," said Zita Cassizzi, Chief Digital Officer at TOMS. Since its inception in 2006, the retail brand has grown exponentially, making it more difficult to have intimate, one-to-one conversations with consumers and brand advocates. "We turned to Salesforce because we want to build even stronger and longer lasting relationships with customers, and connect our employees."
Initially, call center agents in the U.S. and Europe used Service Cloud so they could better manage phone calls and social media inquiries. Because the primary customersfor TOMS are Millennials, the brand finds it paramount to be present and active across Facebook, Twitter and other social networks. 


"Most of our customers are using social media as a regular channel versus an outlet to rant or rave about something," Cassizzi said. "It is a key channel for all types of conversations." Although TOMS has a dedicated social media team, call agents also have access to social media and consumers' social accounts and feedback via Service Cloud.
But how can all retailers capture this comprehensive view of customers and service interactions across channels? Must the overall service infrastructure change or evolve in order to be profitable?
Part 2 of the Omnichannel Customer Service feature, which will appear in the March 3 newsletter, will uncover how retailers' customer service departments will continue to evolve.