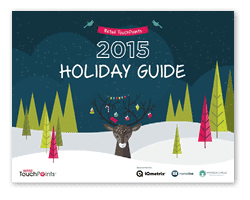 As we move further and further away from the 2008 recession, retailers can be confidently optimistic in their overall outlook for the 2015 holiday season.
Confirming this optimism, the National Retail Federation (NRF) predicted a boost in sales growth for 2015 over 2014. Retail industry sales will increase approximately 4.1% in 2015, up from 3.5% growth in 2014, according to NRF in its February 2015 economic forecast report. That boost would be the biggest annual growth since 2011, when retail sales for the year increased 5.1%. Additionally, NRF predicts non-store sales will grow between 7% and 10%.
"While Americans are benefiting from a pickup in wages and jobs, and gains in the U.S. stock market, economic slack has been reduced," noted Jack Kleinhenz, Chief Economist at NRF. But, he warns: "We still, however, have a ways to go in order to achieve sustainable economic growth. There are a few wild cards that retailers will need to keep an eye on, like global economic growth, energy prices and even inflation."
Although retailers should expect consumers to spend more of their earnings on necessities and discretionary items during the holiday season, one thing remains clear: To see success, retailers must focus on understanding customers' needs and addressing them across all channels.
This year, the Retail TouchPoints 2015 Holiday Guide is delving into 10 different topics that will provide insights from industry experts and real-world examples to help retailers deliver a successful holiday season. This guide should serve as a go-to resource for all types of retailers.
Complete the form below to download your copy of the guide now!
---