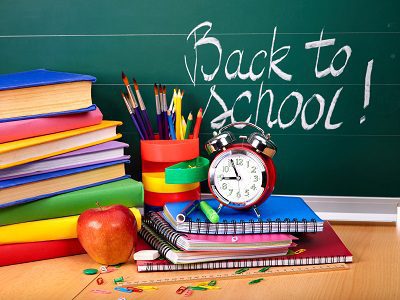 As the summer season nears the end, families will venture home from their vacations and head straight to the stores for their annual back-to-school shopping spree.
In 2014, families are expected to spend more on school supplies compared to last year. The average family with children in grades K-12 will spend $669.28 on apparel, shoes, supplies and electronics, up 5% from 2013, according to the National Retail Federation (NRF).
The NRF 2014 Back-To-School Survey, which was conducted by Prosper Insights & Analytics, indicated that total spending for back-to-school and back-to-college shoppers will reach $74.9 billion this year.
Consumers' ongoing desire for quality deals and an extended shopping season all are important factors this back-to-school season.
Although consumers are feeling better about the economy, they still are leveraging money-saving tactics they picked up during the recession, according to Pam Goodfellow, Principal Analyst and Consumer Insights Director at Prosper Insights & Analytics.
"Consumer confidence in July has been the highest since the start of the recession, but not as high as 2007," explained Goodfellow in an interview with Retail TouchPoints. "We're improving but not fully recovered. That means consumers are increasing spending but they're still looking out for deals and promotions through any channel they can."
Because of current economic standings, the revered back-to-school blowouts have been spread out over several months. Families are seeking out deals earlier than ever, with 24% with children in grades K-12 saying last year they began shopping for school at least two months before school began, up from 15% in 2007 according to the NRF survey.
"There's not a mindset now where consumers feel the need to make one giant purchase," Goodfellow said. "For example a consumer isn't going to go to the mall and buy all of these jeans when it's August. It's easier for them to buy a few things during back-to-school and then purchase more items throughout the year. Consumers also know discounts are coming and there's no incentive to spend more [now]."
However, retailers can get in front of back-to-school shoppers throughout the extended season by breaking it down into segments and tailoring messages based on what parents and students are thinking about at each stage, according to Tim McMullen, Executive Creative Director at redpepper. "For example, expensive items like electronics tend to be purchased first. If you aren't selling electronics find a way to get into that conversation so that your retail store is on the list earlier."
Retailer zulily reported that most parents (70%) plan to spend most of their budget on clothes — between $50 to $250. Almost three quarters (72%) are looking to spend less than $100 on shoes, and more than half plan on spending less than $50 on school supplies.
Merchants must find ways to appeal to budget-driven consumers, especially as 45% of parents plan to shop for sales more often and one third of families are using coupons more frequently, according to research from Baynote and the e-tailing group.
"Retailers must keep their cross-channel efforts in mind when implementing special offers and discounts," said Lauren Freedman, President of the e-tailing group. "And customers have engrained expectations from years of back-to-school shopping, so retailers need to factor that into their arsenal while still keeping margin in mind."
Stores Dominate During Back-To-School
While most shoppers prefer to make purchases in-store, online browsing and buying also are playing important roles, with 73% of consumers webrooming before they purchase items in-store, according to an ICSC survey.
"Time-pressed shoppers will search for easily comparable items during this back-to-school season, which makes online shopping very attractive," noted Jenn Markey, VP Marketing of 360pi, a price intelligence solution provider.
In addition to researching products, 84% of consumers said they would be encouraged to shop online if they received free shipping, according to research from Baynote.
But in the end, brick-and-mortar will reign supreme during the back-to-school season, with 70% of shoppers reporting that they will visit stores with their families. Conversely, only 36% of families said they would shop online together.
The use of mobile devices in-store will be particularly important as almost half of consumers will use smartphones to redeem coupons in-store, and 40% will use them to compare prices on Amazon, according to Baynote.
"Retailers must have easy mobile access to product and store details and pricing promotions tailored to store locations," Freedman added. "The mobile device should be the connector as shoppers look to check inventory, reserve products, and pick them up in store."
Omnichannel Omnipotence
Creating an omnichannel experience is critical for retailers to be successful this back-to-school season, as nearly half of shoppers will use two or more channels before making a purchase, according to Baynote.
"Consumers are taking advantage of all the options offered to them in today's multichannel environment and toggling between channels and devices to facilitate different parts of the shopping experience," said Marti Tedesco, Senior Director of Corporate Marketing at Baynote. "Retail merchandisers have to play all the cards — in-store, online, mobile, by channel promotions — and timing them all in a way that is complementary keeping omnichannel in mind. It's a tall order."
Broken down by channel, 81% of consumers said they would redeem email offers most frequently, followed by buy-one/get-one-free (BOGO) offers (77%), store-only promotions (72%), flash sales or limited-time promotions (64%), and deals received via social media (64%), Baynote reported.
Facebook will reign supreme in the social networking world of back-to-school shopping, with 24% of consumers saying they plan to tap into the site while back-to-school shopping. More respondents with children in college (31%) said they would use Facebook to research products and deals.
"College-age shoppers and their families tend to respond well to social media engagement," Tedesco explained. "On the other hand, families with young students typically look to catalogs, look books, and similar content to define their shopping lists."
To efficiently reach their target audience, merchants must tap into the channels that align with shopper preferences, wants and needs.
"Customers are everywhere," Tedesco said, "on mobile, social media, the web, and in-store. So a campaign that hits all of the channels has the highest likelihood of success."
Unique Experiences Attract Shoppers
Strategic retailers are setting out to evolve beyond discounts and create positive experiences for customers across all channels. Retailers including Staples, Target, Walmart and Apple have implemented a number of different strategies to bring back-to-school shoppers to their stores and engage with them online and via mobile.
"For parents, saving money is important, but so are saving time and making their kids happy," McMullen said. "Experiences create more word-of-mouth than offers. And since children and tweens are heavily influenced by each other, it is a valuable strategy to include in your program. The smartest retailers combine both offers and experiences to drive traffic while driving word-of-mouth at the same time."
In addition to weekly deals and a 110% price match guarantee, Staples is offering customers a chance to meet pop singer Katy Perry. This unique offer could drive in the group of nine- to 13-year-olds who control $43 billion in annual buying power, according to research by Popai titled: Tweens 'R Shoppers: A Look at the Tween Market & Shopping Behavior.
New York children's shops Torly Kid and Flying Squirrel also are trying to take advantage of this strategy by providing customers with an experience rather than just a deal. Torly Kid has implemented a sidewalk contest for children to receive prizes and discounts. Flying Squirrel is providing swaddling workshops for moms and holding sing-alongs for children.
Target is focusing on the older end of the student spectrum, creating a mobile app-based college checklist. The tool allows students to keep track of their purchases, provides design and product suggestions and share lists on their smartphone or on Facebook. Users also get rewarded for creating an online college registry by receiving a promotion code for $10 off their purchase if they spend at least $50 on bedding, bath or home decor.
Target Canada has partnered with designers and brands to create product lines only available at Target stores. Skechers has designed the exclusive S Sport line of casual athletic shoes for the store, and Kid Made Modern has introduced children's art supplies in the style of designer Todd Oldham. In order to make these purchases more affordable, the company is offering Target REDCard members 5% off their entire purchase.
"Target understands that back-to-school is a busy period for parents," said Livia Zufferli, Vice President of Marketing at Target Canada. "Our product team partnered with students, parents and teachers to update and enhance our products. The simple addition of an extra handle or zippered pocket can make such a difference and distinguishes our assortment from the rest – providing the quality and style guests expect from Target, all at unbeatable prices."
Walmart also has an online page dedicated to returning college students, focusing on clothing and electronics. The retailer is promoting bundled school supplies to families, and allows online shoppers to search by grade to easily tailor their experiences.
Apple is extending its college promotions by offering discounts to students with ".edu" email addresses. The store also is giving away $100 gift cards to students who purchase a Mac and a $50 gift card if they buy an iPad or iPhone.
"With increased competition, retailers now have a smaller margin for error and must be certain that their promotional initiatives are well-tailored to their target consumers," Tedesco concluded. "The retailers that truly understand their target consumer segment and its preferences and delivers consistent, well-tailored promotional efforts will definitely have an advantage."