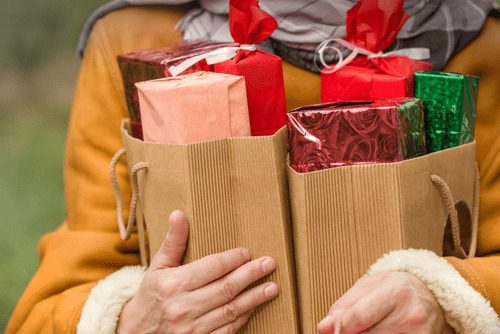 While the statistics vary from source to source, overall holiday spending was up in 2014. Retailers that saw the most success were able to deliver products on time, offer bargains and competitive pricing, and embrace mobile.
"Over the past several years, consumers have learned how to squeeze every last benefit out of their holiday purchases," said Sarah Quinlan, Senior Vice President at MasterCard Advisors. She predicted: "Two things retailers and shippers can expect this season are procrastinators hunting for that perfect gift that will bring a smile to family and friends, and an increased demand for express shipping as three of the top five shopping days will take place in the final week."
Overall spending was up 5.5% between Black Friday and Christmas Eve, reported Mastercard's SpendingPulse forecasts, although it should be noted that this timeframe included one additional shopping day in 2014 vs. 2013.
Shopping with mobile devices is increasing rapidly and retailers that ignore this trend will be left behind. Mobile traffic accounted for 45% of all online traffic for the 2014 holiday season, a 25.5% year-over-year (YOY) increase, according to the IBM Digital Analytics Benchmark. And mobile sales totaled 22.6% of all online sales, up 27.2% YOY.
Total e-Commerce spending jumped 15% in 2014 for the weeks between Nov. 1 and Dec. 21, reaching $48.3 million, according to comScore, Inc. Within that time period, the biggest increase happened during the weekend before Christmas, Dec. 20-21, up 36% to $972 million.
Yet some of the positive results aren't as positive as retailers might like. While YOY retail dollar volume grew 5.3% during the 2014 holidays, it was a smaller increase compared to 3.4% in 2013, according to the First Data 2014 SpendTrend Holiday Shopping Spend Analysis. Also, retail transactions were up 5.0% in 2014 compared to 6.0% in 2013.
Which Venues And Products Attracted The Most Holiday Shoppers?
It's no secret that online and mobile shopping is growing, and fast. But at least half of shoppers still wanted to complete some of their holiday shopping in stores. Department stores were the most popular venue for 44% of shoppers; then consumers headed to discount stores (30%), apparel stores (22%) and electronics stores (19%), the National Retail Federation (NRF) reported.
Accenture shared stats on specific products consumers planned to purchase as holiday gifts:
Gift cards (57%);

Apparel (56%);

Toys (42%);

Home electronics (24%);

Smartphones (14%);

Tablets (13%); and

Wearable technology, such as fitness bands (13%).
The Value Of Both Early And Late Shoppers
The way consumers shop during the holidays can vary from person to person, but many can be grouped based on whether they shop early or late in the season.
Retailers should plan to cater to both groups, since they split relatively evenly, according to NRF. The average holiday shopper completed 53% of their shopping as of Dec. 10, NRF reported in its Holiday Consumer Spending Survey, conducted by Prosper Insights & Analytics.
Approximately 47% of shoppers waited until later in December to complete their holiday shopping, for a variety of reasons, including procrastination. Just over 9% said they would complete their final purchases as late as Christmas Eve, NRF reported. But more than 23% said they were waiting for the best deals to surface.
Thanksgiving Weekend Results Underwhelming Despite Early Openings
Although more retailers opened their doors on Thanksgiving Day, total spending from Thursday, Nov. 27, 2014, to Sunday, Nov. 30, 2014, dipped approximately 11% YOY to $50.9 billion, according to data from NRF. Additionally, shoppers spent an average of $380.95 throughout the weekend, a 6.4% drop from the 2013 average of $407.02.
It is important to note, though, that brick-and-mortar retailers that kept their doors open on Thanksgiving Day saw very positive results. Total in-store sales for the day rose 23.7% to $3.19 billion, according to ShopperTrak.
The surge in sales and traffic on Thanksgiving Day may have led to shopper fatigue, as Black Friday brick-and-mortar sales dropped 6.8% from 2013, according to ShopperTrak. RetailNext reported even gloomier numbers, estimating that in-store sales had dipped 14.1% while overall traffic dropped 16%.
E-Commerce Thrives And Mobile Takes On A Bigger Role
While brick-and-mortar sales and traffic dwindled Thanksgiving weekend, e-Commerce results brought a light of optimism throughout the weekend. Retailers on Thanksgiving Day and Black Friday saw double-digit growth in online sales, at 25% and 24% respectively, according to Adobe.
"A strengthening economy that changes consumers' reliance on deep discounts, a highly competitive environment, early promotions and the ability to shop 24/7 online all contributed to the shift witnessed this weekend," said Matthew Shay, President and CEO of NRF. "We are excited to be witnessing an evolutionary change in holiday shopping by both consumers and retailers, and expect this trend to continue in the years ahead."
Mobile devices also played a more prominent role in consumers' holiday shopping behaviors. Smartphones and tablets accounted for 52.1% of all online traffic Thanksgiving Day, marking the first time mobile devices outpaced their PC counterparts for online browsing, according to the IBM Digital Analytics Benchmark. While mobile traffic dipped slightly on Black Friday (49.6%), mobile sales accounted for 27.9% of total online sales.
During the official kick-off of the holiday season, marketers were eager to target shoppers via email boost traffic and sales across channels.
Email marketing served as the primary driver for online sales in 2014, driving 27.3% of sales on Black Friday alone, according to the Custora E-Commerce Pulse. Aside from email, 18.9% of sales originated from free online search, while 18.5% started through paid search. Surprisingly, social media platforms such as Facebook, Pinterest and Instagram drove only 1.7% of online sales.
Cyber Monday Sets Sales Record
The e-Commerce craze continued into Cyber Monday, as retailers raked in a record $2.04 billion from online desktop purchases on Dec. 1, 2014, according to comScore, Inc. The total represents a 17% increase from 2013 results. Large retailers naturally experienced the largest sales increases, as the top 25 merchants saw online sales increase an average of 25%, according to research from Adobe. Sales for smaller retailers — classified as retailers generating $2 million or less — grew by 5%.
Once again, mobile significantly impacted online shopping results: Purchases made through smartphones and tablets increased 27.6% YOY, according to the IBM Digital Analytics Benchmark. Yet smartphones and tablets seemed to play different roles throughout the weekend; smartphones were utilized more for browsing purposes, while customers made more purchases with tablets. For example, smartphones accounted for 28.5% of all Cyber Monday traffic, which was more than double the traffic rate of tablets (12.5%). On the other hand, tablets drove 12.9% of online sales with smartphones driving only 9.1%.
Is Super Saturday Edging Out Black Friday?
The Saturday before Christmas Day — also known as Super Saturday — has become a key day for shoppers to rush online and in stores to nab last-minute gifts.
This year, retailers unveiled sales and deals more consistently through the holiday season, making Black Friday a less impactful day for retailers. In fact, some reports indicated that this year, Super Saturday actually edged out Black Friday from both a sales and traffic perspective.
Estimates from consulting group Customer Growth Partners indicated that Super Saturday would bring in $23.0 billion for retailers. Couple this with research from NRF, which noted an ongoing decline in Black Friday sales. While the shopping holiday brought in $59.1 billion in 2012, that total has decreased approximately 14% to $50.9 billion.
However, the success of Super Saturday evidently ranged from channel to channel. For example, data from the Verizon Retail Index reported that Internet traffic from online consumer retail shopping activity was the highest on Super Saturday weekend since the beginning of the holiday season.
"Last-minute shopping combined with continued promotions and extended guaranteed shipping deadlines created a bonanza for retailers and consumers over the weekend," said Michele Dupré, VP of Retail & Hospitality at Verizon Enterprise Solutions. "The old rules no longer seem to apply as retailers spread out the sales and many kicked off the holiday season before Black Friday (the day after Thanksgiving) which has traditionally represented the start."
Conversely, brick-and-mortar sales and visits on Super Saturday dropped YOY, according to APT research. Consumers' eagerness to participate in the shopping holiday varied based on location, income in the city or region and employment rates.
In cities or regions where unemployment increased, in-store Super Saturday sales decreased by 2.1% YOY. However, in-store sales only decreased by 1.3% in locations where unemployment decreased.
Interestingly, locations with a household income of $75,000 or greater experienced the greatest drop (2.4%) in in-store sales on Super Saturday. Similar regions with household incomes of $75,000 or less saw YOY sales decrease by 1.0%.
APT research also noted that results differed based on city. An overview of the best- and worst-performing cities include:
Denver, Colo. (+4.3%);

Seattle, Wash. (+3.1%);

Atlanta, Ga. (+1.7%);

Boston, Mass. (-4.7%);

Miami, Fla. (-5.0%); and

Minneapolis, Minn. (-6.0%).
Retailers Appease Procrastinators With Extended Shipping Deadlines
Up to 42% of consumers conducted the majority of their holiday shopping in December, according to consumer research from Walmart. That is why many retailers provided a variety of new services to ensure customers received their gifts quickly and efficiently — even if they waited until the last minute.
For example, Banana Republic established a series of partnerships for its Procrastinators Event, which offered six days of perks for last-minute shoppers.
Shoppers received free rides to and from Banana Republic stores across the U.S. by using Curb. Deliv also helped Banana Republic customers reserve their items in-store and have them shipped the same day.
Some merchants even extended their shipping deadlines and offered same-day shipping to satisfy late shoppers. Amazon, Barnes & Noble and Toys "R" Us were among the retailers that stretched their deadlines to Christmas week.
However, it was Apple, Dell, Nordstrom and Zappos that truly won the shipping war during the 2014 holiday season, according to research from StellaService. These four retailers provided an ordering deadline of Dec. 23 and guaranteed that any packages purchased online on or before that date would be delivered by Christmas Day. Although the retailers offered the latest cutoff date among their major retail competitors, each of them delivered packages on time.
Although most retailers met their delivery promises, some did not succeed: nine of the 40 retailers StellaService analyzed missed a delivery to at least one region, totaling 7% of all packages delivered. These retailers were: Best Buy, Costco, Crate & Barrel, J.C. Penney, Kohl's, Macy's, Staples, Toys "R" Us and Wayfair.
Retail Avoids A Post-Holiday Hangover
The single best day of the 2014 holiday season came on Dec. 26, according to Euclid's U.S. Retail Benchmarks: December 2014. The day after Christmas in 2014 experienced significantly more traffic, higher storefront conversion and higher levels of engagement than was seen in 2013. Euclid cited post-Christmas promotions and gift cards burning a hole in recipients' pockets as two key drivers of the positive results.
On Christmas Day and beyond, shoppers continued to purchase via online and mobile devices. Online sales on Christmas Day, for example, jumped 8.3% YOY, according to an IBM Digital Benchmark report.
The IBM report showed that the use of mobile devices experienced particularly strong growth across the board. Mobile sales on Christmas Day, for example, increased 20.4% YOY and accounted for approximately one in three online purchases completed on that day. Mobile traffic on Christmas Day also jumped by 18.6% and represented 57.1% of all online traffic.
IBM also measured the impact of two social networks on holiday sales: Facebook and Pinterest. Facebook referrals drove an average of $89.80 per order, while Pinterest referrals averaged $99.86 per order.
Moving from New Year's Eve into 2015, online traffic continued to perform well. The Verizon Retail Index reported above average traffic throughout the period following Christmas. The season's highest online traffic numbers occurred after Christmas and reached new heights as the holiday season concluded. The first weekend of January saw the highest volume of traffic during the entire season. The one blip, New Year's Eve, still experienced above-average traffic, though it was lower than 2013. This dip could be attributed to weather, according to industry experts.
"Unlike 2013 when much of the U.S. was impacted by inclement weather on Dec. 31, the weather on New Year's Eve 2014 was better nationwide," said Michele Dupré, VP of Retail & Hospitality for Verizon Enterprise Solutions. "This likely resulted in consumers being less focused on online shopping and contributed to the slight dip in online shopping traffic. However, New Year's Day 2015 brought back a renewed focus on online shopping as consumers took advantage of new deals."
Holiday Data Breaches Decline
Retailers may have caught a break during the 2014 holiday season. Hackers were not nearly as active in their attempts to capture customer data across all industries compared to the previous year.
Looking at a two-week period that covered Nov. 24 through Dec. 5, IBM's Digital Analytics Benchmark reported that companies across all industries disclosed more than 20 data breaches in 2013 that affected nearly 4 million records. Those numbers fell to 10 breaches in 2014, where hackers compromised 72,000 records. Daily cyber-attacks also fell about one third YOY during this period.
Despite this good news, IBM also noted that the retail and wholesale industries became the top target for hackers in 2014 — replacing manufacturing. The company speculated that this may be a result of a wave of incidents that affected big name retailers in the past year. Tactics seem to have changed as well, with Secure Shell Brute Force attacks — software that recombines words in various combinations until it roots out a correct password — replacing unauthorized access.
Return Fraud Costs Predicted To Rise
With holiday shopping completed, many shoppers will return to stores to return unwanted or ill-fitting gifts. Unfortunately for retailers, the NRF 2014 Return Fraud Survey estimated that 5.5% of holiday returns will be fraudulent. The survey, completed by loss prevention executives at 60 retail companies, predicted that this will cost the industry $3.8 billion in the 2014 holiday season and $10.9 billion for the entire year.
Nearly all (92.7%) of the retailers experienced the return of stolen merchandise to their stores in the past year, and 78.2% say they have experienced return fraud through returns by organized retail crime groups.
"Today's sophisticated technology does well keeping criminals at arm's length but often isn't enough to completely stop the unethical practices of organized and individual retail fraud occurrences," said Bob Moraca, VP of Loss Prevention at NRF. "Return fraud has become an unfortunate trend in retail thanks to thieves taking advantage of retailers' return policies to benefit from the cash or store credit they don't deserve. Additionally, many of these return fraud instances are a direct result of larger, more experienced crime rings that continue to pose serious threats to retailers' operations and their bottom lines."