Winning Windows began as a way for design:retail to celebrate the retailers and creative teams that use their window real estate to surprise, delight and create holiday joy. Now in its 22nd year, the nominated brands reached new levels of innovation — with some even thinking outside of the window to tell their stories.

Winners were revealed at the PAVE Holiday Celebration, which took place December 8, 2021 at God's Love We Deliver in New York City. In a room full of visual merchandisers, designers and creative leads, the following four projects were spotlighted for their creativity, professionalism and ability to evoke joy.
This year's judges were Alicia Esposito, Vice President of Content for Retail TouchPoints; Anne Kong, Associate Professor, program coordinator for visual presentation and exhibition design at the Fashion Institute of Technology; and Judy Bell, Founder of Energetic Retail. Nominees were eligible for the Platinum, Gold and Silver Awards as well as the Judges' Choice Award, which was open to brands and retailers from across the globe.

Platinum Award: Saks Fifth Avenue
There is no greater joy than to experience the holidays through the eyes of a child. That is why the Saks Fifth Avenue team created a windows concept focused on visualizing the imagination of children in New York City. They asked kids all over New York City, including the Madison Square Boys & Girls Club, to share their dreams for the holidays. The windows were inspired by their drawings, presenting animated, surreal fantasy-scapes that give us a look inside a child's mind. Passersby can see the original drawings in the corner of the window and even scan a QR code to see the window creations being unveiled.
"Subtle surprises like spinning pineapples in palm trees on a beach and whirling ferris wheels at an amusement park, all in the most deliciously warm and happy colors, brought energy and magic to the windows," Bell said. "This, coupled with Saks' stunning annual light show on the front of the building, dazzled shoppers with a celebration of the holidays from head to toe."
Gold Award: Bergdorf Goodman
Bergdorf Goodman is a New York City staple; a legacy brand with legacy windows, but this year's windows focused on "The Present Moment."

Each of the seven windows illustrates a fabulous moment frozen in time. Subtitles describe that moment with a single word. For example: "The present moment is…adventurous" and "The present moment is…delirious." The windows, designed with a psychedelic flair, are meant to convey a spirit of freedom, abandon and harmony. Designed by Window Director David Hoey and a special team of artists and craftspeople, the displays feature select fashions from the spring 2022 runways.
"Bergdorf brought art to the streets with intricately designed, magnificently colored windows that stopped passersby in their tracks and transported them to worlds of fantasy," Bell said. "Their amusement park scene with one very leggy mannequin and the familiar words 'You must be this tall to ride' brought up childhood memories and the yearning that comes with the desire for novel experiences. [It was] both brilliant and fun."
Silver Award: Macy's
The holidays are a time for magic, for imagination and the will to believe in the impossible. That is why every year, Macy's touts "believe" as its go-to slogan, and integrates it into its holiday marketing and omnichannel customer experiences — even the windows at its Herald Square flagship.

Through several windows, the Herald Square location shows us the story of Tiptoe, a small but eager reindeer who wants to learn to fly and help Santa spread holiday cheer. With a white, wintry wonderland as the backdrop, we see Tiptoe try, try and try again, with a little help from her furry and feathery friends. Macy's further enhances viewers' experience with Tiptoe by featuring a QR code that allows them to download an Instagram face filter and a 3D Tiptoe that can take flight wherever you are. Tiptoe's journey continues on the 34th Street windows with three interactive video games and a fun downloadable mobile game to help her fly Santa's sleigh.
Judges' Choice: Pulitzer Fountain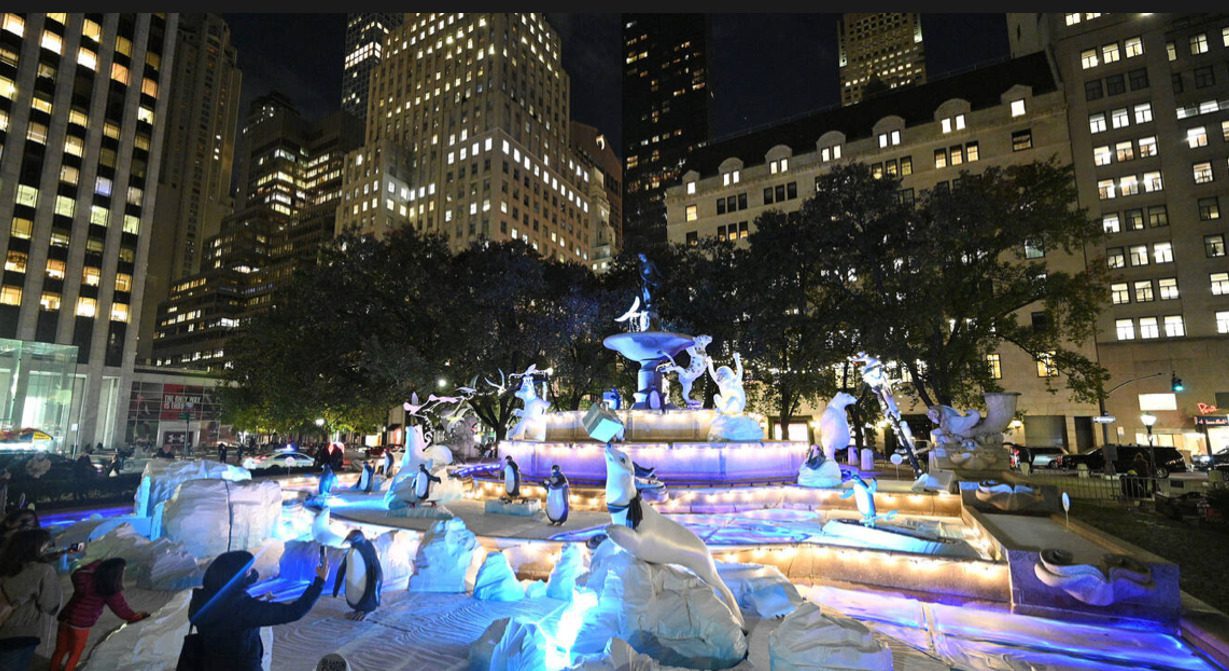 The Fifth Avenue Association and Harlequin Design reimagined the Pulitzer Fountain as a unique holiday activation to commemorate the official return of New York City for the holidays. The fountain is over 100 years old and a renowned Manhattan fixture, so the companies wanted to create a larger-than-life and interactive display to celebrate and bring holiday cheer to New Yorkers and tourists alike. There are 32 individually handmade animal sculptures, including polar bears, penguins and seals, as well as 5,000 feet of wires for lighting and 24 icebergs all handcrafted in Brooklyn. The animals dance and play along to a loudspeaker of holiday carols, creating an Instagram-ready spectacle for visitors. Spectators also can scan a QR code to engage in a photo moment with the fountain.