The mission — to replicate the store experience online. A short sentence but a tall order for most online retailers, and even more so for those in high-touch sectors like furniture. In the case of Coleman Furniture, which has no brick-and-mortar presence, that need is even more pressing. The solution — one of them at least — has been visual search.
With roots as an online-only retailer dating back to 1999, Coleman is continually searching for ways to improve the digital shopping experience. AR room planners, robust review and recommendation engines, detailed product listings, live chat — name a phygital enhancement and they've got it. Last year, Coleman added a new tool to its suite when the retailer deployed a series of visual AI solutions from Syte, including a camera search function and AI-powered discovery and recommendation tools.
"For a lot of people buying furniture is a major expense," said Michael Stein, Head of Ecommerce at Coleman Furniture in an interview with Retail TouchPoints. "It's a big decision, something people are going to buy once and hopefully it'll last them for a long time. And it's not like an iPhone or a set of Bose headphones where people know and trust the brand — most people don't know the manufacturer of their sofa. It's one of those things [that] you know what you want when you see it."
Coleman's implementation of visual AI search has not only removed friction for its customers, but also yielded big results for the company — including a 6X spike in conversions — by:
Letting shoppers forgo the irksome task of trying to find the right keywords to describe what they're looking for;
Creating a digital experience that is more closely aligned with the way people shop in the real world; and
Making consumers feel understood with personalization and AI-powered discovery tools.
The Problem with Regular Search — Words
"It's sometimes hard to find what you want using use descriptive words," explained Stein. "Let's say you want a modern sofa. Well, modern to you and modern to someone else will have completely different meanings. 'Modern' could be something you'd see in South Beach, a very low-profile white sofa, or it could be metal and black leather."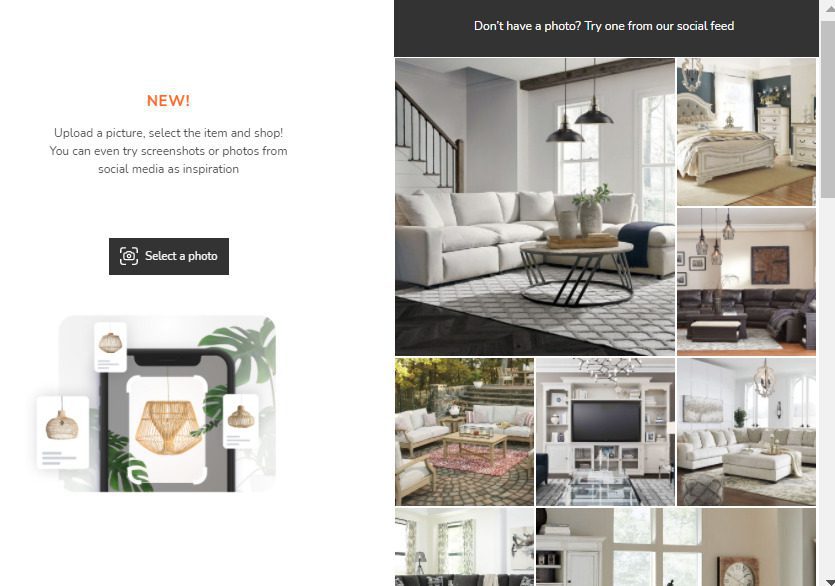 And that's where Syte comes in. Instead of typing in vague keywords, shoppers can upload images of exactly what they're looking for into the Coleman search bar. Whether it's a screenshot from Pinterest, a picture from Google or a snap of a friend's living room, the visual search function will bring back results for similar items in Coleman's large catalog. And if you don't have your own picture on hand, you can pull one from Coleman's social feed, which is pre-loaded in the visual search window.
In some ways it's actually an improvement over the in-store experience, explained Stein, with functionality that simply isn't possible at a brick-and-mortar location: "If you see a picture on Instagram and you say, 'Wow, I love that sofa, where can I get it?' I guess you could take your phone all over town and show [different retailers], or you just upload the photo [on our site] and it'll find sofas that are similar to what you saw," said Stein.
The results have been undeniable — in the year since the partnership launched, conversions have increased 605% (nope, there's not an extra numeral there, that's six hundred) and average order value is up 29%. Certainly, Coleman rode the wave of the home improvement spree that took place in 2020 and has continued this year, but Stein still attributes many of these improvements to the Syte tools and their ability to help people find exactly what they're looking, and to do it more quickly.
Digital Experiences of the Future: 'Instant, Intuitive & Visual'
"We believe that the retailers that will win shoppers' hearts — specifically millennials' and Gen Z's hearts — are the ones that give them the same experience as the one they live, which is instant, intuitive and visual," noted Lihi Pinto-Fryman, Co-founder and Chief Revenue Officer of Syte in an interview with Retail TouchPoints.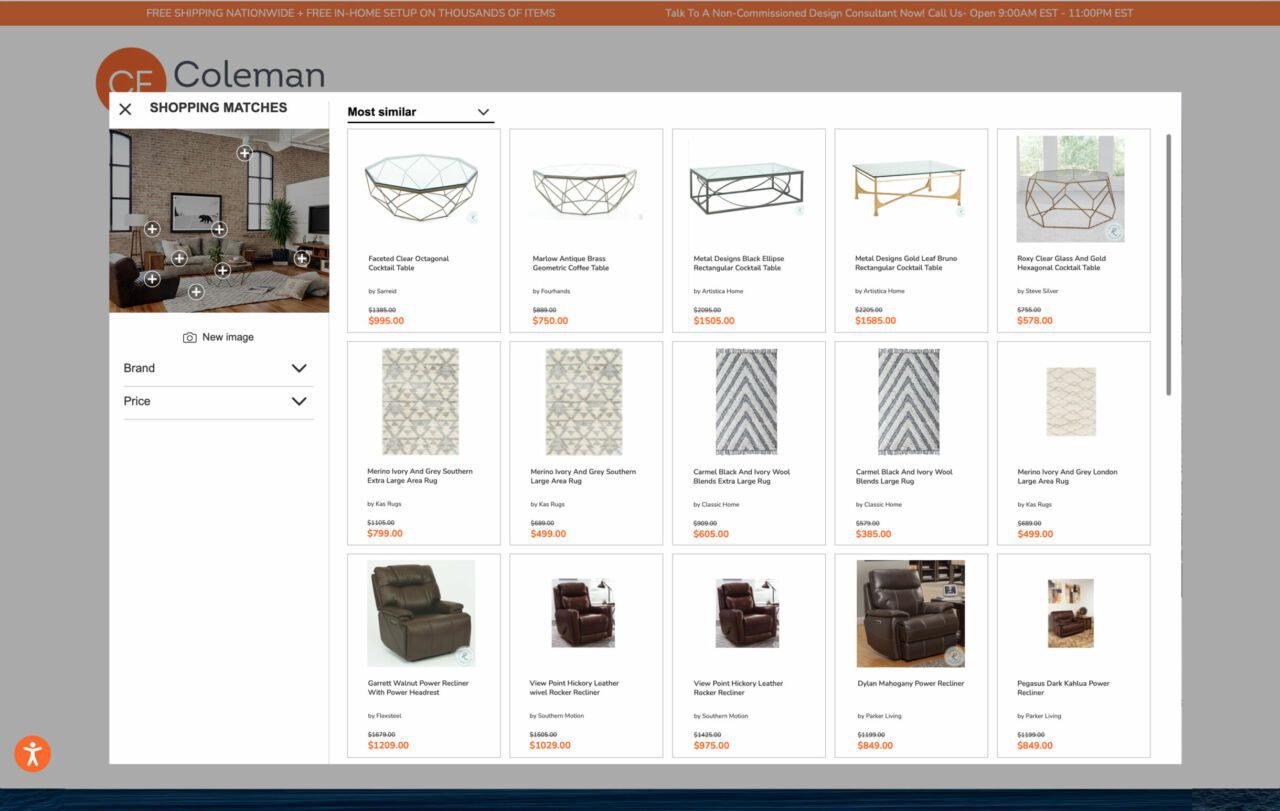 Coleman's partnership with Syte began in spring 2020, just at the beginning of the fallout from COVID-19. While Coleman's implementation of visual search wasn't a result of the pandemic, it certainly raised the stakes.
"Pre-pandemic, customers had more options," recounted Stein. "We were competing significantly more with the brick-and-mortar stores. It's a very common practice for someone to go to a retail store, find an item they like and then, whether they're looking for reviews or they want more information or a lower price, they go online. So anything we're able to do to help people find what they're looking for gives us an edge" — particularly since Coleman's digital-only model allows it to forego real estate costs and pass along those savings to consumers.
Making Consumers Feel Understood
Coleman's enhanced customer experience involves more than just visual search. The Syte AI-powered suite of tools also offer a new level of personalization and discovery opportunities for Coleman customers.
"We add personalization layers to the whole thing so [each customer] has a very different experience, because they are different shoppers," explained Pinto-Fryman. "If you look for a certain sofa, [the Syte tools] learn a lot about you and your specific taste, so we know what to recommend next to make the experience less overwhelming and more tailored to your specific needs. This is what we really want to bring to the end user, that feeling of being understood."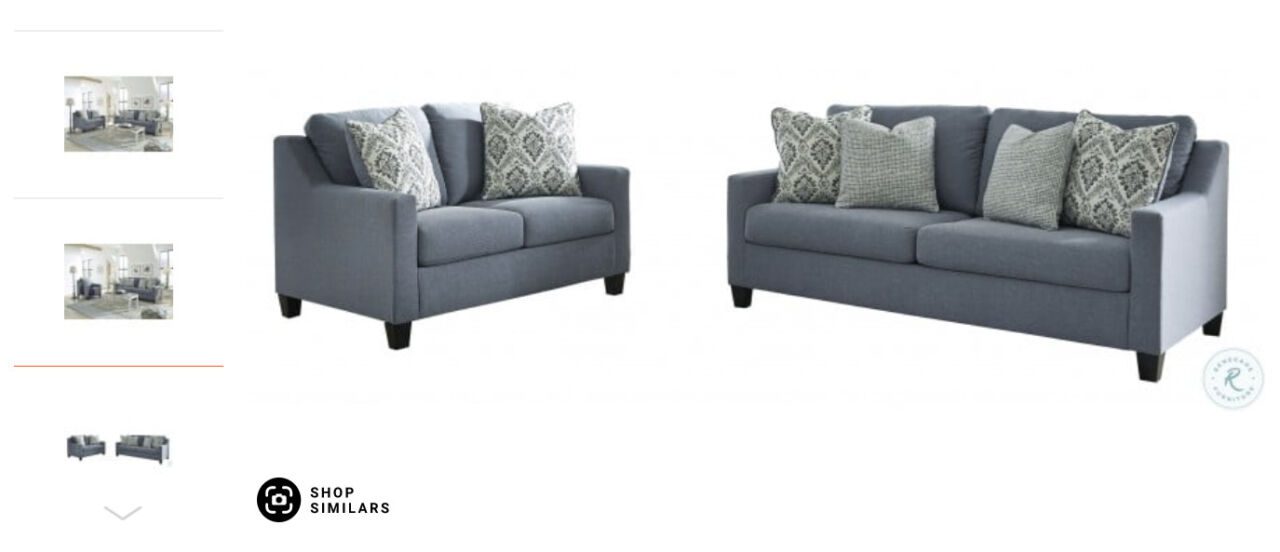 A "Discovery Icon," placed on images across the site, allows users to easily access similar products directly from search results and product detail pages. Embedded image carousels of similar items are also curated based on user activity and lookalike profiles, in order to present relevant recommendations across variables such as price point, color and style.
"What we are trying to do is create an experience online that is similar to the experience that you're having in a brick-and-mortar shop," said Pinto-Fryman. "When you go to the store, you browse, and you will stop where you find something that inspires you. We want to give you the same experience online, so once you get to something that you like, we help you discover more of what you're interested in. We would say, 'You see? This lamp complements it beautifully,' just like an in-store sales associate would do for you."
The ROI on all of this for Coleman, in addition to the bumps in conversion and AOV, has been an overall increase in customer engagement on the site.
"The longer people spend on the site, the more likely they are to find what they're looking for," said Stein. "At the same time, it's really important for us to make sure that we can find the most relevant items for each customer as quickly as possible. If you start looking at sofas, and you see that there are 2,000 options, by the time you get to 20 you're going to be exhausted. Instead, we know that if someone is looking for a mid-century modern sofa, we can eliminate 95% of the catalog in a matter of seconds, and then at that point you can focus on finding the item that you want."
For Coleman and Syte it's all about allowing consumers to easily take action digitally on real-world inspiration: "Today when we want to buy furniture, we get inspired from social media, from our friends, from things we see in the world," said Pinto-Fryman. "We want to connect that inspiration to the retail store."