New data from the Adobe Digital Economy Index highlights the staying power of online shopping habits formed during the pandemic, seemingly answering one of the biggest questions of the year: will ecommerce continue to grow, or settle down to pre-pandemic levels?
The answer appears to be the former. The Adobe Index — which analyzes consumer transactions across more than 100 million SKUs in 18 categories — found that consumers have spent more than $541 billion online in the first eight months of this year, from January through August 2021. That's 9% more than the comparable period last year and 58% more than 2019. In fact, Adobe forecasts that even before the holiday season begins on Nov. 1, 2021, consumers will have spent more online than the $575 billion they spent in all of 2019.
A key reason for these increases are seen in Adobe Index data points demonstrating that ecommerce's growth is not simply a matter of gaining new shoppers. Online retailers also are enhancing their ability to get the most out of each transaction:
Retailers are getting more people to hit 'buy,' with conversion now at 4.1% on desktop (up 1%) and 1.9% on smartphones (up 3.7%) in the first eight months of 2021.
Shoppers are making larger purchases, with average order value up 13% at $169.
Smartphone share of revenue is at 41% (up 8% YoY) while share of visits is at 59% (up 2% YoY).
Ecommerce Surge is Fueling Inflation
However, the report indicates that consumer fears about inflation have not been inflated. In August 2021, online prices were up 3.1% YoY and up 0.1% month-over-month, marking the 15th consecutive month when online prices rose on an annual basis. As a historical benchmark, from 2015 to 2019, online prices fell 3.9% on average each year. In fact, this is the first time in the history of online shopping that prices have risen across the 18 categories tracked by Adobe.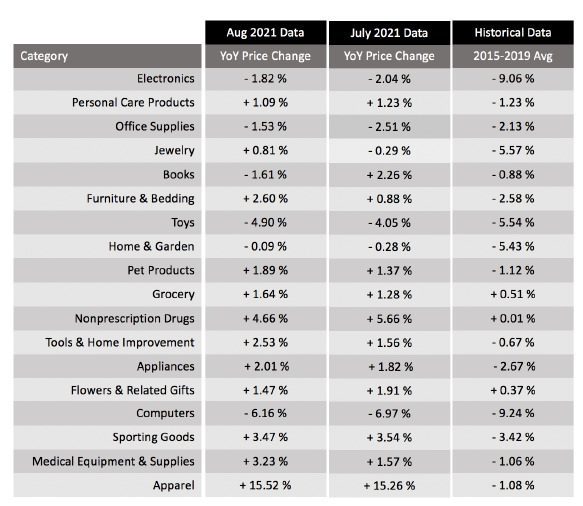 Adobe attributes this change to the growing share of wallet ecommerce now enjoys. Ecommerce accounts for roughly $1 of every $5 spent by consumers (up from $1 of every $6 spent in 2017). While supply chain disruptions have contributed to price increases, Adobe said that the primary culprit was surging and durable consumer demand, which has led to decreases in discounting as retailers look to preserve margin.
In the 18 categories tracked by the Adobe Index, all but one (books) saw higher prices in August 2021 when compared to a pre-pandemic period (2015-2019 average). The apparel category saw particularly marked price hikes in both July (up 15.26%) and August (up 15.52%), two months in which apparel prices typically drop amidst summer markdowns and back-to-school promotions. Online prices for apparel have even begun to outpace the Consumer Price Index (CPI) in recent months, which captures offline prices.
Another category that saw an unusual upward price trend online was furniture and bedding, which typically experienced annual price drops of 2.58% on average before the pandemic. Prices in that category rose 2.6% in August 2021, and appliances are seeing a similar trajectory. Both of these are categories where shopping has historically taken place primarily in stores, but consumers are growing increasingly comfortable making these types of large purchases online.
"In addition to notable categories such as apparel and home furnishings, consumers continue to see prices rise online for everyday goods such as groceries, pet products and personal care," said Vivek Pandya, lead analyst for Adobe Digital Insights in a statement. "Categories that once had a minor presence in ecommerce are now becoming staples, with unprecedented pricing trends that no longer hold down overall inflation."