The most wonderful time of the year has arrived, and yet with COVID-19 once again dictating the terms, it feels a bit like we're being visited by a ghost of holiday past. Despite having just officially begun, this holiday shopping season already is marked by supply chain disruption, persistent inflation and mixed consumer confidence.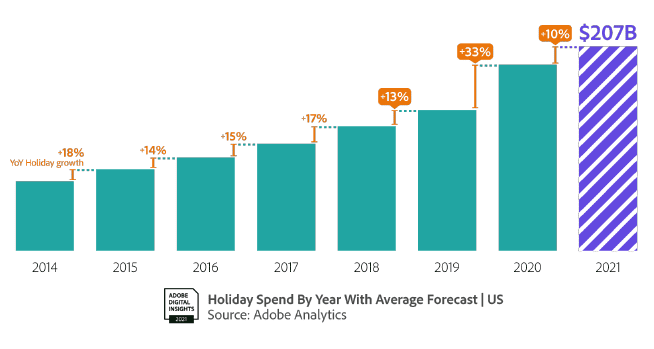 And just like last year, it looks like consumers will respond by turning to ecommerce. Holiday shopping insights from the Adobe Digital Economy Index predict that ecommerce will become even more ubiquitous, with U.S. online holiday sales anticipated to increase 10% YoY, hitting $207 billion in the period from Nov. 1 to Dec. 31, 2021.
"We're seeing pretty good growth coming into the season," said Vivek Pandya, Lead Analyst for Adobe Digital Insights in an interview with Retail TouchPoints. "Prices have been scaling throughout the entire year, and for the most part, consumers seem to be absorbing those costs. They're taking these higher prices and factoring that into their purchasing, and instead prioritizing the acquisition of goods."
The picture as we enter this holiday shopping season differs not only compared to pre-COVID years but also compared to 2020:
Despite the fact that 43% of consumers say they're more financially stressed this year than last, most don't intend to cut back on holiday spending;
Usage of buy now, pay later services will be a key tool for consumers to manage the financial burden of this inflationary holiday season;
Alternative fulfillment solutions like curbside pickup will reign supreme for a second year, but this time around it's less about safety and more about saving money as well as securing scarce items; and
This year's early shopping trend will lead to a weakening of traditional major sales days like Black Friday and Cyber Monday.
Shortages and Sticker Shock Heighten Holiday Stress
The holidays always tend to put a strain on the piggy bank, but a study from personal finance company Credit Karma found that 43% of consumers are feeling more financially stressed this holiday season, and inflation is the leading cause. "Inflation is driving up shopping prices as we head into the holiday season, a time when many people already feel pressured to go all out on gifts for family and friends," said Colleen McCreary, consumer financial advocate and Chief People Officer at Credit Karma in an interview with Retail TouchPoints. "This is causing many Americans to stress this holiday season."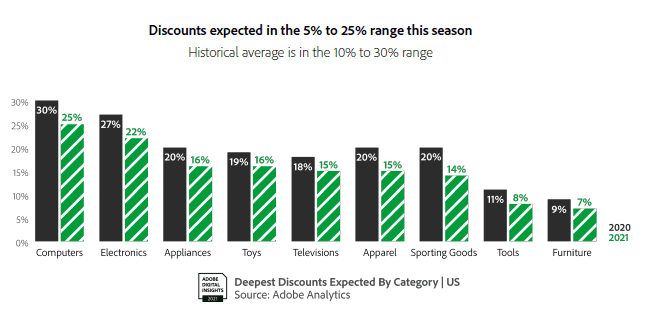 Some of the most popular gift-giving categories are those experiencing the highest levels of inflation, including electronics, toys and apparel. U.S. toy industry sales increased 11% in Q3 2021 from 2020, according to the NPD Group, driven by price increases, a continuation of pandemic lifestyles and fewer promotions.
In fact, weaker discounting across the board is causing higher prices in almost all categories, particularly online, according to Adobe. "The price increase that consumers are experiencing on goods purchased online is pretty pronounced, at about 9%," said Pandya. "That really raised our eyebrows in terms of just the level of change that consumers are having to contend with this year."
And yet despite their concerns, most consumers don't intend to cut back on their holiday spending. A recent report from the payments and shopping service Klarna found that 34% of shoppers actually plan to spend more on gifts this year than last year, with Gen Z (57%) and millennials (53%) more likely than other age groups to expand their budgets. (For their part, 32% of Gen X and 12% of Baby Boomers said they'll spend more compared to last year.)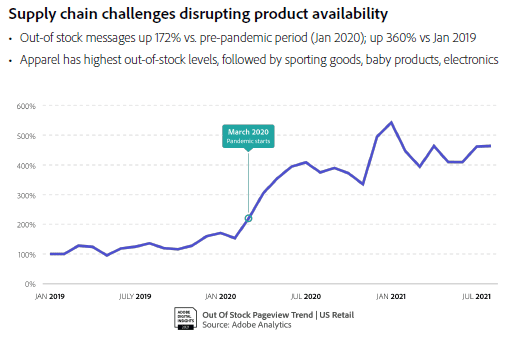 While spending the same, or even more, despite rising prices could seem contradictory, Pandya said the holidays create a unique spending atmosphere that can be hard for consumers to shake: "This season kind of pushes people in this direction where they have to get the goods," he said. "You know, that kid needs that PlayStation 5, so they take on what they need to to acquire these products, even if the environment's not as favorable to them."
Adding to the stress this year is uncertainty about whether or not that PlayStation 5 will even be available. Adobe reports that out-of-stock messages are up 172% compared to January 2020 and up 360% from January 2019.
Stressed Consumers Spread Out Spending with BNPL
Even outside of the holiday season, uptake in buy now, pay later (BNPL) services is exploding in the U.S., with BNPL orders in 2021 up 44% compared to 2019 and 3% over 2020, according to the Adobe Digital Economy Index.
"In a way this isn't completely new; installment payments and layaway have been a thing in the past, but the way [BNPL] is being marketed and showcased and integrated across these ecommerce sites makes it come off as something net new," said Pandya. "And it's resonated with a lot of consumers, especially younger consumers. They're able to essentially spread out their purchase and free up cash in interest-free installment payments in some scenarios."
Just this October, Walmart did away with its layaway program in favor of a BNPL solution, and it is just one of a raft of retailers adding the option both online and in stores. In fact, a new report from Software Advice found that 91% of the 700 retailers it surveyed are currently evaluating, in the process of rolling out or already offering a BNPL option. Additionally, one in four consumers surveyed by Adobe had used BNPL in the past three months. The main reasons consumers cited for leveraging BNPL included freeing up more cash and to purchase large ticket items.
Interestingly, Adobe found that as consumers become more comfortable with the concept they are using BNPL for smaller purchases and in some unexpected categories, such as grocery. The three top categories for BNPL online orders were apparel (43%), electronics (33%) and grocery (30%), and Adobe also found that the minimum order value is down 12% from 2020 to $225.
"If you try [BNPL] with a $500 order and it goes off without a hitch, then it's like, why not do it with a $200 order or a $150 order?" said Pandya. "The level of the buying power increases in a way that is the opposite of what we're seeing with inflation where the buying power is weakening, so BNPL is kind of moving in inverse of that."
The growing usage of BNPL services reflects a broader shift in consumers' approach to spending, according to Klarna's U.S. Head of Partner Success Raji Behal: "Shoppers are shifting away from traditional forms of credit toward debit and are looking for smarter and more flexible ways to shop and pay," she said in an interview with Retail TouchPoints. "While we see this happening across all age groups, younger generations are leading the way — Gen Z and millennials in particular have lower adoption rates for credit cards, with U.S. Gen Z credit cardholders having an average of two credit cards, lower than the average American's three credit cards."
Credit cards will still dominate as the top method for online purchasing this year, according to Adobe, with 55% of those surveyed saying they'll use them to pay. However, BNPL is now neck-and-neck with store credit cards at 13%.
Behal predicts that that balance will continue to shift: "Consumers are increasingly shopping smarter and moving away from traditional credit toward payment services that don't accrue interest," she said. "In the last decade, there has been 5X higher growth in debit card volume than credit cards, and in the previous year or two, spending on credit cards dropped 50%."
Consumers Look to Curbside to Secure the Goods and Save $$$
High prices and low availability are straining customer loyalty, a trend that became evident in the Adobe data through an unexpected metric — device usage.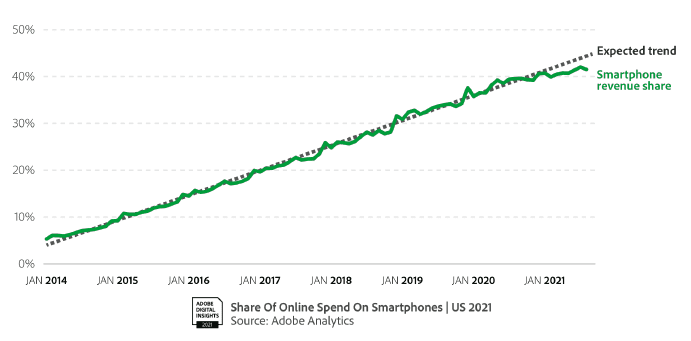 Purchases on smartphones have been increasingly steadily over the last few years and that trend was expected to continue, but this year Adobe noted a slowing of that momentum, which led analysts to an interesting conclusion: "When you have these kinds of shortages, consumers have to now consider a wider variety of retailers and do more research to compare factors like availability and shipping costs and times," explained Pandya. "People tend to want to do that type of transacting on a laptop or a desktop where they can have multiple windows open versus a smartphone."
And so once again alternative fulfillment solutions such as curbside pickup and buy online, pick up in-store will be critical to holiday success, although this year retailers are ready.
"Curbside or buy online, pick up in-store are going to be a key tool in the arsenal of both consumers and retailers for contending with both shipping delays and costs, as well as shortages around products," said Pandya. "Consumers want to avoid a situation where they're hunting around for a product in-store and waiting in long lines in this pandemic-type environment. The easiest for them is if they can order the product online and have it within a couple of days, but the middle ground is being able to purchase beforehand and have the peace of mind that they've acquired the product and then avoid shipping delays and shipping costs by picking it up from the store."
In fact, Adobe predicts that curbside pickup will account for approximately 25% of all online orders during the season, and surpass 40% of all online orders on Dec. 22 and 23, which would be a new record.
Shop While the Shopping's Good
The combination of inflation and inventory concerns is leading consumers to shop early as well as spread their spending over a longer period of time. Klarna found that 40% of holiday shoppers are starting earlier than they did last year, with the vast majority of consumers (71%) planning to begin purchasing holiday gifts before December. The top reasons consumers cited for shopping early were to:
Take advantage of holiday sales (72%);
Ensure product availability (50%);
Avoid shipping delays (45%); and
Avoid last-minute stress (39%).
One of the results of all this early shopping is a weakening of the major holiday sales days. While Adobe is predicting 10% growth YoY for the season as a whole, it only expects 4% to 6% growth for the major shopping days — Black Friday, Cyber Monday and Thanksgiving — much lower than the 15% to 21% growth these days saw in 2020. Despite lower growth in 2021, Adobe expects Cyber Week (from Thanksgiving Day through Cyber Monday) will still generate $36 billion in sales though.
"We are starting to see a spreading of consumers into almost different cohorts," said Pandya. "Half of them are looking to do early shopping, spread their purchasing and make sure they get goods earlier. Then there's another cohort that feels like they're going to get the biggest discounts on Black Friday and Cyber Monday. They're used to [shopping on these days] year after year, it's a tradition in a way. [That group] is keeping these days big enough that retailers can't just abandon them. About 17% of the season is still contributed from these three to four days."