Search is the heart of Amazon. While some people use Today's Deals or Shop by Category to navigate the marketplace, the vast majority begin by typing something into the search bar. Amazon decides which products appear in these searches using a secretive combination of keyword relevancy, product detail page (PDP) quality and conversion rate, and the result of this calculus is the product's organic search rank.
A good organic placement can be an elusive thing on Amazon. It takes time for a product to collect enough traffic and sales history to compete with long-established brands, so you can't rely on organic placement alone. To win in search, most brands leverage Amazon Advertising. Using paid placement not only drives visibility and conversion in the short term, it can boost organic placement in the long term by improving traffic and share of voice.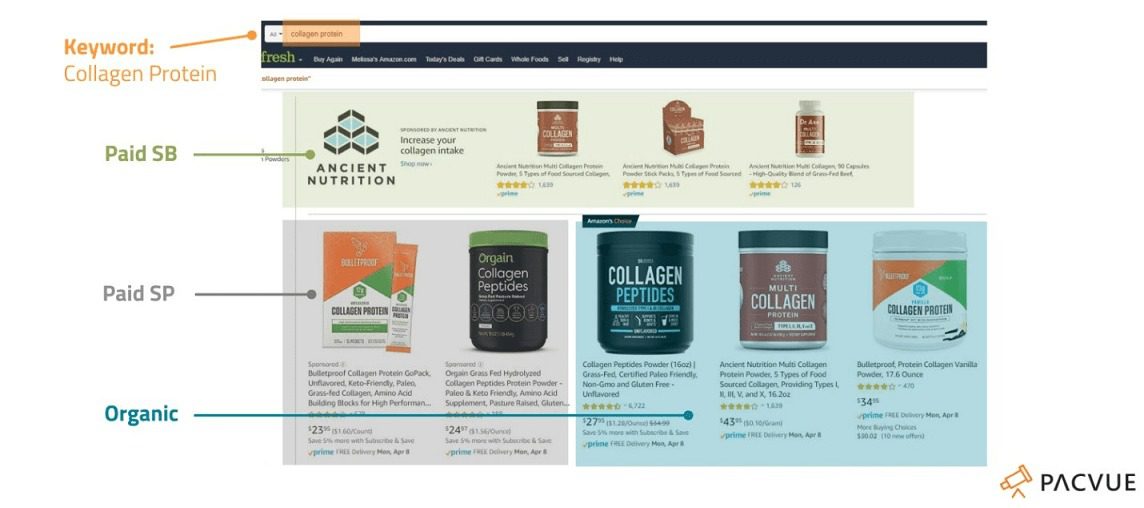 Featured above are two types of paid search products. Sponsored Brand (SB) Ads feature your brand logo, a custom headline and up to three products. Sponsored Product (SP) Ads are single products that appear in search results and on product detail pages. To help you improve your Amazon Advertising performance and drive your search rank and share of voice, we've compiled the most current and effective search growth hacks that can be implemented right now, with or without third-party technologies.
1. Finding Stars And Negative Keywords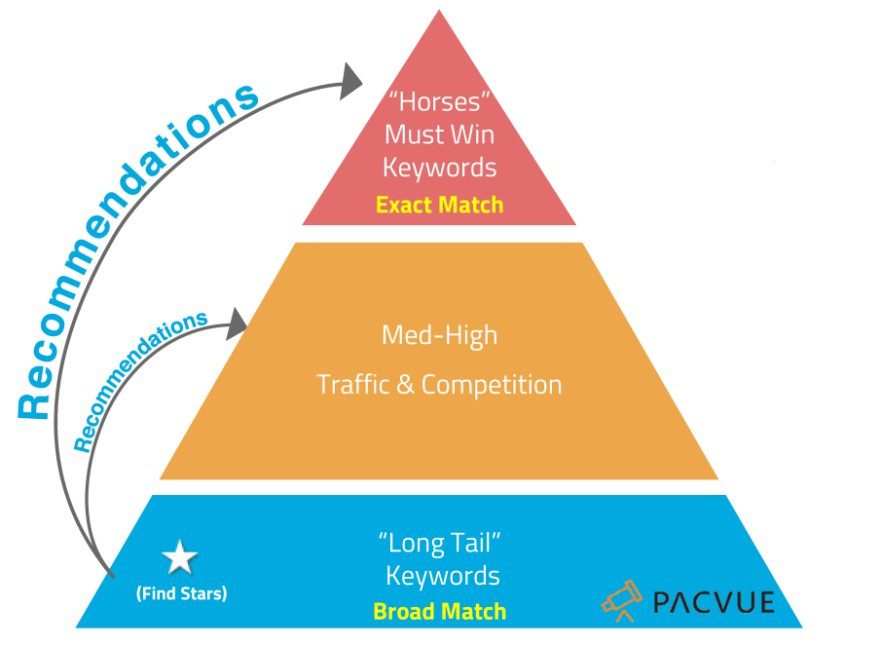 In categorizing your keywords by weight or importance:
Horses are must-win terms that drive the majority of volume and sales in their category, such as "protein powder." These terms drive a lot of traffic, but there is a lot of competition and the CPC tends to be expensive.
Medium-high keywords are the next tier, not quite as competitive as horses but still very common, such as "whey protein powder."
Long-tail keywords are more niche, driving less traffic but usually searched by people who have a very specific idea of what they want, such as "vegan gluten-free protein powder." These terms can have low volume but high conversion.
Key opportunities can be found in the long-tail search terms. It's in this area that advertisers should search for stars: relatively unknown keywords used by your target audience which are therefore uniquely suited to drive traffic and conversion to your products. Search your long-tail keywords for overachievers and re-designate those as must-wins in order to corner that niche and boost your visibility.
The long-tail is also where you can identify negative-targeting keywords. These are search terms that have measurable traffic but zero conversion — this can be interpreted as evidence that the types of shoppers who are searching these terms are not interested in your product. Negatively filtering these terms can significantly improve your ad efficiency.
2. The Optimization Loop
Rule-based optimizations have the potential to be the most powerful tool for driving search growth — but only if they're implemented properly. With CPC bids that are too conservative, you may never win a keyword, but if rules are too aggressive you may drive up your bids too high and blow your ad budget.
The solution is to develop an optimization loop, a set of rules designed to alternately increase and decrease bids and spend caps incrementally in response to performance. A well-designed loop will adjust and refine your campaign parameters over time tomaintain optimal performance and efficiency in the ever-changing bid landscape, creating a sum greater than the individual parts.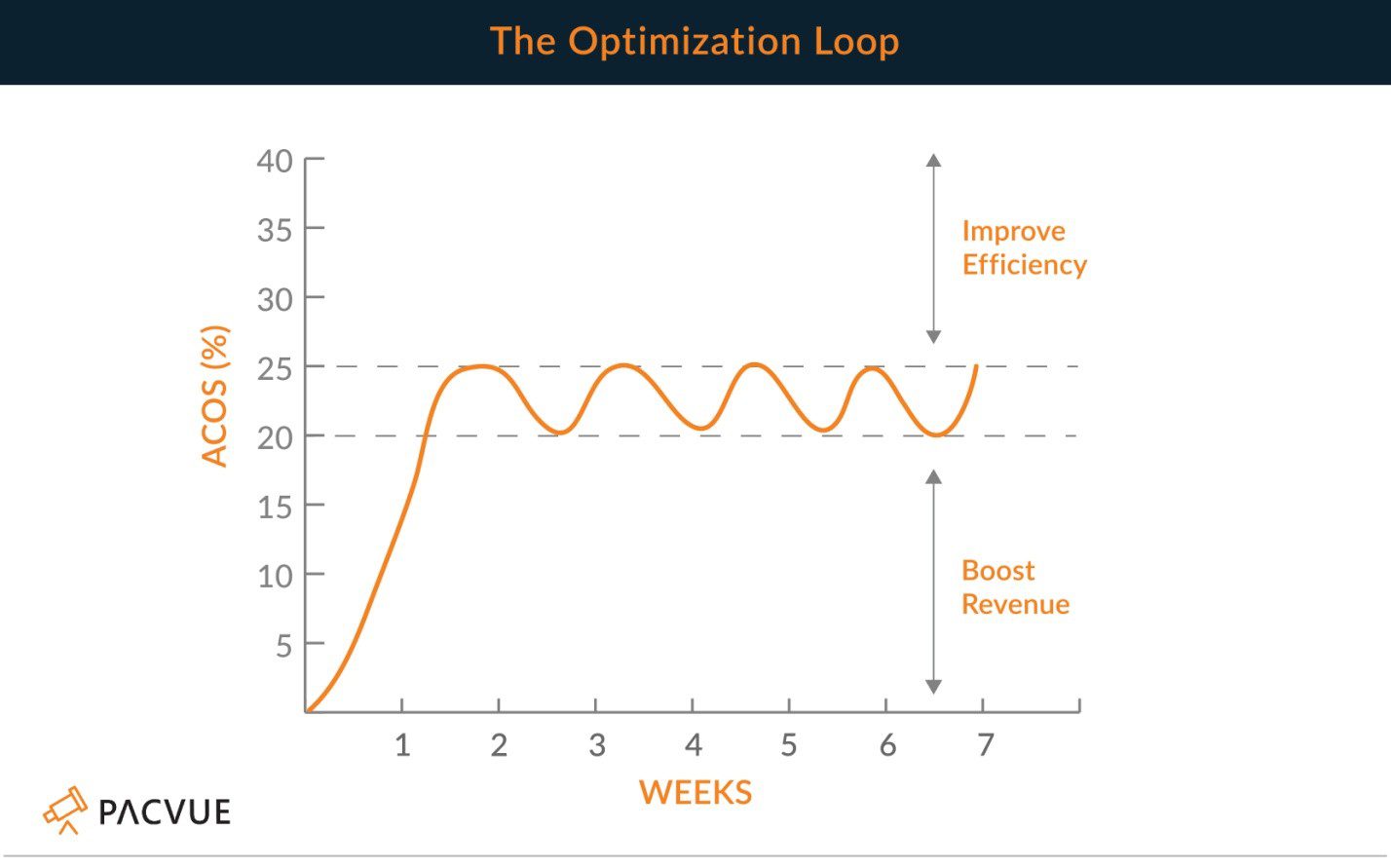 The following rules above work together to drive keyword efficiency within a target ACoS (Average Cost of Sale, calculated by dividing spend by sales).
Find Volume: Increases impressions on keywords by incrementally increasing bids.
Reduce Wasted Ad Spend: Drives efficiency by reducing ad spend that is not resulting in sales.
Boost Revenue: Increases bids for keywords with ACoS above the campaign's targeted range.
Improve Efficiency: Decreases bids for keywords with ACoS below the campaign's targeted range.
The parameters of the rules should be customized based on a brand's specific goals and strategy. Boost Revenue and Improve Efficiency in particular should to be adjusted based on ACoS goals and marketing objective. In the example parameters below, the target ACoS is 20 to 25%, but in certain circumstances such as a new product launch, where high visibility and sales volume is the marketing objected, an advertiser may want to raise their ACoS parameters from 20% to 25% to 30 to 35% to propel the Amazon flywheel.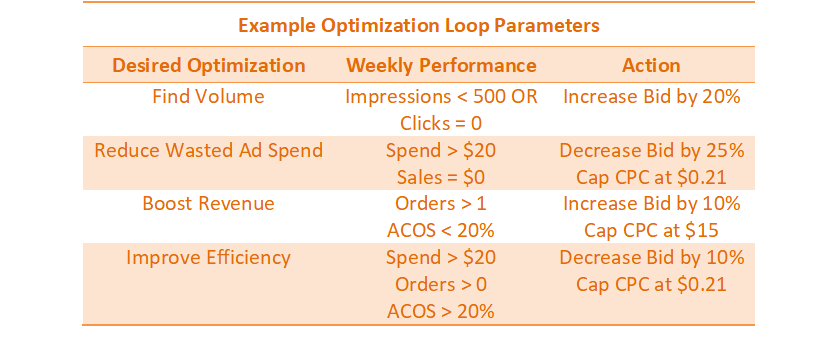 3. Aligning Bids To Peak Sales Times
A major opportunity for unlocking efficiency is to adjust bids based on the time of day. Peak hours can vary greatly from category to category, but for the most part, sales tend to peak in mid-morning and again after 5 pm. This poses three opportunities:
Conserve your budget for these high-traffic hours. Pause your campaigns during the slower afternoon and overnight hours and redistribute those ad dollars to capitalize on the hours when the most shoppers are on site, maximizing visibility;
Stretch your budget for full-day coverage. Limiting max bids during peak hours can free up budget for the rest of the day. Off-peak times have less traffic but tend to have lower CPCs, so while you may gain less visibility you will tend to see higher efficiency; and
Discover new consumer behaviors. Identify anomalies in your data that reveal category-, segment- or brand-specific peak sales times. Finding hyper-specific shopping habits that are particularly relevant to your target audience can help you establish control over your niche.
To get the most out of these search growth hacks, you need to test and learn. The above strategies can give any advertiser a head start, boosting visibility and conversion and driving long term organic search rank, but consumer behavior varies by category, segment and even brand, so one advertiser's secret weapon may be another's dud. Creating a robust data pipeline with which you can directly measure the impact of each campaign variable is crucial to optimizing performance and maximizing efficiency on Amazon.
---
Melissa Burdick is the co-founder and president of Pacvue, a leading eCcommerce SaaS platform that empowers brands, sellers and agencies to programmatically manage and optimize their advertising on Amazon. A 10-year Amazon veteran, Burdick helped launch the Amazon CPG/Health & Beauty retail business, building a business from the ground up with evolving strategy to sell profitably online. She was an early leader of the Amazon Media Group, launching the first vendor display video ad, and developed and grew the Amazon advertising business. For more information, visit www.pacvue.com.