If you've been to the grocery store in the last few decades, you've probably noticed similarities in the way most products present themselves. For example, for as long as I can remember, a lot of food packaging has shown what's inside — whether by illustration, photography, 3D rendering or a combination of the three. This approach to packaging in the grocery sphere originally became a persistent trend because it worked. It met the expectations of the traditional brick-and-mortar grocery store patron, scanning the aisles to quickly identify the products.
Some CPG brands have taken risks — not just focusing on selling the literal product inside the packaging but on conveying a feeling or emotion through the use of a mascot or character, pattern, color and repetition, or even the singular use of typography — without images at all. But these approaches have inspired copycats which have actually negated those risky qualities that made the packaging stand out.
The result is that, over time, the shelves of modern supermarkets have become a telling, yet mismatched portrait of history — a story of what's worked forever and what…well, hasn't. The overall brand impact of the grocery store experience has suffered as a result, hurting the industry's bottom line as it loses ground to the convenience of ecommerce and rise of well designed, personalized DTC brands.
But groceries can host a better range of brand and product stories — ones designed to stand out while decluttering and actually enriching the overall supermarket experience. However, doing so means bucking trends in the grocery industry — not only rethinking products and packaging design, but using those designs as a way to reshape the overall grocery experience.
Using Design to Enrich the Grocery Experience
Packaging has always been a powerful branding and sales tool. In fact, according to Ipsos, 72% of Americans agree that the design of a product's packaging influences their purchase decisions. However, having so much brand packaging competing for attention in a single grocery store makes it hard to craft a cohesive and elevated brand experience. So how can a supermarket exercise better control over the appearance of its shelves to achieve the greatest overall visual impact? 
One way is through thoughtfully designed private label grocery brands — beloved because they're generally cheaper than the name brands, without a steep drop in quality. According to Private Label Manufacturers Association research, in 2021, private label sales increased by $1.9 billion in volume over the previous year and store brands accounted for $199 billion worth of dollar sales across all the major retail channels, an all-time record. This popularity means that a well-designed private label brand can also be an eye-catching way to earn credibility for the entire grocery brand.
Target, for example, famously has a plethora of hugely successful private label brands for everything from housecleaning products to pantry essentials — even activewear. With every new line introduced into Target's portfolio, the consumer gains more and more trust in the parent brand because of the unified strength of its brand voice and experience. In another case, Costco's Kirkland Signature private label earned the retailer $58 billion in sales in 2021, making up around a quarter of the company's total revenue.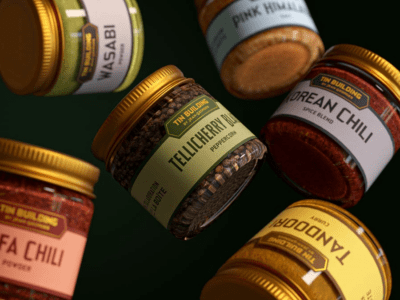 Similarly, when designing a private line of sauces, marinades, dressings and vinaigrettes for chef Jean-Georges Vongerichten's groundbreaking waterfront market called Tin Building, we leveraged packaging as a branding tool, applying uncommon materials and finishes and demonstrating the power of a unified visual presence on the shelf . These design cues together not only helped products stand out on the shelf but set the tone for the entire Tin Building experience.
If the possibility of creating a house brand is not an option, there are other means of accomplishing a similar design and branding effect through curation. Typically, if a grocer carries a product that's hard to find anywhere else, that's more reason to go there, but if exclusivity isn't in the cards, having a thoughtful selection of a few options can go a long way toward completely shifting the grocery experience. That's why for Trader Joe's, one of the biggest attractions is not needing to choose among 20 brands of tomato sauce. The retailer has some options, but intentionally chooses to keep the number of SKUs in many categories low and select them specifically toward their broader brand goals.
A Better Grocery by Design
While there's certainly more room for improvement than praise, there are a handful of well-designed private label brands in the CPG and grocery industries whose success should offer a new way forward for the entire industry. It's no longer enough to simply follow design trends, copying brands like Chobani and Recess, until they eventually become a business liability. As hinted by the digital fragmentation of retail, consumers are becoming hungry for something else — something different — because they're paralyzed by indecision. Future markets will need to cater to those demands if they want to connect with audiences.
Certainly, rethinking and redesigning the grocery experience carries risk. When you intentionally disregard trends when designing, there's no way of really knowing if what you're doing is going to catch on or not. But for most grocery brands that understand the brand-building power of design, it's a risk worth taking.
---
Sean O'Connor is a Senior Designer at Mucca with a focus in type-driven branding. His work combines strategy and intuition, resulting in output that's distinctive, unafraid, and empathetic. He's given lectures and workshops at SVA, MassArt and Kean University, and occasionally speaks at design conferences.