White Papers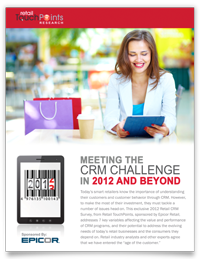 Nearly 80% of retailers currently have (63%) or plan to add (16%) a Customer Relationship Management (CRM) program, according to a recent survey from Retail TouchPoints, sponsored by Epicor Retail. These retailers know that customer retention is less costly than customer acquisition.
This white paper uses exclusive survey results to reveal insights into 7 critical CRM issues retailers must address in order to succeed. To learn more, complete the form below to download the white paper titled: Meeting The CRM Challenge In 2012 And Beyond.
Retail TouchPoints is CAN-SPAM Compliant
Your information will be used for Retail TouchPoints marketing emails. This also includes targeted partners of Retail TouchPoints. To read more about our privacy policy, click here, or to learn about the CAN-SPAM Act of 2003, click here.
If you would like to unsubscribe from future Retail TouchPoints marketing emails, please click here.