White Papers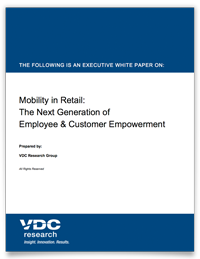 Among the 12 million retail employees in the U.S., approximately 55% are mobile today, according to VDC Research. Retail companies are using mobile devices for a variety of internal functions, including store operations and merchandising, but also are creating a more compelling customer experience with the technology. In this white paper, titled: Mobility in Retail: The Next Generation of Employee & Customer Empowerment, VDC Research explores the effective deployment and management of mobile solutions, including the total cost of ownership (TCO) for rugged and non-rugged mobile computers.
Complete the form below to download a complimentary copy.
Retail TouchPoints is CAN-SPAM Compliant
Your information will be used for Retail TouchPoints marketing emails. This also includes targeted partners of Retail TouchPoints. To read more about our privacy policy, click here, or to learn about the CAN-SPAM Act of 2003, click here.
If you would like to unsubscribe from future Retail TouchPoints marketing emails, please click here.