Industry Insights
Monday, 23 September 2013 16:25
CFI Group, a customer satisfaction and analytics firm, has released findings from its inaugural Retail Satisfaction Barometer (RSB) for Q2 2013. The study was created to help identify key drivers of customer satisfaction and their effects on the customer retail experience.
The RSB study was conducted through a survey of approximately 800 consumers. CFI Group used the American Customer Satisfaction Index (ACSI) methodology, which is a cross-industry measurement of satisfaction based on the quality of goods and services available in the U.S. The ACSI measures six elements of the customer experience, including:
Read more...
Solution Spotlight
Monday, 23 September 2013 15:49
Consumers accustomed to chatting live with retailers on laptop and desktop monitors often struggle to access and view these same functions on mobile devices.
In response, Comm100 has optimized Comm100 Live Chat for iPhone, iPad and Android mobile users and the operators they reach. The app upgrade includes a redesigned visitor interface for smoother connection to chat features and conversations. The improved size and layout of visitor-side windows provide easier mobile viewing of pre-chat, chat, post-chat rating and offline messaging.
Read more...
Executive ViewPoints
Written by Ryan Woolley, Senior Vice President, Digital Marketing Services of Response Mine Interactive
Monday, 23 September 2013 16:31
Customer loyalty means profit.  And it's really that simple — studies show that a repeat customer can be at least three times more profitable than a single purchase customer. The best return that can be generated on marketing dollars is when they are spent on customers who are already known to be, or likely to become high value, loyal customers.  Many businesses are great at identifying who their most profitable customers are once they are on the transaction file, but imagine the value of loading that information into frontline marketing strategy. In other words, what if you could figure out who is most likely to become your best customer and market to them specifically?
Identifying Your Best Customers
There are really two aspects to implementing this idea successfully. The first and easier of the two is targeting known loyal customers and keeping them engaged. Much more difficult, but quite worthwhile, is to deconstruct exactly what qualities are shared by these customers.  Once you do that, you can form a strategy around marketing to people who also fit within the same framework and are thus likely to mimic profitable and loyal buying behaviors. 
Read more...
Retail DataPoints Of The Week
Monday, 23 September 2013 16:18

As the smartphone becomes consumers' preferred shopping tool, more retailers are recognizing the value of digital coupons, which can be stored and accessed directly on personal mobile devices. In fact, 64% of retailers either accept digital coupons today or plan to in the future, according to a new survey from Zavers by Google and Retail TouchPoints. Among retailers currently offering digital coupons, 74% are using mobile apps, SMS text messaging, web sites and/or email to deliver the offers. This infographic spotlights these and other key findings from the Next-Gen Retail Couponing survey.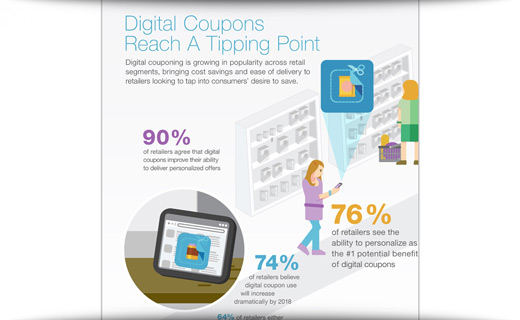 View full infographic »
News Briefs
Monday, 23 September 2013 11:00

Social Annex, a social apps and social login provider, has formed a partnership with e-Commerce platform provider MarketLive to deliver a new solution suite called Social Experience Manager. As part of the partnership, MarketLive will provide Social Experience Manager to all existing and future retail customers.
Platforms available via Social Experience Manager include:
Social Login;
Social Commerce Apps;
Social Contests; and
Customer Loyalty Programs.
 
The solution is designed to help merchants engage and incentivize shoppers so social activity turns into sales.
Read more...
<< Start < Prev 31 32 33 34 35 36 37 38

39

40 Next > End >>