Mobile
Written by Lorna Pappas, Contributing Editor
Tuesday, 22 October 2013 11:00

Following is Part 1 of a 2-part feature examining the role of mobility in the in-store customer journey. This section looks at the first steps of that journey, with supporting comments from Walmart and several analysts. Part 2 reviews the last few stages of the mobile-influenced in-store experience ― including "behind the scenes" activities such as mobile RFID. Part 2 will appear in the October 29 newsletter.
The in-store experience has become so permeated with mobile enhancements that brick-and-mortar shopping looks more like an online experience every day. These enhancements include pre-shopping research, geo apps, advanced on-floor assistance, mobile RFID, mPOS and other mobile-delivered capabilities.
A report from Deloitte Consulting, entitled The Dawn Of Mobile Influence, noted that in retail stores, the next few years "are going to be huge for mobile. Its influence is anticipated to grow exponentially to 17% to 21% of total retail sales, amounting to $628 billion to $752 billion in mobile-influenced store sales by 2016."
Read more...
Retail DataPoints Of The Week
Tuesday, 22 October 2013 11:00

The top 5 Internet retailers such as Amazon, Apple, Staples and Walmart dominate the e-Commerce spectrum, combining to earn almost $88 billion in web sales in 2012. However, these heavy hitters aren't the only companies finding success in what is still proving to be an unsaturated market. Many other retailers are carving out unique business models, enabling them to earn millions in sales revenue and compete effectively with the leaders.
This infographic, courtesy of Baynote, illustrates the companies that are taking advantage of the opportunities presented by the online experience, as well as how these businesses are strategizing to stay ahead of their competitors.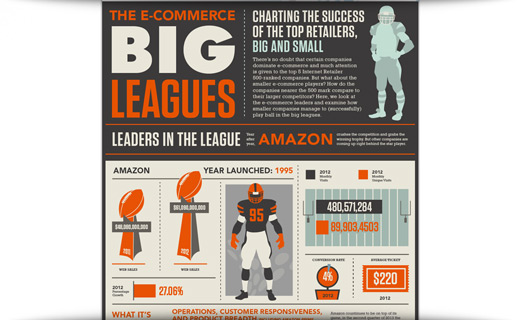 View full infographic »
Executive ViewPoints
Written by Dr. Matthew Green, Managing Director, emnos U.S.
Tuesday, 22 October 2013 10:37
"Big data" has become the hot new reality star.  It has broken past the business and marketing magazines into consumer and mainstream news.  It makes and rides its own social media trends.  It hovers between savior and scandal.  Indeed, "big data" seems to have its own talent agent and publicity team — and they have a star on their hands.
Yes, big data is everywhere.  It is constantly generated and stored in virtually every aspect of our lives. Whether it's diagnosing an illness, educating our children, or riding in a car, big data is transforming our society by identifying patterns of behavior and making correlations with predictive assessments.
While it's been around since the advent of retail, The Great Recession put big data in main stage spotlight.  The downturn's long-term effects put more pressure on retailers to make sharper business decisions, while battling for thinner customer wallets and more elusive loyalty. It has since reached obsession-level in marketing social media circles where articles and blog posts on the subject are heavily shared and debated.
Read more...
Industry Insights
Tuesday, 22 October 2013 10:30
More than half (54%) of professionals would choose a cloud-based business intelligence (BI) solution for over an on-premise solution. Just 14% of respondents said they would implement on-premise solutions, while the other 32% had no preference.
To conduct the report, market research company Dimensional Research surveyed 403 professionals who are involved in selecting, implementing or using BI software. Birst, a business intelligence and analytics solution provider, sponsored the study, which was designed to evaluate differences in experiences and outcomes between cloud-based and on-premise BI solutions.
Perhaps most importantly, 53% of respondents whose companies use a cloud solution said their current BI system offered a single solution for all organizational BI needs. Users of traditional on-premise (36%) and open source (28%) systems haven't had the same success in consolidating their offerings.
Read more...
Solution Spotlight
Tuesday, 22 October 2013 10:50
For years brand marketers have used product sampling to introduce new products and solicit consumer feedback. That technique remains viable, but has advanced with the explosion of digital solutions. Today, online access to advanced consumer data and analytics helps marketers target sampling programs, learn more about potential customers and streamline these programs for greater ROI.
PINCHme, a digital platform, allows consumers to sample a range of CPG brand products for free, in exchange for their feedback. The solution is designed to help brands develop strategies that reach the right consumer product demographic, which increases likelihood of consumers becoming buyers.
Read more...
<< Start < Prev 21 22

23

24 25 26 27 28 29 30 Next > End >>