New on TouchPoints TV
Adam Silverman
Forrester Research
Retail CRM
Tuesday, 03 July 2012 08:38

Retail TouchPoints recently completed its eight-part webinar series covering the most challenging issues on retailers' minds and in their conference rooms. Industry experts, analysts and retailers gathered to share their experience and insights with more than 900 webinar registrants.
The compilation below reveals highlights from each session.
Read more...
Retail DataPoints Of The Week
Tuesday, 03 July 2012 10:26

Consumers increasingly are using their mobile phones to browse and buy, creating an engagement opportunity for retailers. In fact, 40% of smartphone users redeem coupons on their mobile device, while 29% search for coupons on their device at least once a month. Popular coupons among consumers are daily deals (41%), grocery coupons (39%), online coupon codes (34%), printable coupons (29%) and freebies (24%).
A recent Aislebuyer survey found that any overwhelming majority of mobile coupon users are open to receiving instant offers and would switch brands for added savings, according to this infographic. The infographic highlights recent research on the types of coupons users are accessing on their mobile phones, as well as what persuades "mobile couponers" while making a purchase.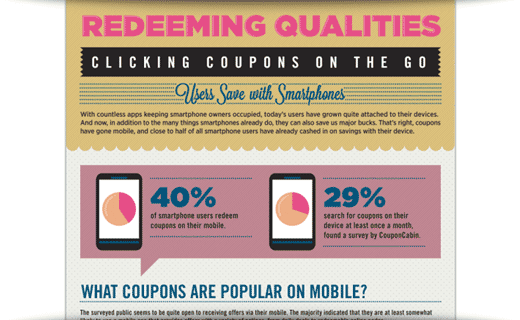 Read more...
Mobile
Written by John Kenney, SVP, Business Development, Stella Nova Technologies, Inc. (www.sntinc.com)
Tuesday, 03 July 2012 08:32
The cash wrap is rapidly becoming an antiquated place for transactions. In the past, customers and retailers have experienced a single-channel touch point via the brick-and-mortar store. Today, this single-channel touch point has evolved into a complex and multi-channel experience — where customers interact via multiple, independent touch points that function through retailers in technical silos, including e-commerce, catalog, and brick-and-mortar. Building off the multi-channel approach, retailers are scrambling to deploy a high-function, high-touch cross-channel approach where customers interact with multiple touch points across one brand, and where retailers have one single view of the customer as they still operate out of technical silos. But the future, and what some are calling the "nirvana" of retail, will be the era of the omni-channel. Omni-channel entails customers enjoying a seamless brand experience independent of channel, as opposed to channels within brands, and retailers using strategic ways to leverage their single view of customers. Mobility, and especially mobile point of sale (POS), is the epicenter of omni-channel, connecting retailers and their customers.  
Read more...
Executive ViewPoints
Written by Mark Grondin, Senior Vice President of Marketing, Shopatron
Tuesday, 03 July 2012 08:24

If you want to increase sales of your product online, consider using tried and true tactics from brick and mortar retail stores.
When you walk into any store, the entire layout is designed to help you find what you need to complete your purchase. There is clear signage, there are more attractive or promotional items capping the ends of the main aisles, there's a small selection of paintbrushes hanging mid-shelf in the paint aisle. New items are up front, prices and discounts are clearly marked and when you go to checkout you'll pass through a mini-buffet of small, inexpensive items you simply can't resist. After many years of analyzing shopping behavior, merchandisers have discovered that these tactics are the most effective for getting people to buy.
These same concepts can be applied to your online store. In fact, the extensive conversion testing administered by analysts at eCommerce company Shopatron have demonstrated that applying these tactics to their client's eCommerce stores increased sales from 15% to 29%.
Read more...
Solution Spotlight
Tuesday, 03 July 2012 08:10
The emergence of the in-store mobile shopper has been a startling challenge for retailers. Empowered with mobile technology to compare prices and access peer feedback, today's convenience-driven consumers are left with few reasons to remain loyal to a brand or retailer. In response to this seismic shift, merchants are mobilizing their stores to empower customers and associates to leverage mobile devices in new ways to optimize the in-store experience.
One such option is a new mobile suite launched May 2012 by SAP to extend the value of its key systems of record by mobilizing retail business processes. The offering includes Sybase 365 Mobile Payments, a mobile customer engagement and commerce suite. Built on the Sybase 365 platform, the mobile commerce portfolio is a key component of SAP's mobile program for powering productive mobile apps and services.
Sybase 365 Mobile Payments is designed to enable consumers to leverage a mobile wallet solution to pay bills and loans, make domestic person-to-person (P2P) payments and pay for products and services. The solution includes tools and services for merchant management.
Read more...
<< Start < Prev 201 202 203 204 205 206 207 208

209

210 Next > End >>