Exclusive Survey Report: The Push Toward Social Commerce Featured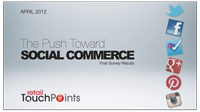 While most consumers already are entrenched in using social media channels every day, most retailers are still working out the kinks of their social commerce strategies. Just less than half (48.5%) of retailers recently surveyed by Retail TouchPoints have a social commerce strategy in place today. While another 28.3% say they plan to add a social commerce strategy, 23.2% have no plans to invest in social commerce.
The primary reason retailers say they are not investing in social commerce is that it is "not relevant to our customer base," according to 44.4% of respondents. Other reasons cited include budget constraints (27.8%) and completing the mobile commerce strategy as a greater priority (22.2%).
Part of the reluctance to fully commit to social commerce may be the overall sales potential, since 55.9% of respondents noted that social commerce currently comprises less than 5% of total sales. A total of 32.3% reported that social commerce totals up to 20% of sales, then the numbers drop off drastically from there.
Of the primary social media platforms, not surprisingly Facebook ranks at the top of the list for effectiveness (31.3% find it "very effective"), although 40.3% noted that Google Plus is "moderately effective" and 33.3% said Twitter is "somewhat effective." Three up-and-comers hold significant potential for respondents. Instagram (44.1%), Pinterest (33.3%) and Foursquare (31.7%) are considered "not a factor yet, but have potential."
Although the Facebook storefront gained some initial momentum, many retailers do not have one and don't plan to add (45.2%). While 33.9% currently have a Facebook storefront in place, another 21.0% plan to add.
Retailers are still on the fence regarding social commerce strategies. The largest number of respondents (26.8%) are currently using mobile check-in apps, and a similar group (24.4%) find ratings, reviews and product recommendations useful. Additionally, wish lists, gamification, curation, storytelling and daily deals will grow by the end of 2012.
The Push Toward Social Commerce survey also covers social engagement metrics, analytics, cross-channel strategies and the relative importance of social media "fans."
To download a complimentary copy of the full report, click here.
back to top