Retail DataPoints Of The Week
Tuesday, 07 August 2012 08:09

As smartphone purchases continue to grow, mobile online shopping is predicted to reach $163 billion worldwide by 2015. In fact, most (56%) of consumers that have embraced mobile shopping said it makes the experience more enjoyable. This tealeaf infographic highlights mobile industry growth and mobile shopping trends.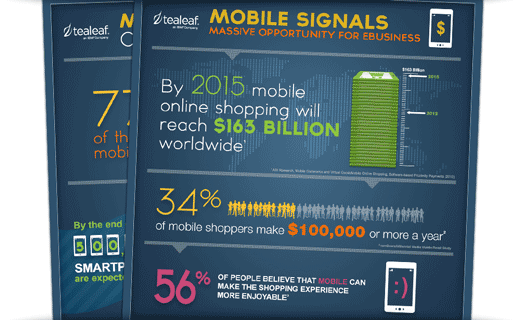 View full infographic »
Executive ViewPoints
Written by Kevin Tate, CMO, ShopIgniter
Monday, 06 August 2012 09:46
As Facebook's App Center begins its roll-out across the globe, many brand and retail marketers are wondering:
"Should I be paying attention?" and if so
"What does this mean for my social & mobile marketing efforts?"
The answers are: 1) Yes and 2) Maybe a lot.  Here's why:
Facebook designed the App Center to drive discovery of Apps and Sites
To really understand the App Center and its potential implications requires a read-through of the developer documentation and listing guidelines. However, I'll save you that and skip to the important bit.
In addition to Facebook and Mobile (iOS/Android) Apps, any website or mobile site can be listed in the App Center as long as it uses Facebook Login and has an "immediately logged-in, personalized experience."
Read more...
Executive ViewPoints
Written by Peter Davison, Senior Business Consultant, Galleria Retail Technology Solutions
Monday, 06 August 2012 09:40
Is the range assortment in a supermarket based upon a mathematical calculation? Should it be used as part of an individual retailer's strategy?  Or, should it be applied by the retailer to provide such an assortment so that each store offers all products to serve the need of every individual customer who comes in to shop?
Range assortment is likely a combination of all of these things.  But how much analysis work needs to go into deciding what range assortment is right for each store size, or for that matter, each store type?
It's also probable that most retailers would need an army of people to initially establish which stores are different from each other, determine how those differences apply by product categories and decide if range assortments should differ by store banner.
Read more...
Solution Spotlight
Monday, 06 August 2012 09:26
One of the ways retailers have sought to comply with Payment Card Industry (PCI) requirements is to implement tokenization — a payment data encryption method in which ciphered cardholder data is stored in a central database, or vault. During payment transactions, that information is replaced by "tokens" that identify cardholders while preserving their data security.
But a number of these central database solutions have relied on expensive, complex replication schemes to create a new vault for every merchant requesting tokenization. This centralized process also increases risk of a token vault breach.
Read more...
News Briefs
Monday, 06 August 2012 09:04

Epson, a value-added POS solutions provider, received the Gold Award of Excellence in the hardware technology category during RetailNOW 2012 in Las Vegas. The awards event, hosted by the Retail Solutions Providers Association (RSPA), allows retail technology dealers to vote for their favorite vendors.

Epson is a certified, long-standing member of the RSPA. The RSPA Certification Program identifies companies in the retail technology industry who provide exceptional levels of competence and performance in a professional manner. RetailNOW is the retail technology industry's largest cross-vertical show, including leading vendors and distributors in grocery, food service, convenience and retail verticals.
<< Start < Prev 191 192 193 194 195 196 197 198

199

200 Next > End >>