Cross-Channel Strategies
Written by Alicia Fiorletta
Thursday, 09 August 2012 08:50

The continual growth of social media has encouraged brands to take a new approach to customer acquisition and engagement strategies: Rather than using Facebook, Twitter and other social networks to push out marketing messages and offers, best-in-class retailers are utilizing these channels to initiate dialogue with consumers, build buzz and encourage digital word-of-mouth.

Retailers also are leveraging new commerce models, store strategies and offline marketing techniques that incorporate and align with today's interactive social media principles.

During a panel discussion at the Social Retail Summit, titled Building Fashion Communities, David Fudge, Director of Consumer Engagement and Innovation for Bonobos, and Jen Rubio, Head of Social Media at Warby Parker, shared how their brands harness the power of social advocates to increase brand awareness and drive purchases.
Read more...
Mobile
Written by Alicia Fiorletta
Wednesday, 08 August 2012 07:44
More retailers are weighing the benefits of mobile technology and marketing. However, to create a multi-dimensional brand experience, improve engagement and maximize customer service, retailers must understand the wants and needs of their customers, as well as the best tools to deliver upon these needs.
During a recent webinar presented by Retail TouchPoints, titled The Mobile POS Tipping Point, Ken Morris, Principal of Boston Retail Partners (BRP), discussed two ways retailers can leverage mobile POS (mPOS) in stores: associate- and customer-facing mPOS. Associate-facing mPOS focuses on line-busting and allows store associates to provide product information and recommendations via smartphone or iPad. Customer-facing mPOS, however, allows shoppers to receive instant access to offers, inventory details, ratings/reviews and social media accounts directly on their personal mobile devices.
Read more...
Industry Insights
Written by Fatima D. Lora
Monday, 06 August 2012 10:06
Retailers are constantly looking for innovative strategies to help improve their businesses. This is evident as topics around analytics, mobile and promotions were the most-viewed webinars, white papers and E-books for the Retail TouchPoints audience of more than 23,000 retail executives during the first half of 2012.
Within these content pieces and presentations, merchants have learned that they must embrace innovative ways to create a cohesive multichannel shopping experience. By implementing mobile marketing strategies that feature SMS and QR codes, retailers can deliver valuable product information to consumers while they shop. In fact, a majority (74%) of shoppers conducting product research on their smartphones complete the purchase, according to a recent Google study.
But, with so many choices around how to connect with shoppers, retailers often face a channel disconnect. Today, brick-and-mortar retailers and online retailers alike are utilizing deals to combat this multichannel mishap. Since 2004, searches for coupons and deals have increased 300%.
Read more...
Retail DataPoints Of The Week
Tuesday, 07 August 2012 08:09

As smartphone purchases continue to grow, mobile online shopping is predicted to reach $163 billion worldwide by 2015. In fact, most (56%) of consumers that have embraced mobile shopping said it makes the experience more enjoyable. This tealeaf infographic highlights mobile industry growth and mobile shopping trends.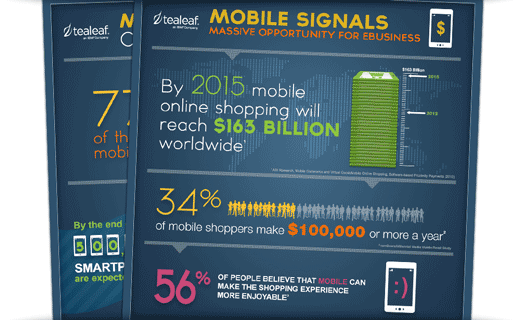 View full infographic »
Executive ViewPoints
Written by Kevin Tate, CMO, ShopIgniter
Monday, 06 August 2012 09:46
As Facebook's App Center begins its roll-out across the globe, many brand and retail marketers are wondering:
"Should I be paying attention?" and if so
"What does this mean for my social & mobile marketing efforts?"
The answers are: 1) Yes and 2) Maybe a lot.  Here's why:
Facebook designed the App Center to drive discovery of Apps and Sites
To really understand the App Center and its potential implications requires a read-through of the developer documentation and listing guidelines. However, I'll save you that and skip to the important bit.
In addition to Facebook and Mobile (iOS/Android) Apps, any website or mobile site can be listed in the App Center as long as it uses Facebook Login and has an "immediately logged-in, personalized experience."
Read more...
<< Start < Prev 191 192 193 194 195 196

197

198 199 200 Next > End >>