News Briefs
Tuesday, 04 September 2012 08:40

VeriFone has announced the launch of the SAIL Developer Portal, an open platform that offers mobile application developers and technology providers the capability to build their own payment or marketing solutions using the VeriFone infrastructure.
VeriFone named several companies already implementing the SAIL technology. These include Xero of San Francisco and New Zealand, and Outright of Mountain View, California, both using the SAIL application programming interfaces (APIs) to provide direct integration to their accounting solutions, eliminating rekeying and manual entry of information. PushPoint of San Francisco is integrating SAIL technology into its geo-targeted services that provide merchant offers to local mobile device users. Stitch Labs, also of San Francisco, incorporated SAIL with its platform for managing inventory, orders, contacts, shipping, expenses and business analytics in a single SaaS product offering.
Read more...
Shopper Engagement
Written by Fatima D. Lora
Friday, 31 August 2012 11:34
Many of today's marketers rely on loyalty programs to improve customer relationships and experiences. In fact, a majority of loyalty program marketers use this tool to manage customer retention and increase revenue, according to a survey conducted by Kobie Marketing.
During a recent Loyalty 360 webinar titled: "Omnichannel Loyalty: Maximizing Your Customers Experience," industry professionals discussed survey results, trends impacting loyalty programs, and best practices in overcoming challenges from the social, mobile and local (SoMoLo) revolution.
In a Kobie Marketing white paper, titled: "Omnichannel Loyalty: Designing The Ultimate Customer Experience" ― which was based on survey results ― more than half (58%) of loyalty program marketers stated that customer retention drives their loyalty efforts.  Approximately 48% of respondents pointed to revenue as a key consideration. "Not surprisingly, in a continually down or recovering economy, marketers focus on loyalty as a retention strategy," said Emily Murphy, Customer Intelligence Analyst at Forrester Research. "This directly drives profitability and revenue, and improves engagement."
Read more...
Industry Insights
Written by Retail TouchPoints
Thursday, 30 August 2012 07:33

J. C. Penney and Starbucks are among the countless retailers announcing plans for, or currently moving to, a mobile payment initiative. Advancements in Near Field Communication (NFC) and mobile wallets are moving quickly: Many such developments were spotlighted recently in a Retail TouchPoints feature, and have accelerated even since then.
To keep pace with these advancements, a number of organizations ― including mobile carriers, payment providers and retailers ― are forming partnerships to increase education and acceptance of mobile retailing and payment.
The National Retail Federation (NRF) announced the inception of the Integrated Mobile Initiative (IMI), which was developed to "serve as the single source for information about the challenges and opportunities that exist within mobile retailing," according to an NRF press release.
Read more...
Shopper Engagement
Written by Alicia Fiorletta
Wednesday, 29 August 2012 08:31

Best-in-class retailers are testing and applying new strategies to better engage online consumers. The e-Commerce site in particular presents retailers with an opportunity to customize messaging and offers based on visitors' browsing and buying histories, as well as geographic locations.

Godiva Chocolatier optimized e-Commerce personalization with the Agility Suite from Monetate, designed to allow retailers to test personalized content, images and offers more quickly and seamlessly. The retailer is recognizing an array of benefits, including a 15% boost in Average Order Value (AOV) and an 18% increase in conversion rates as a result of leveraging multiple images on product pages.

Because Godiva is such a sensory brand, photography is critical to creating a compelling experience for shoppers, Mahender Nathan, VP of Direct for Godiva told Retail TouchPoints. To ensure the best investment, the internal team for the brand conducted A/B testing through Monetate to determine the overall value of providing alternate images on inventory pages.

Read more...
Store Operations
Written by Debbie Hauss
Tuesday, 28 August 2012 09:32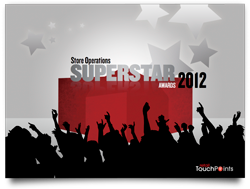 As competition continues to heat among store operators, merchants must find innovative, creative and efficient ways to improve customer engagement and improve long-term loyalty. Along with pressure to hold the line on expenses, store operations executives are faced with an uphill battle.
Additionally, advances in mobile and tablet technology have created the opportunity to hire, train and retain employees more efficiently.
In its first Store Operations Superstar Awards, Retail TouchPoints is recognizing 7 companies that have implemented the most innovative, successful store operations strategies in 4 categories.
Read more...
<< Start < Prev 181 182 183 184 185 186 187 188

189

190 Next > End >>